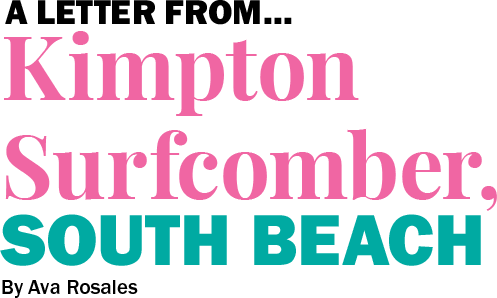 Hey – we made it!
After a few schedule changes, rearrangement of dates and maneuvering our way through Miami traffic, Simón and I finally made it to our Sleepover at Surf. We almost missed the driveway though – should have taken the advice and done a rideshare in, but we had to bring the electric bike, so here we are (lol). The valet was great though, allowing us to leave the car up front while we unpacked and settled in before he whisked it off to the off-site parking lot. Our long awaited and well-deserved staycation was about to begin. It was as if we had entered a new reality. In one step across the lobby threshold, the hustle and bustle were a forgotten memory and literally behind us beyond the glass doors. For a moment, I forgot that we were in Florida. We suddenly felt transported to a different country. You know how you're always posting your fabulous getaways in Europe? I was ready to get my gram worthy photos posted and have people guessing the locale. The Kimpton Surfcomber has really made a conscious effort to capture the essence of a South of France vibe, from the climate to the cuisine. The clean, simple, Earthy atmosphere and furnishings make it easy to attract new friends or cozy up on our own.
We didn't waste any time diving into our French-inspired personalized culinary experience, after a quick tour of our lodging, which was absolutely adorable – more on that in a bit. First, I have to "dish" on the Surf's small group curated experience in the Vines Cabanas where we created our very own Bordeaux and named it Nauravsimón. It was smooth, with notes of oak, tobacco and yet fruity, of course. What did you expect from a non-drinker like me? No worries – the connoisseurs in the group made sure it was satisfying to all palates (smiles). I should have known that our evening would be immersed in wine as we had quite the sommelier directing us – I guess the "wine valet" on the wall in our room should have been another subtle clue. We were guided not only through our Bordeaux experience, but with an astonishingly impressive wine flight that paired perfectly with every course of our group's private Sleepover dinner. Shall I tell you what was on the menu, foodwise? First was the Amuse-Bouche, not only a delight for the tastebuds but visually so delicate and extraordinary. Remember, that South of France feel I mentioned before? I said oui, over and over, to the not-a-citrus-sorbet compressed watermelon with sudachi vanilla, garnished with fruit caviar. The little cubes made our night and were quite the conversation piece as the caviar pellets popped in our mouths. I guess you also want to hear about the rest of the dinner. The starter was a tomato-beet salad with tomato truffle vinaigrette. The varied colors of tomatoes and the sweetness of the beets combined perfectly – another stimulus for the senses.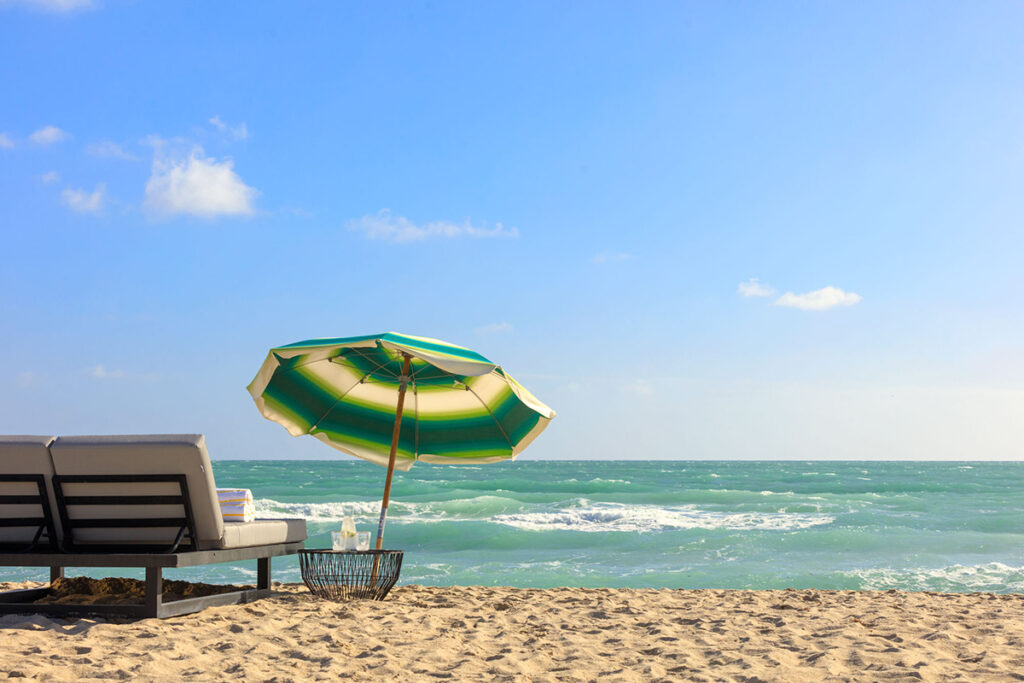 However, what really got everybody exclaiming "encore!" was the main course, served family-style. Between you and me, we conducted ourselves way more politely than family would, if you savor what I mean. Who wanted to share the tender, melt in your mouth French boned tomahawks? Cooked and seasoned to perfection, they didn't even need the accompanying morel cream sauce! The black grouper with sage bearnaise had its fans, as well. I don't know if it was the wine accompaniments or the fresh, savory fare, because as much as we were consuming, there was still room for a lavender crème crème brûlée that lingered on your tastebuds – imagine the infusion of lavender, what a special treat. The fact that the psychic card reader provided as part of the evening's entertainment did not foretell any need to change exercise routines, I'd say that it was a go for guilt-free indulgence.
Either way, we headed up to the room with all good intentions to take an evening stroll, but the sky was warning that a downpour of rain was approaching.  As we sank into our ultra comfy bed with heavenly pillows, there wasn't a sound to be heard beyond the confines of our accommodations. Two things that I really loved about the room were the ample space and the window overlooking the foliage laden pathway that easily opened to take in the breeze and the sounds of the nearby ocean.
By sunrise, Simón was up and out for his bike ride down Collins, where he ended up at an outdoor gym on the beach. I guess he worked off last night's decadence. We grabbed a shower and headed poolside. Of course, I took my Instagram worthy shots as we meandered down the walk and at the beachside cabanas. I even braved a ride down the boardwalk on the electric bike. Before we knew it, our Sleepover had ended, and we had experienced so much. We checked out, had breakfast at the Social Club and headed back into the fray. This time, relaxed and feeling a bit more French.
The next time we return, it's definitely the following on my checklist: 1) a stay in the suite with the private balcony and walk-in closet that could hold its own bed, 2) a K'Alma Spa cabana experience, 3) secure one of the old-fashioned, pedal yourself bikes that the Kimpton Surfcomber offers, and 4) stay at least a couple nights! When do you want us to book?
---
US
Canada
Digital Version
Subscribe to Swanky Retreats Magazine's DIGITAL version. Read the latest issue online or download it to your computer.