Owner's Penthouse Experience
The luxury package is an extravagant hotel experiences. 
The signature offering provides a full-day of exploring hidden gems throughout the city such as the flower market and temples, insider cultural experiences like a personalized art tour of the Queen's textile museum with its curator, and an indulgent evening experience of authentic 4-course Thai dining hosted in the penthouse suite and prepared by the hotel's in-house Michelin starred Chef. This is more than a stay, it's truly an immersive luxury experience. Here's what you can look forward to:
Your accommodations in the exquisite, fully upgraded Penthouse with cultural highlights strewn throughout. The suite features an outstanding array of memorabilia and fine antiques; four vibrant costumes originally worn by Oscar-winning actor Yul Brynner in "The King And I" Broadway musical, an antique large-format camera invented and used by cinema pioneer, the legendary Eberhard Schneider . Those add enough drama to the space to inspire you to make your own movie.
Stepping out and exploring the city has never been this luxurious. The hidden gems excursion is personally guided by a local expert and includes a tour of Pak Khlong Tala —  the largest flower market in Bangkok. You will explore the 16th century Wat Pho Temple, with a lunch at Err Restaurant — selected as Bib Gourmand by Michelin Guide 2018.This is all indulgent enough but they've added more. Exclusive insider access to the Queen Sirikit Museum of Textiles and a meeting with the museum's curator. That's a lovely afternoon of doing things you'd otherwise never stumble upon. The penthouse is calling though.
Head back just in time to enjoy a hand-picked private dining experience. This is an exclusive dinner created by St. Regis Bangkok's Executive Chef. This four-course meal, hosted in the Penthouse's dining room,  includes wine pairings by house sommelier, traditional and local Thai ingredients including: Grilled Wagyu Rib Eye with Fresh Pomelo and Peanut; Spicy Rich Red Curry with Roasted Crisp Duck and Caramelized Pineapple; Chilled Mango Kelly and Coconut Infused Parfait are all threaded into the meal. You simply sit back and enjoy.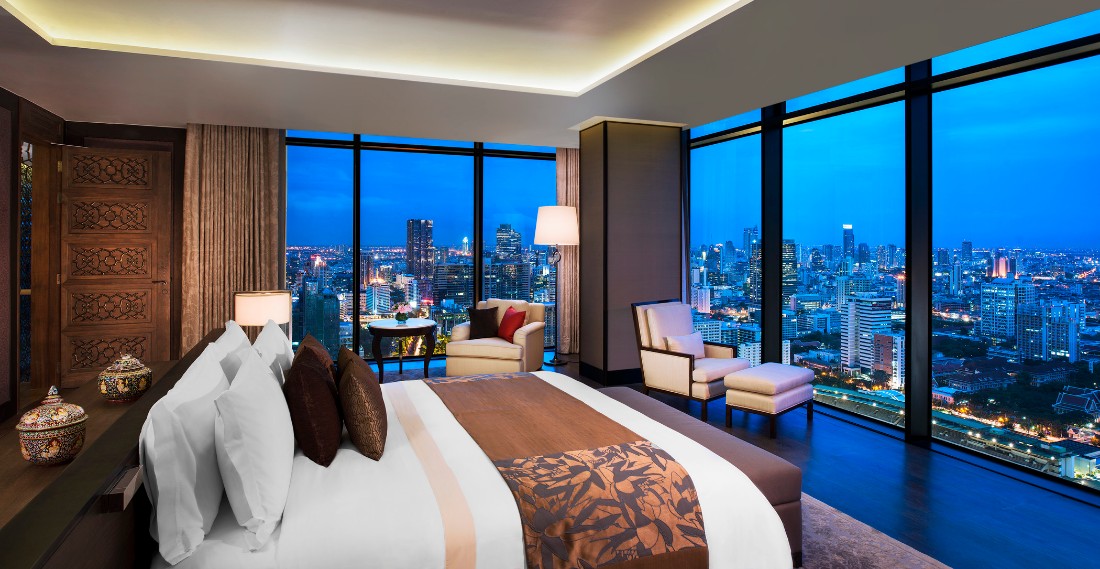 Your two-story, three-bedroom Penthouse redefines the art of urban living in Bangkok. It combines sophisticated elegance with signature St. Regis bespoke services at the city's most prestigious address. The suite is located on the highest floor of the St. Regis Bangkok, a towering 44 stories above street level. Can you say, "No street noise?" Floor-to-ceiling windows and panoramic views throughout the entire 8,600 sq. ft. suite lay the glistening lights of the city, at your feet every night of your stay. If you want to feel the rush of it all, there is a balcony with private 23 ft. infinity pool overlooking the city skyline. Now, this is a Penthouse experience worthy of a place inside our Swellegant Stay section. 
---
US
Canada
Digital Version
Subscribe to Swanky Retreats Magazine's DIGITAL version. Read the latest issue online or download it to your computer.