The seven-minute ride from the airport to the El San Juan Resort and Casino had, to my delight, transported me into what seemed like a time warp. Immediately upon stepping through the resort doors, I could envision the Copacabana showgirls descending the grand staircase and Desi Arnaz beating out "Babalu" on his conga drum. It reminded me of a place and time where entertainment was at the centerpiece, and opulence the backdrop for well-dressed patrons. That's exactly what El San Juan Resort and Casino, built in the 1950s, had intended. The carefully maintained splendor of this lobby with rich carved mahogany from floor to ceiling and crystal chandeliers took me back to that era. My previous experiences with resort lobbies were grand entrances that mostly served as a waiting area for fellow guests or a corridor to facilitate moving to your next destination. The three bars and two stage areas should have alerted me that El San Juan Resort and Casino was different… excitingly different!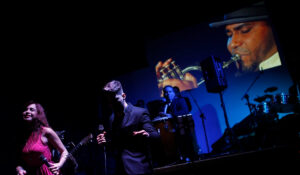 That evening it was Charlie Sepulveda and his band playing the familiar big band sounds and Latin jazz tunes that entertained the bustling lobby. I had just heard him the night before as a headliner at the Heineken Puerto Rico JazzFest where I also had the pleasure of meeting the charming Cuban-born Andro Nodarse Leon. Andro is part owner of the El San Juan Resort and Casino and a driving force behind the resort's new musical endeavor – El San Juan Live – which happened to feature several Heineken JazzFest musical greats. I could not help but notice his passion for the arts by the glint in his eyes and beaming smile when he spoke of the vision of El San Juan Live. A musician himself – he shared that architecture, design, business, and music are all brought together at the El San Juan Resort and Casino – the intent is to showcase local musical talent through El San Juan Live. And talent there is – historically, the island has produced such great Latin crooners and musicians as Hector Lavoe, El Gran Combo and Marlow Rosado – just to name a few. Not to mention those with Puerto Rican heritage such as Tito Puente, Marc Anthony and Ricky Martin. With their close cultural ties to Cuba, understandably, the sister island will also showcase their tropical voices and sounds in this new artistic scene.
Relaxed in my love seat, I was drawn into the vibes and interaction between musicians engaged in their performance at El San Juan Live and the sometimes spontaneous jam sessions with artists popping up from the audience. Clearly, the vision was realized. Andro and his colleagues were reestablishing the resort as a temple for great music, where musical artists could have a workshop or venue to call home. With jazz, I noticed there is just a freedom of expression and a certain joy that emotes from both the musician and audience.
I continued to engage in the unavoidable people watching. Most notable was a bevy of beauty queens moving through the lobby space, mingling and pausing for "photo ops," which only spotlighted the elegance and attractiveness of the evening. I had learned that El San Juan was the host resort for the Miss World Puerto Rico contestants – but, of course: quite the obvious choice. And now it was decision time, as the waitress approached the table – in which creative cocktail concoction should I indulge? As I was deliberating, there was a transition in bands and the seductive big band tempo switched to a new group of artists in full salsa dance mode. I was truly getting a flavor of how one could spend their evenings at the resort: On Wednesday there would be jazz, Thursday fusion, Friday and Saturday salsa, and Sunday traditional tropical rhythms. With that menu of musical selections, what a thrill it was, being serenaded by El San Juan Live musicians until late into the "wee" morning hours.
As much as I loved the thought of an all-night musical interlude, it had been quite a long day. I hated to tear myself away from my vibrant lobby, so I elected to take a short stroll on the golden-sand beach with the crashing waves at my feet, before I eased into the cozy comforts of my villa nestled among banyan trees and tropical foliage. Then suddenly, it washed over me, like a cascading waterfall of culture that had awakened something in my spirit. I had heard the phrase so many times in songs and patriotic statements, and now I completely understood why Puerto Ricans swell with pride when they refer to their country as mi tierra! I too had felt this could be "my land" – the land, the people, the music were all embodied in this resort, in El San Juan Live! elsanjuanhotel.com
Ava Rosales
---
US
Canada
Digital Version
Subscribe to Swanky Retreats Magazine's DIGITAL version. Read the latest issue online or download it to your computer.