Walking through an executive area of Ft Lauderdale International Airport, I'm ready for a some disconnection from the predictable schedule of city life, during my stay at the Adults Only (21 and older) All Inclusive Resort The Bungalows Key Largo. The all inclusive resort on Florida's northernmost Key, is a relative stone's throw by car from Miami, opened in December, 2019.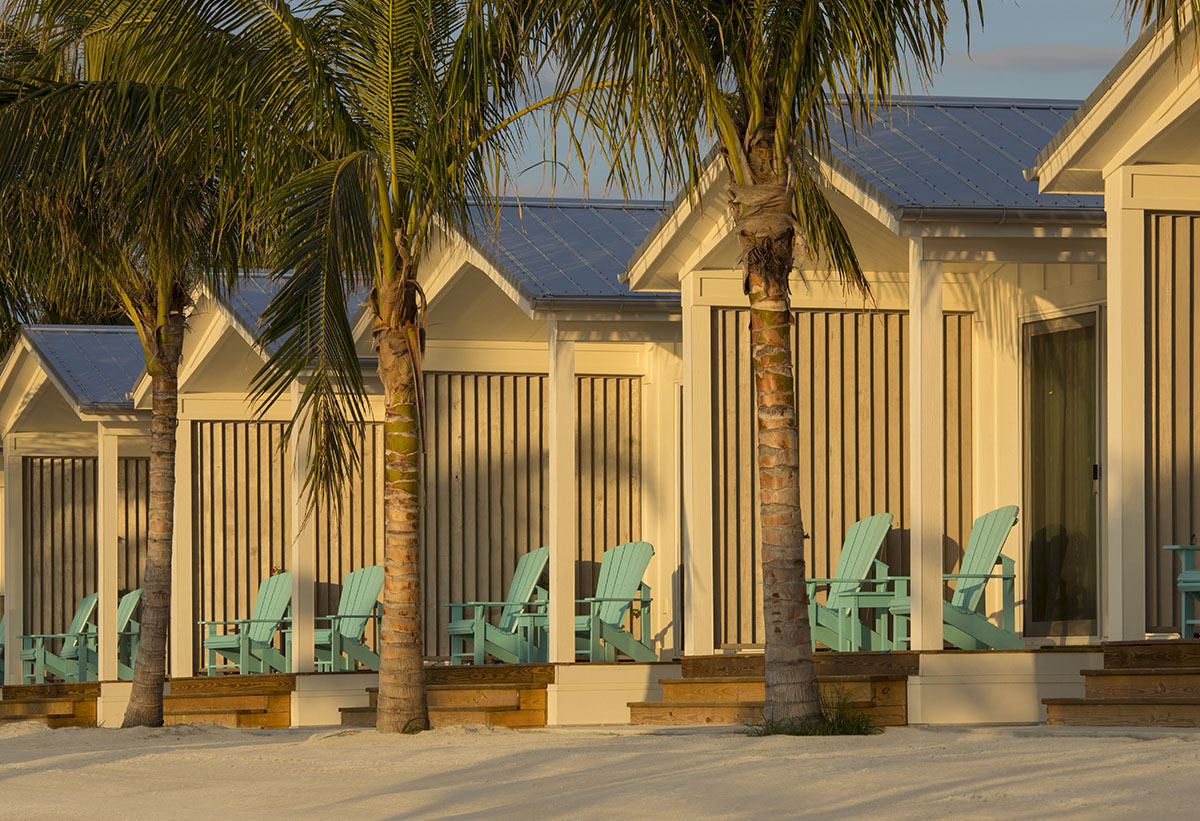 Even though we took off from a concrete runway and spent 45 minutes overflying The Everglades, we land on the tranquil waters of Key Largo's Buttonwood Sound. I'm greeted and ferried by launch the last 100 yards to what I consider to be 12 acres of pleasure blending however many thousand bamboo plants among 135 bungalows, 3 restaurants, a Zen Garden Spa with optional cabana or poolside treatments, a fitness tiki hut, sugar-colored sand paths for walking or cycling, exotic flowers and stands of key lime trees populate the area me as I make landfall.
I feel a bit like Jimmy Buffet, famous for his seaplane piloting ability as the airplane's a shortcut to The Bungalows' address on US Highway's Mile Marker 99, I realize how this property, completed in December, 2019, is a perfect place for couples seeking an intimate escape, some time to chill and reconnect with themselves, nature and each other. If more action is desired, I can take a snorkel adventure, go poolside, kayak, stand up or yoga on a paddleboard. If I are for a more relaxed time, the powered tiki boat or a complimentary guided tour of the area on one of The Bungalows' electric boats.
The Bungalows offers the flexibility to explore unspoiled natural beauty in sync with The Keys vibe of a relaxed local culture. The deliberate design of a thoroughly casual cabana lifestyle allows this resort to caress my senses with maritime visual tones and a commitment to using natural materials and a reliance on local artisans to provide exceptional resort amenities to every one of their 135 individual bungalows, 31 of which are 900 SF with waterfront views, both categories have a private veranda complete with outdoor rain shower, or if I prefer to be horizontal, a soaking tub. If I were feeling more conventional I enjoy the view and refreshment indoors via my spa bathroom and Keurig coffee maker alongside the mini fridge stocked with my preferred snacks and beverages. I could cheat and look at the outside world via the 60" monitor equipped with Beyond TV.
But, that would be a luxurious cheat, because in The Keys one must revel in nature! And besides, housekeeping needs a chance at turndown service, so I check my schedule, yoga class? Before the catamaran cruise from our dock on Florida Bay through the mangroves, or a scenic paddle through this, one of the world's unique Ecosystems? Ahhhh the luxury of choice.
I'll consider them over lunch, I hop on my bungalow's cruiser bike for a lunchtime trip to "Sea Senor" for some local seafood where I'll slip off the bike's leather seat, into the alfresco environment where leather chairs and palm fronds supplement "Senor's" waterside location. Finishing my margarita about Noon, I scope my sunset meal's location, "Fish Tales" one of the property's other 2 restaurants whose view allows me to sandwich the sunset between The Bungalows' infinity pool and the water, today I plan to be a landlubber, letting other guests take the resort's sunset catamaran cruise.
"Fish Tales" offers breakfast to dinner service, grilled fish and peel and eat shrimp, grilled prime steak and freshly caught seafood specialties appeal to land and seafood lovers alike. But fear not, I'll save the third restaurant "Bogie & Bacall's" whose 5 course menu changes daily, showcasing daily fresh caught seafood, seasonal produce representing the sort of adventure one expects in The Keys. Digestives and aperitifs available at the Hemingway Bar. Were it not for the relaxed atmosphere of The Bungalows, I'd feel the pressure to be as cool as Ernie or Humphrey, but just to be sure, I'll ease into my pretend movie star persona with cocktails at the property's Sunset Tiki Bar because I never know when a fedora-topped stranger will glance my way and say "Here's looking at you, Kid."
---
US
Canada
Digital Version
Subscribe to Swanky Retreats Magazine's DIGITAL version. Read the latest issue online or download it to your computer.