One of the things I love most about travelling is the opportunity to witness the collision of different cultures, seeing something created which is not only new but brilliant. Hoshinoya Bali encompasses that phenomenon completely: the head of this extraordinary resort hotel is in Japan, but its feet are embedded in the earth of Indonesia's most beguiling island, Bali. The designers have twisted Japanese
design with Balinese spirituality and made not only a unique hotel, but a cultural experience quite unlike anything I've seen elsewhere in Asia.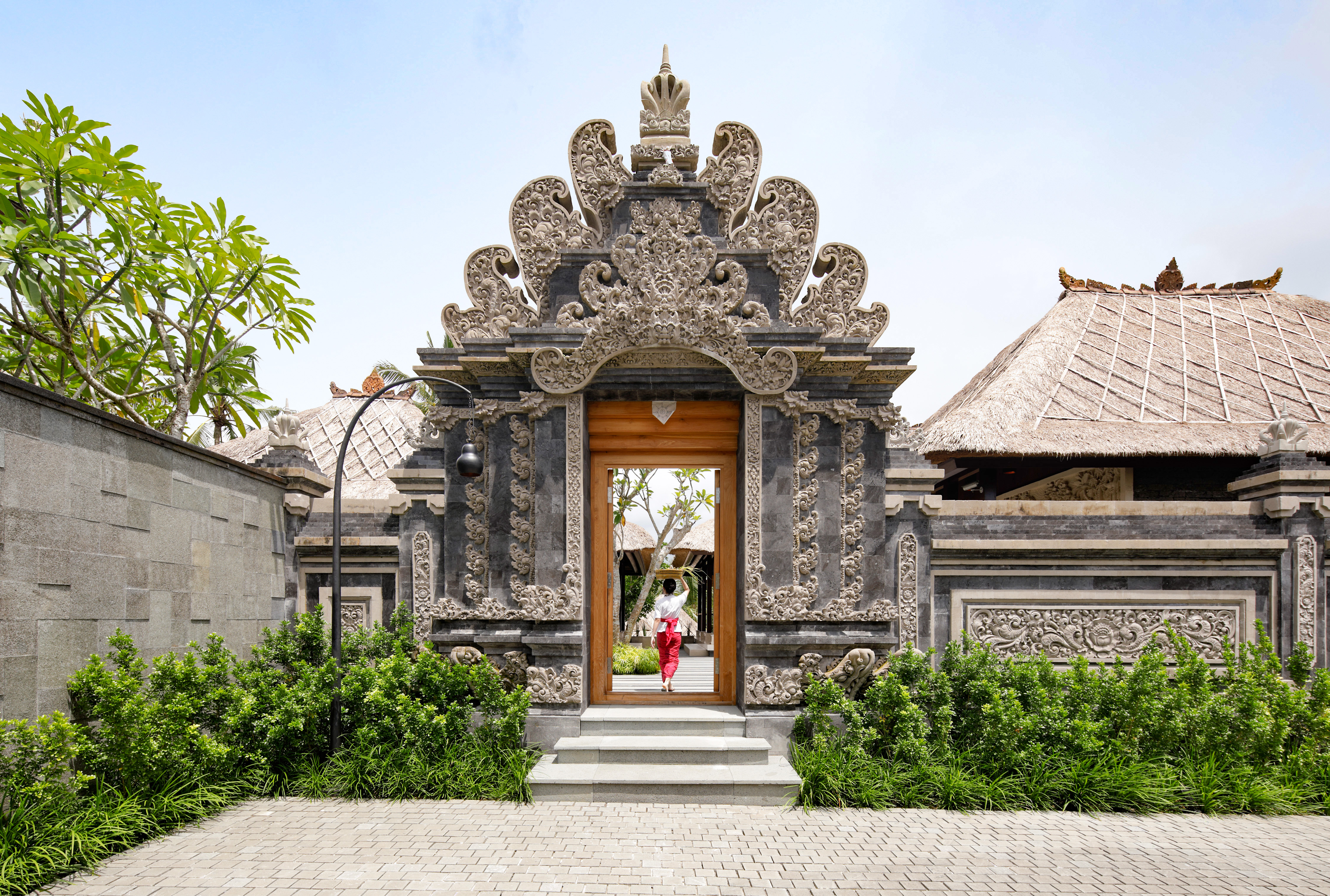 I'm writing this letter to you sat in what feels like a bird cage. It is hung on the edge of a jungle-covered cliff, looking out along the jade green valley. I'm sipping on turmeric tea, which has been specially brewed and is served from an exquisitely crafted teapot. Beside it are cubes of tropical fruits to snack on, and I can hear the squawking of the birds around me. They're not getting their beaks on my mango!
I had the most wonderful experience this morning learning about Balinese dance. It's one of the hotel's signature activities, and though I'm not the most graceful or coordinated of people, I enthusiastically gave it a try.
There was just the instructor and me at the class, and we used the outdoor yoga platform. I had to focus to get the bend of my limbs right, and to hold my hands just so. Every hand gesture has symbolic meaning, so the placing of each finger is important. I was a little
self conscious at first, but relaxed as the session progressed.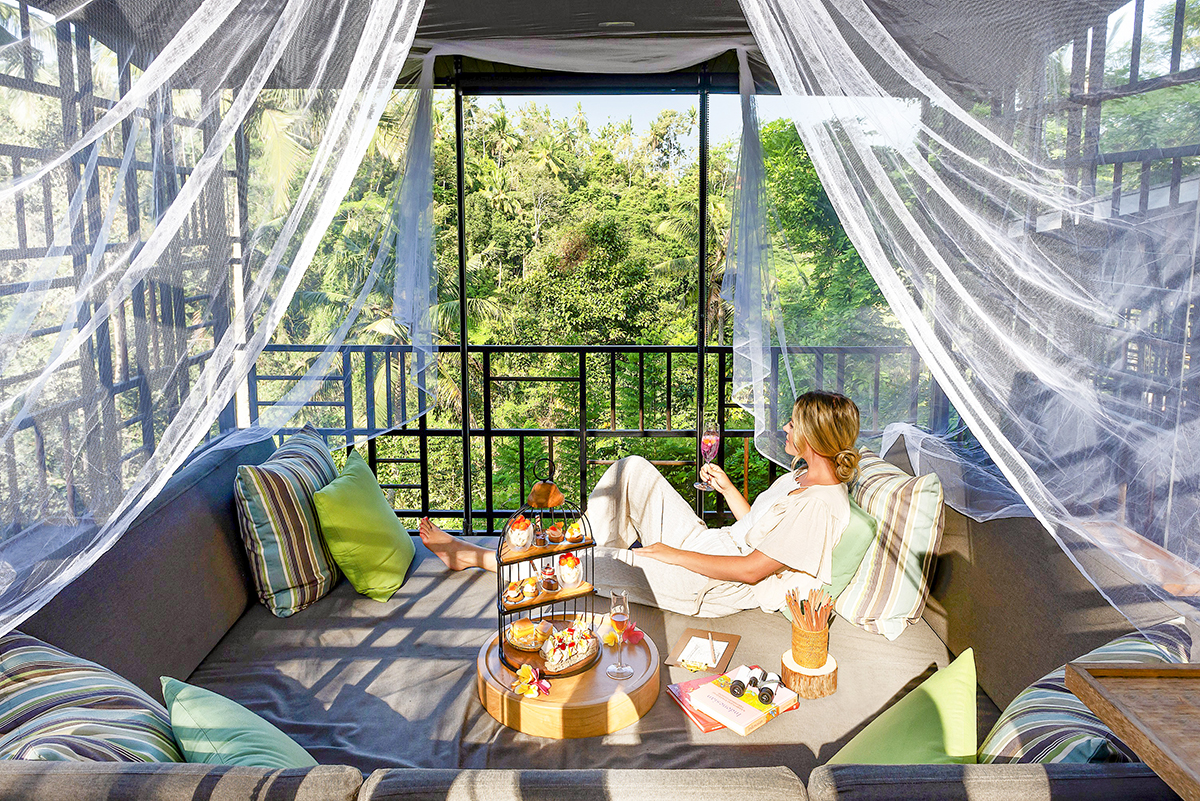 What came next blew me away. In Balinese dance, he dancer's makeup and dress is a vital part of the performance. In the course of an hour or so, I was transformed from a slightly scruffy British tourist into an unrecognisably elegant figure. My dance steps might still not have been up to scratch, but I certainly looked the part. I processed throughout the hotel grounds, pausing beside mirror pools and temples, and I felt like a princess or goddess. I saw a side of myself which I had never even imagined was there.
No one could say that travelling in Bali is stressful, especially when staying somewhere as tranquil as Hoshinoya Bali, but I found a new level of peace in the spa. It is lower down in the valley, and you descend amongst the trees. During this brief journey I already felt a weight lifting from my shoulders, as if it were a miniature pilgrimage. I could hear the sound of the river not far below, and butterflies fluttered by, their delicate wings catching the light whenever they flew beyond the shade.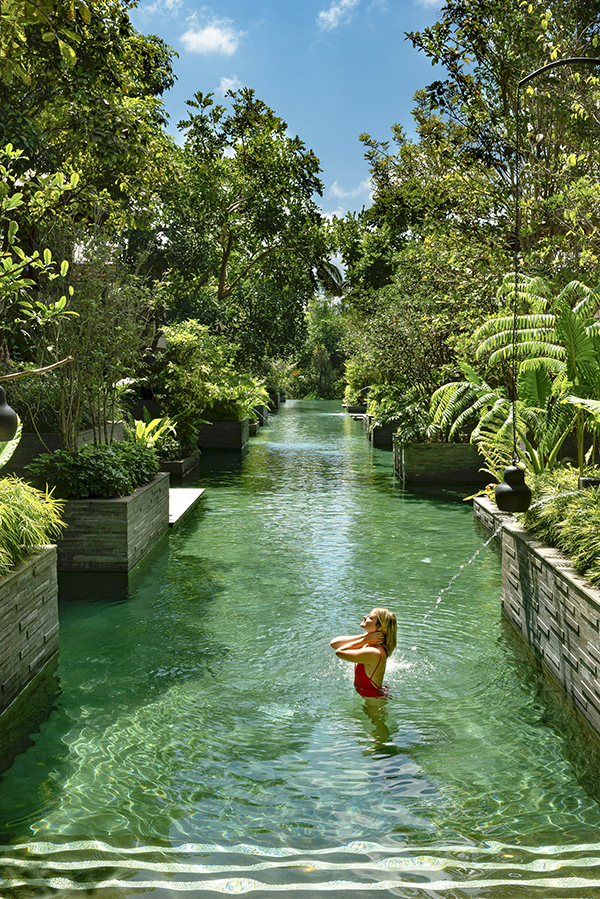 The architecture and interior design in the spa blend influences from Japan and Bali, perhaps more so than anywhere else in the resort. The dark wood structure with open sides is definitely Balinese, as are the flurries of bright temple flowers which added a rainbow of colour to my bath. But when I stepped into the spa's inner sanctum, with its tatami-style panels, straight-lined screens through which
daylight streamed, and white cotton towels, I was immediately transported to an historic ryokan (traditional inn) which I visited in Nagano, Japan years ago. The massage I enjoyed here revitalised me with the energy of the jungle, refreshed my spirit, and any tension I'd been holding in my neck and shoulders was gone.
I held off coming to Bali for a long time, fearing it would be overrun with backpackers and generic resort hotels and that the island had been spoiled. What I have found instead is that the Balinese not only retain but celebrate and share their rich cultural identity, which is present in everything from the mouthwatering meals to the distinctive architecture. At Hoshinoya Bali, the Balinese element is strong, and rightly so. But it is perfectly balanced with an equally remarkable Japanese aesthetic, attention to detail, and a peacefulness which is incredibly rare in the modern world. I urge you not to put off your visit to Bali any longer: come and enjoy the wonders of this idyllic, emerald green isle.
Best wishes
Sophie
http://www.hoshinoya.com/bali/en
---
US
Canada
Digital Version
Subscribe to Swanky Retreats Magazine's DIGITAL version. Read the latest issue online or download it to your computer.