Touched down, for the first time, in Hawai'i and it was late, very dark, and a little damp. My flight from the mainland to the islands was scheduled for a night arrival and it could not have worked out any better. I wanted to awake to the majesty of O'ahu and in particular, my view from the Queen Kapi'olani Hotel on Waikiki Beach. My suite was positioned to where my view from bed was the majestic Diamond Head National Monument at the tips of my toes and to my right was the celebrated Waikiki Beach. Opening one eye at a time, making sure the hotel did not disappoint, I was like a kid in a candy shop and (almost) ready to jump on the bed, which was exceptionally comfy, by the way. I soaked in my surroundings while I plotted my day. In order to make the most of my time, I knew I had to do a grab-and-go breakfast at Knots Coffee Roasters. The cheery island coffee shop was in the lobby and made for a speedy, delicious, pre-hike pit stop. As close as Diamond Head appeared, the staff encouraged me to take a taxi and when I arrived for the start of my hike, I was glad that I did.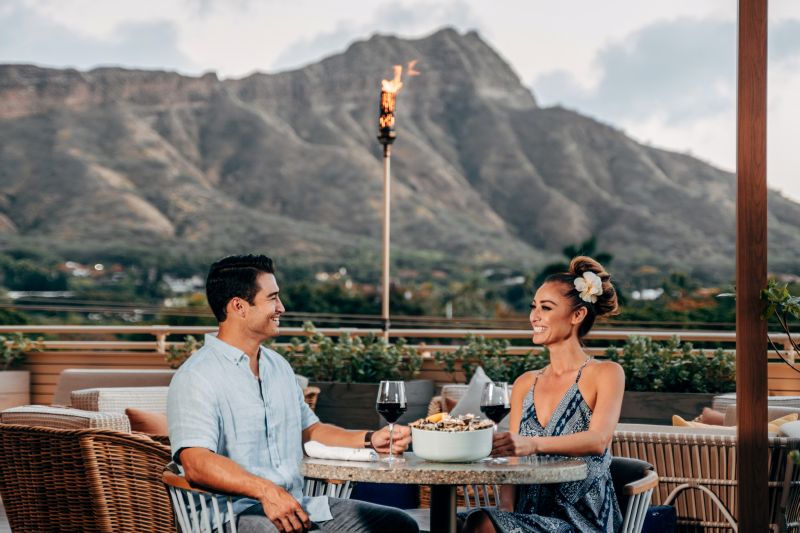 Objects, in the clear Hawaiian air, appear closer than they actually are. The hike made that eminently clear. Reaching the summit gave such spectacular views. Being able to overlook the Pacific and our Queen Kapi'olani hotel from the top of this iconic hike was an almost religious experience. I already knew I was falling in love with Hawai'i and there was nothing to break my fall. As I gazed from natural wonder to my home at the start of the Waikiki strip,my heart was full. The newly renovated resort put me in the heart of all the best of the strip. I could leave the hotel and get to Hermes, Dior or Forever 21 and everything else in between or I could walk to an on-site surf school, an international culinary sensation's first concept in Hawai'i, and a collection of vintage Hawaiian and local art in the lobby of the hotel. Choices abound here. I opted to immerse myself in dreamy scenes of midcentury Hawaiiana by staying right in the lobby. With quintessential landmarks at my doorstep, it was easy enough for me to embrace the local lifestyle throughout the day. The Queen Kapi'olani offers unique on site activities and supports the local community as well as teenvironment. On days that I wasn't surfing or taking in the Waikiki vibe, I was making leis and taking hula lessons, taught by locals who were entrenched in the community and preserving Hawaiian culture and traditions. My first taste of Hawai'i was delicious and I would not have had it any other way than here. Inspired by its namesake, the hotel strives for excellence as Queen Kapi'olani's motto – whom the hotel is named in honor of – was "Kūlia i ka nu'u," which means "Strive to reach the highest." I loved it here.
A hui hou,
Gina Hines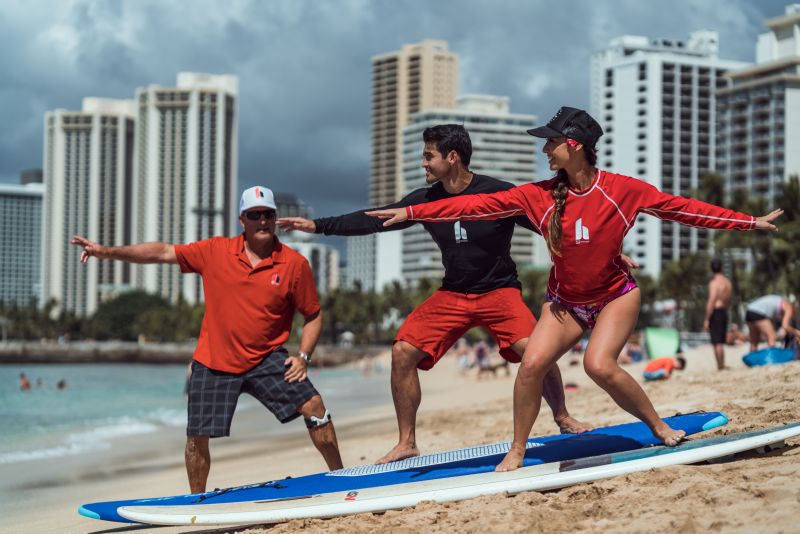 ---
US
Canada
Digital Version
Subscribe to Swanky Retreats Magazine's DIGITAL version. Read the latest issue online or download it to your computer.