It seems as if the Sandibe Okavango Safari Lodge has grown out of the Earth, its organic shape and colours completely in keeping with its natural surroundings. Whether it is a magical seed, or the nest of a giant Delta bird, remains to be seen. However you imagine it originated, the structure is remarkable. Pale timber ribs splay out onto the wooden deck, the walkways are raised up on stilts, and the bar — though made from wood — resembles the curves and layers of a wind and water carved geological formation.
Sandibe Okavango is one of the finest lodges with Botswana's Okavango Delta, a UNESCO World Heritage Site. The property is on a private reserve, so it is never crowded and you can enjoy the incredibly rich wildlife watching undisturbed. Elephant, Cape wild dog, leopard, hippo, Cape buffalo, and even black rhino make this area their home.
The architects took their inspiration for the room design from the shape and scales of the pangolin, a rare, scaly anteater occasionally found nearby. The curved roof, high ceiling, and wide open windows create a tranquil space, and special features include the outdoor rain showers, private plunge pools, and — astoundingly for such a remote location — WiFi.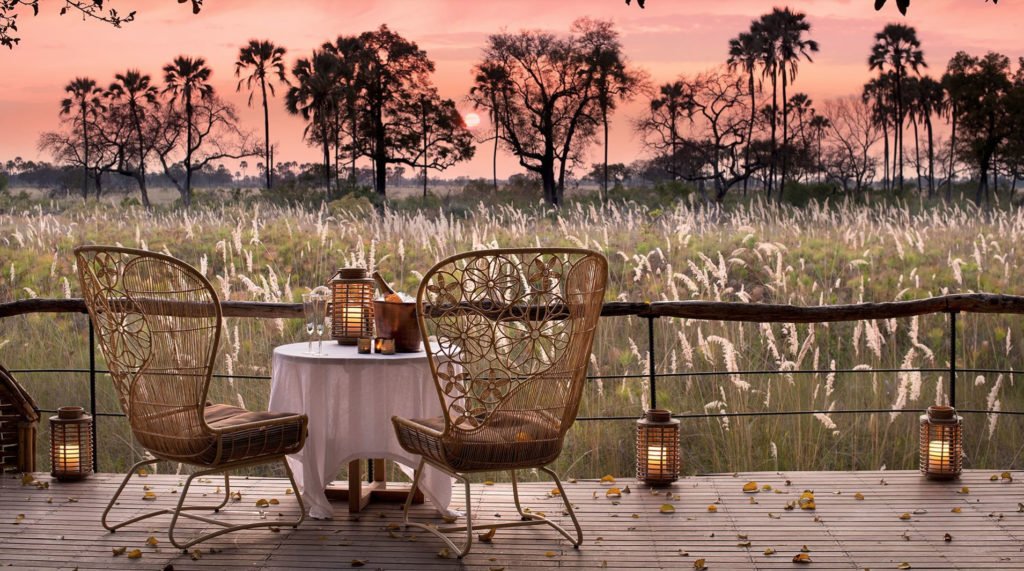 In the central lodge area you can dine beneath century old trees, pamper yourself with a massage in the sala, and browse Sandibe Okavango's excellent selection of books about Botswana's flora and fauna in the raised library. Woven baskets, art works, and curios on display all celebrate the rich craft heritage of the Delta. When the daylight starts to fade, you'll want to position yourself in a prime location to witness the famed African sunset, then join fellow guests for dinner and lively conversation by lantern light around the bonfire.
---
US
Canada
Digital Version
Subscribe to Swanky Retreats Magazine's DIGITAL version. Read the latest issue online or download it to your computer.