For a long time I have had in the back of my mind what the perfect ski hotel would be like. It goes without saying that it should be ski-in, ski-out and in a picturesque location, a design which complements the surrounding landscape and vernacular architecture, and where after a long, energizing, but ultimately exhausting day on the slopes, you can collapse, relax, and feel at home. I knew the moment that I walked through the doors at La Cambuse, greeted by proprietor Jerry and a roaring wood fire, that I had finally found that longed-for place.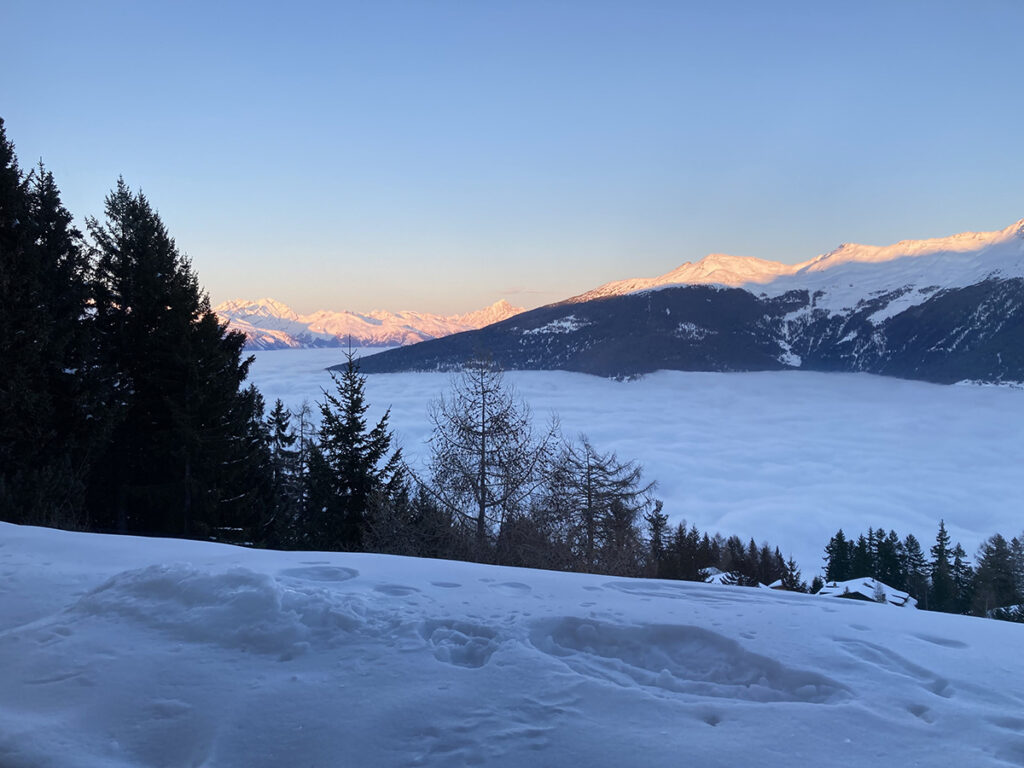 Hotel Restaurant La Cambuse is right at the bottom of the red piste linking Thyon 2000 and Thyon Les Collons. In fact, the Matze drag lift is immediately opposite the hotel's entrance, and the resort is planning to add a new lift with a mixture of pods and chairs for winter 2023/24. This means that when you ski gracefully (or slide and tumble) down your final run of the day, everything is right where you need it.
The hotel's facade is the archetypal Swiss chalet, with dark, aged timbers, Swiss flags fluttering above the door, and for most of the winter and into the spring, a thick dump of snow on the roof. The little stone lobby opens out onto a glorious restaurant and bar warmed by an open fire, where comfortable armchairs beckon and there's the coziest of atmospheres. The best is yet to come, however, as once you've passed the chimney and the room opens out, you will see the hotel's pièce de résistance: a glass viewing gallery looking straight out onto a panorama of the Alps. Nevermind the skiing, it's a view which could entertain you for days, and the guest rooms upstairs and the terrace outdoors have similarly spectacular vistas.
Proprietor Jerry and his team are effusive hosts, and La Cambuse's restaurant is rightly packed in the evenings: advance reservations are recommended. Justifying it on the basis of the day's exertions, we feasted on Fondue Chinoise, delicate morsels of chicken, beef, and venison which you cook in a vegetable broth at the table. Lighter than a cheese fondue, this dish is typical of Switzerland's Valais region, and is one of those meals which warms the soul as much as the body. Combined with the views, you'll never want to leave.
---
US
Canada
Digital Version
Subscribe to Swanky Retreats Magazine's DIGITAL version. Read the latest issue online or download it to your computer.