Letter from Tanzania

Dear day dreamer,
Do you remember when you were a teenager, you wondered if you would ever see faraway places with peoples still practicing ancient ways? Do you recall how you pictured yourself in the savannas of East Africa, tracking animals, so close to lions you could see the steam from their breath in the early morning? Or how you imagining yourself in a tented cabin, overlooking a valley of gold and green with a lake you could not see the edges of, after a long day of exploring?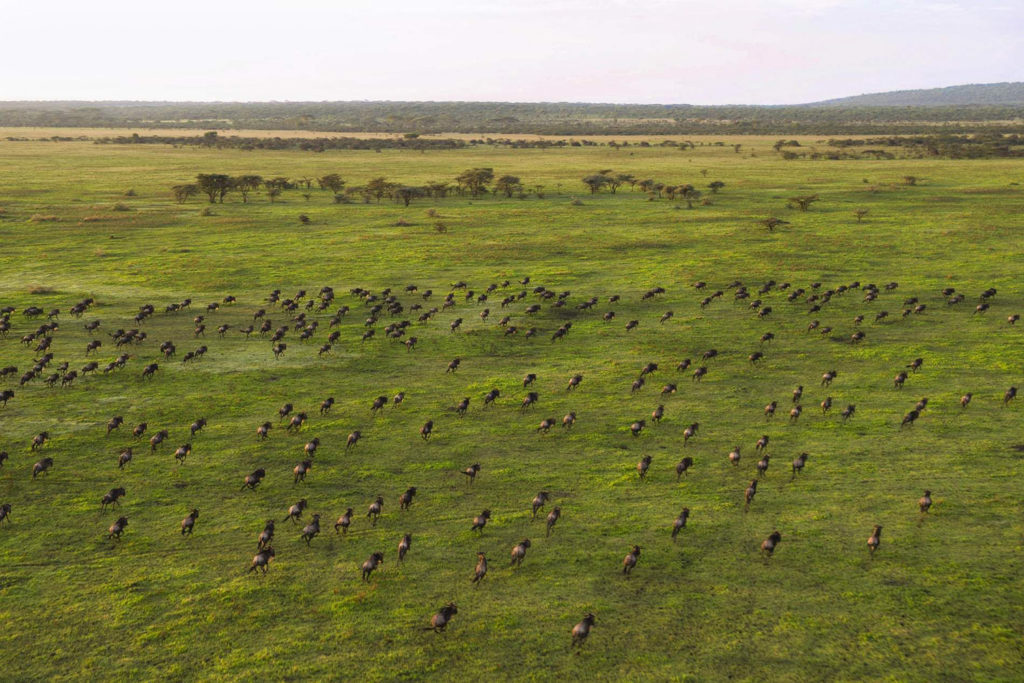 Day dreamer, I've been to those places, on a multi-day safari in Tanzania, a name derived from Zanzibar and Tanganyika, which in Swahili means 'to sail in the wilderness'. I always pictured that dream, if it became a reality, as something bespoke, select, luxurious.
There was no better place in the country to have a private safari than Mwiba Lodge, located on a reserve of 129,530 kilometers, bordering the Southern Serengeti. I arrived at night, and as I walked up the steps, the entire lodge was filled with candlelight, reflecting the sky above, pin-pricked midnight blue: a canopy of twinkling lights above and below. I sat on my wrap-around terrace, overlooking the Arugusinyai River, listening to animals below, wondering what I would see tomorrow. I was the only guest in this vast landscape, and it felt like it was all lit up just for me.
The staff at Mwiba Lodge knew I wanted to begin my trip by meeting some of Tanzania's original peoples. I awoke to a view of elephants and their calves drinking from the river below, and after an elegant breakfast served on white crisp tablecloths sprinkled with magenta bougainvillea blossoms, my guides and I set off to meet a group of Hadzabe. These hunter-gatherer people work with the lodge, allowing a few fortunate tourists to accompany them on their walks and hunting expeditions.
We arrived at the meeting place, a grassy flat plain, and the Hadzabe appeared quite suddenly, wearing bright rainbow-colored beads, bark cloth capes, and patterned skirts. Immediately we set off to hunt for honey, following them as they quickly climbed tree after tree in search for hives. When they finally found one, they began smoking the bees out, and I was allowed to be quite close to them, watching their methods. They sat in a circle around a fire, breaking the honeycomb into chunks and eating it all on the spot. After, there was much laughter and warmth, and I felt less like a visitor than a friend who had stopped by and ended up taking part in everyday ritual.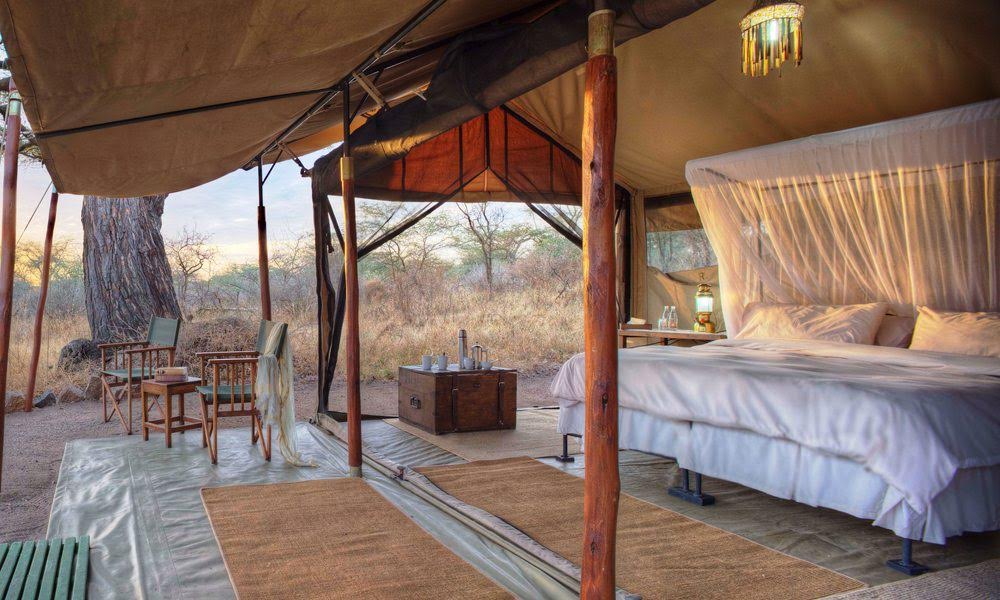 The next morning, I travelled on to my next destination, Mbono Tented Lodge, for I wanted to make another dream come true: seeing lions up close, in the wild. There was no better place to do it than this traditional safari camp, located in the isolated Mswa Reserve, known for its prime lion-viewing.
For two days, I spent most of my time in Landcruisers, viewing elephants, giraffes, hippos, birds, wild dogs, and of course, lions. Preparing for the lion tracking was extraordinary, for we could hear them each evening, one pride calling out to another that they had found their prey for the night and to stay away, as the other called back the same.
We got up when it was still semi dark, the steam from the earth rising as dew evaporated. We followed the tracks of a pride in the damp grass for miles. At last we found a group of seven of them, bellies full, napping and unperturbed by our presence. Surreal, to see these kings of the jungle, spread out like one's family after a big holiday meal, so relaxed we were able to photograph them at close range.
It's a strange moment when you cross things like this off your bucket list, when something that seemed so impossible to do you've done. Spending time with an original people like the Hadzabe was rare and golden, and seeing lions up so near in the wild moved me to the point of tears. The experiences were both magnified even further because I was the only tourist there.
On the drive back to Arusha, my driver filled my head with stories from his boyhood about growing up Maasai. We passed lone herders from his tribal group draped in watermelon red and cobalt blue, surrounded by cattle and goats.
By the time I got to my final hotel, Legendary Lodge, for a night of rest before flying home, I was saturated with experiences I knew I'd never forget. The elegant Legendary Lodge rests in the middle of an active coffee plantation, my suite looking out on a garden of red and peach hibiscus. Three days on safari had changed me: I could hear wildlife even here, see birds I had not noticed before, taste the lingering sweetness of honeycomb in my mouth, recall the midnight roars of the pride—or maybe, they were calling out to me from afar, asking me not to forget them.
Love,
Amy
Amy Gigi Alexander
---
US
Canada
Digital Version
Subscribe to Swanky Retreats Magazine's DIGITAL version. Read the latest issue online or download it to your computer.