By: Robin Subar
My Dear Friends,
Like you, Machu Picchu was on my bucket list.  However, I never gave much thought to the other offerings of Peru.  I need to share, so I've given you my top five reasons to visit.
The Food!
For us foodies, did you realize that the world's five best restaurants are in Peru? Did you also know that Ancient Peruvians discovered healthy eating such as quinoa, maca and superfoods long before it became fashionable?
The mix of flavors in Peruvian cuisine reflects the mix of cultures that have arrived in Peru over the last 500 years. It all began with pre-Hispanic cuisine that introduced cooking methods like pachamanca (buried fire). Then, when Spanish colonization began in the 16th century, Moorish influenced dishes were introduced to the menu; the onions, spices and honey desserts are now fundamental to every meal . Some Japanese came to Peru for work and never went back.  So did the Italians.  Can you imagine the fusion?
Peru knows luxury
I cannot wait to show you my photos from the 5-star Libertador Hotels!  They are represented all over Peru and each of them incorporates the unique flavor of its local surroundings. We spent our first evening at the tallest building in Lima, the Westin. Its modern design conceived by Arquitectonica is quite dramatic and you must enjoy a dinner at Maras from Chef Rafael Piqueras, one of Lima's top 5 chefs.
A must in Cusco is the Palacio Del Inka.  First of all, its centrally located right across from the Temple of the Sun. Go on the hotel tour and learn about the history and Spanish Conquistador, Francisco Pizzaro's impact.  Finally, you can take your first pisco sour lesson at the Rumi Bar while you feel transported to the days of the Incas in front of an original Incan wall.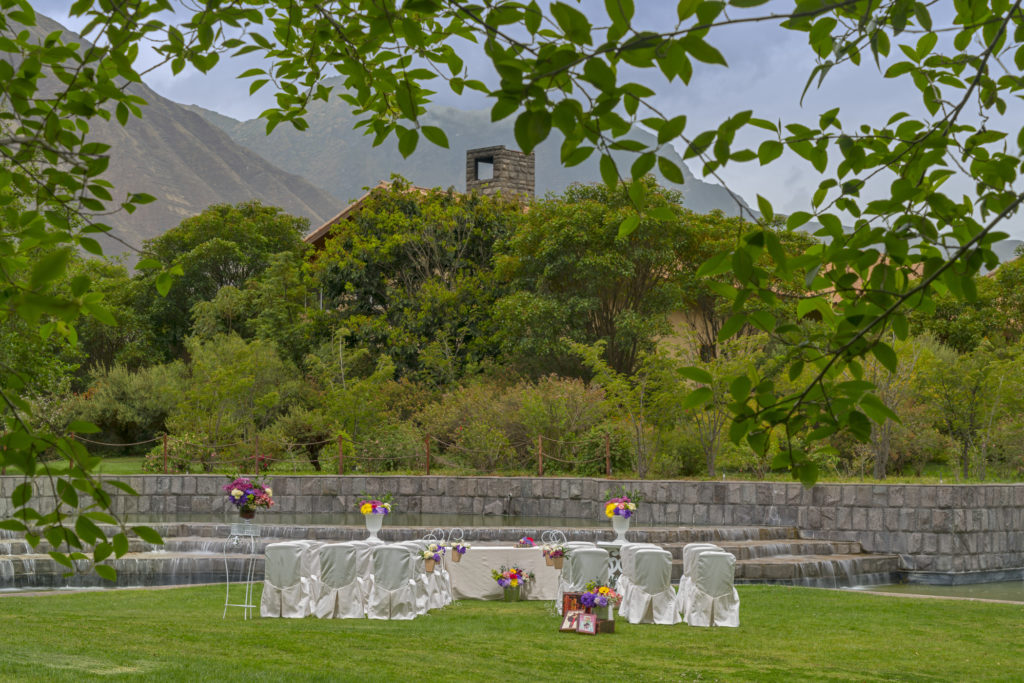 The Tambo Del Inka!  It was our very favorite right in the heart of the Sacred Valley.
It overlooks "Chicon" the glacier so revered as the local water source by the Incans.
Our room was adorned with Incan'style textiles, and chihuahuco wood from certified Peruvian forests.  The indoor/outdoor pool was like heaven on earth.
Then we flew to Paracas and stayed at Hotel Paracas.  Soaking in the Peruvian sun from our white cabanas was the perfect finale…not to mention how we dined like kings at their Ballestas restaurant.
Don't ride through the Sacred Valley – Stay There!
We decided that rather than traveling through the Sacred Valley on our way to Machu Picchu as some tourists do, we would stay for a bit and check it out.   Boy, are we glad we did.  Libertador now offers their Sacred Greens and Grains Tour.  We had absolutely no idea what kind of treat awaited us.
The premier tour operator, Venturia organizes a tour on electric bikes (our first time and after the altitude in Cusco they were in order!) and we explored the potato fields, rode alongside the Urabamba river while immersing ourselves in the countryside. We saw alpacas, farmers and fields of potatoes, quinoa and corn (called 'choclo' and it is ubiquitous in restaurants as snacks and side dishes.)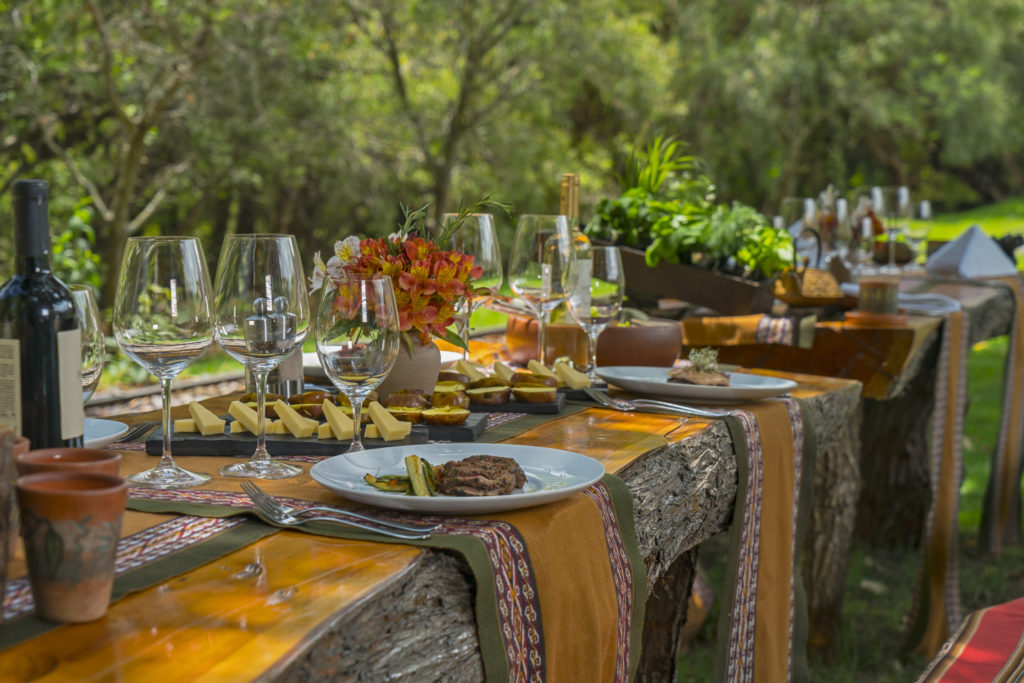 We enjoyed a farm to table lunch that was as delicious as it was scenic (with the river on one side while we faced the glacier) at the Tambo Del Inka after we toured their biogarden and tasted varieties of mint and a plethora of vegetables and fruits.
We also learned about all of the outdoor activities the Valley has to offer like zip lining, rafting, paragliding, horseback riding, bungee jumping and rock climbing.
Why wouldn't you want to stay?
PeruRail to Machu Picchu
I had no idea that it was possible to take a luxury train ride to Machu Picchu!
PeruRail picks you up at Tambo Del Inka's own train station and offers a 3-course meal on white linen tablecloths, a glass ceiling observatory car and all of the pisco sours you can drink.
Vamos a la Playa – Paracas!
As you know, I love combining culture with fun on the beach and now that Latam flies from Cusco to Pisco, it was easy.  Venturia took us out on their boat (they also offer a yacht experience) and we visited the sea lions and Humboldt penguins at the Ballestas Islands.  That afternoon they took us on a 4×4 desert adventure, which included sand boarding down very steep dunes.  Unfortunately, we didn't have enough time to check out the Nazca lines or the National reserve but it gives us a reason to return!
You must check out the less obvious Peru.  You won't be sorry, I promise!
Ciao,
Robin
---
US
Canada
Digital Version
Subscribe to Swanky Retreats Magazine's DIGITAL version. Read the latest issue online or download it to your computer.