During my stay at The W South Beach in Miami, I realized that just as that brand made standard hotels "boutique," so did the hotel's thoughtful design encourage me to make normal directions "artistic." The environment had me unconsciously translating standard navigation into something more unexpected and unique. The desk clerk, Marc, said "Sir, you'll find the lifts behind you on the first opening to the right." But on that quick trip to the elevators, I translated it to "keep the slick dark wooden planks and white stone floor to your left, then hang a right at the Warhol halfway down the lobby."
Beyond Warhol, the award-winning Anna Busta (Busta Studio) keeps the decor of W's guestrooms and public spaces contemporary, unconventional and decidedly chic. The hotel boasts an impressive collection of works by Basquiat, Schnabel, Scharf, Sachs and Clinch, among other contemporary visual artists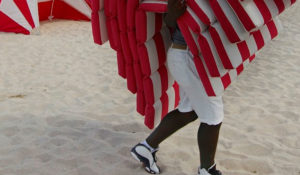 W offers several studio suites; ours is the "Spectacular Ocean View Studio Suite." After going up for a quick change to waterside attire, we make a left out of the elevator, sorry Lift, pass check in and make another hard left at the Warhol/Basquiat and head into The Dutch, where they specialize in American dining. Our server, John, rendered a brief history of both the lunch menu – a greatest hits of their most popular dishes from the five years they've been open – and the hotel's deliberate overall Eurocentric design vibe. I ordered THE STEAK, which triggered his description of the handmade house steak sauce. Our meal on the patio began with a selection of tomato compote atop thick focaccia or jalapeño-infused cornbread and fresh pineapple juice, then peaked when we each had a 10-ounce filet mignon and the Florida Mahi.
After lunch, a slight left at the driftwood thrones gets us poolside, a waypoint en route to the beach; upon hearing splashing, split the difference between the DJ, yes, the DJ and the bar area for WET, the waterside bar, and you'll see the path that winds to the sand. My reservation for two lounges is pulled up by Luke, who became my towel-bearing escort, as he explained beachfront food and drink service, I decided against making any Star Wars "I am your father" references and wondered if the pink and white striped furniture motif made me look skinner. The couple a few rows back sipping mimosas and shooting selfies didn't seem at all concerned by the effect geometry and color combinations would have on them.
This waterfront respite gave me a chance to ponder my situation. While South Miami Beach offers a host of legendary options, thanks to the W's location atop the edge of Miami's Art Deco Preservation District, a four-square mile area comprising the largest collection of that architectural style in the US, there's little reason to take advantage of the hotel's complimentary car service which whisks you to any Miami Beach destination. The hotel has so much to offer: Possibilities extend from sitting on the balcony counting the shades of blue and green in the water to heading down to the hotel's nightclub "Wall."
I opt for the middle ground and walk two blocks to Baoli, where the entrance, a seemingly deliberately narrow hallway lined with dozens of party photos from this location and its sister restaurant in Cannes, renders a "this is what you're in for tonight" vibe. Before turning left at the extremely serious "Jim Morrison, Rock God" portrait of the former Doors front man and a greeting by the host, Jeremy.
The dining experience – described as "High-end Mediterranean fare in a garden setting" – is an understatement. The actual effect on me is multi-sensory, being funneled down the hallway, past the Sean Penn party photo, ending in the explosion of leaves and nighttime sky with a tasteful supplement of pinpoint low-power lightbulbs that is the outdoor dining area. My meal began with plantain yucca guacamole chips and crackers and culminated with prime filet mignon. All I needed to finish off the generous delicious portions of truffle fries and a three-Wagyu-slider appetizer was fresh juice and imported vodka. Sundays are Jazz music events from 8:30-11; the guitar and vocal duo's variety ran from "My Funny Valentine" to "All About That Bass…" yes, that "All About That Bass." My musing on the thoroughly entertaining jazz version of that popular little number was interrupted by another diner who remarked "Oh my God, we were inside and now we're outside!" as she walked past.
While I believe choosing the steak was my own idea, my server Donato, who said he works the seasons, alternating Miami and Ibiza, was so good he might have been part mind reader/controller and part futurist, divining my intention almost before I had it. A server so good he could spend the offseason as a hypnotist.
As my attention moved between the music and the meal, the host, Jeremy who seemed to alternate between gliding and teleportation around the dining area, making the perfect appearance at each table, arrived at mine. After explaining Baoli is an INDIAN Indian word for HAPPINESS (I later learn it's actually a Hindi word meaning "stepwell," a place for ritual bathing purification), he also explained Sunday nights feature jazz but Wednesday is "My boyfriend's out of town" night – the nights the photos in the hallway were taken on.
Back in my suite, the place was filled with a blend of what you expect in a luxury hotel: excellent location, a friendly well-trained staff, flat-screen TVs, in-room Bose sound systems, spacious glassed-in balcony and Swedish shower, all set up with and lighting I can set to either moody, noontime or anything between. wsouthbeach.com
As for the unexpected, well… that is what keeps guests coming back.
We can Picture you here,
Andrew Innerarity and Danielle Krause
---
US
Canada
Digital Version
Subscribe to Swanky Retreats Magazine's DIGITAL version. Read the latest issue online or download it to your computer.