Antarctica has the harshest climate on the planet. In winter, there are weeks when the sun never rises above the horizon, and temperatures as low as -98.2 Celsius have been recorded. The South Pole is somewhat warmer: it's highest recently known temperature, recorded in 2011, is -12.3 Celsius! Rainfall is rare; when precipitation does occur, it falls to the ground as snow.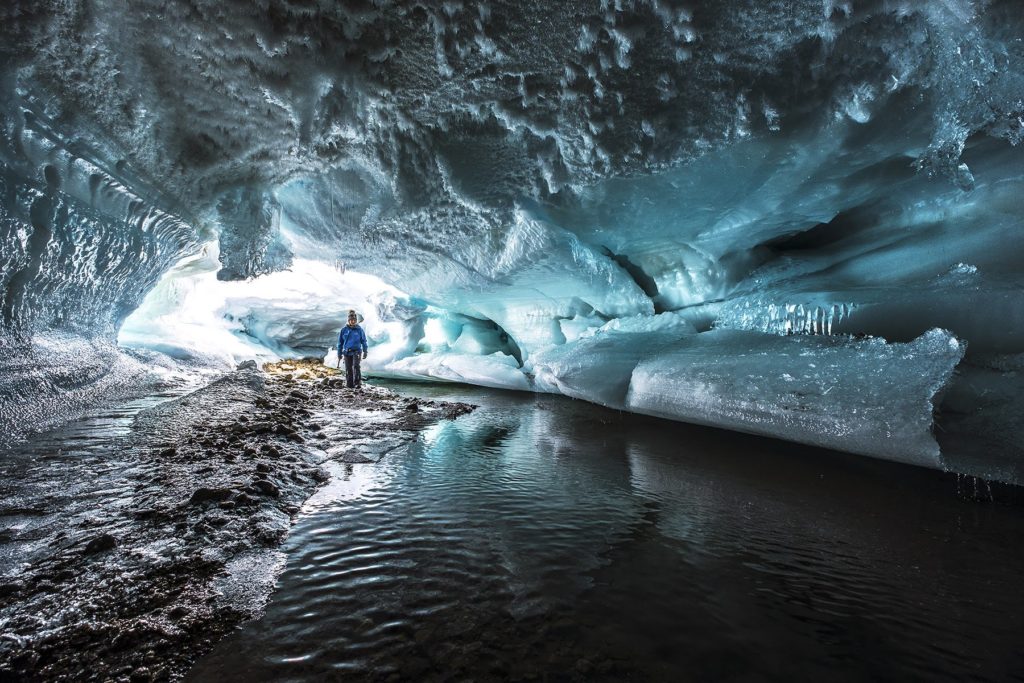 In spite of this extreme environment, which has earned it the moniker "The White Desert", Antarctica is far from devoid of life. Blue whale, orca, and colossal squid swim in the Antarctic seas, and on the beaches you will see multiple species of penguin incubating their eggs and raising their chicks, and seal lounging on the rocks. These fantastic creatures, plus the dozens of species of birds which feed off algae and plants, thrive around the periphery of the world's remotest continent because they are completely undisturbed by humankind. Environmental regulations are strict because we want to keep these lands and waters pristine. This is the bottom of the globe, the last great unexplored wildernesses, and it calls to the most intrepid and imaginative of travelers.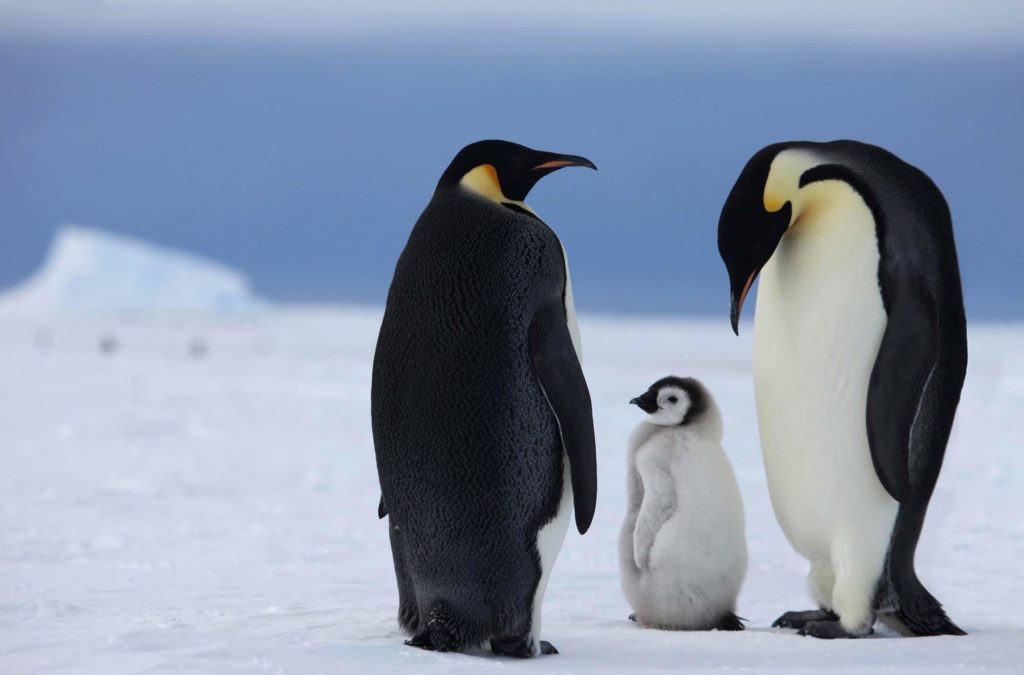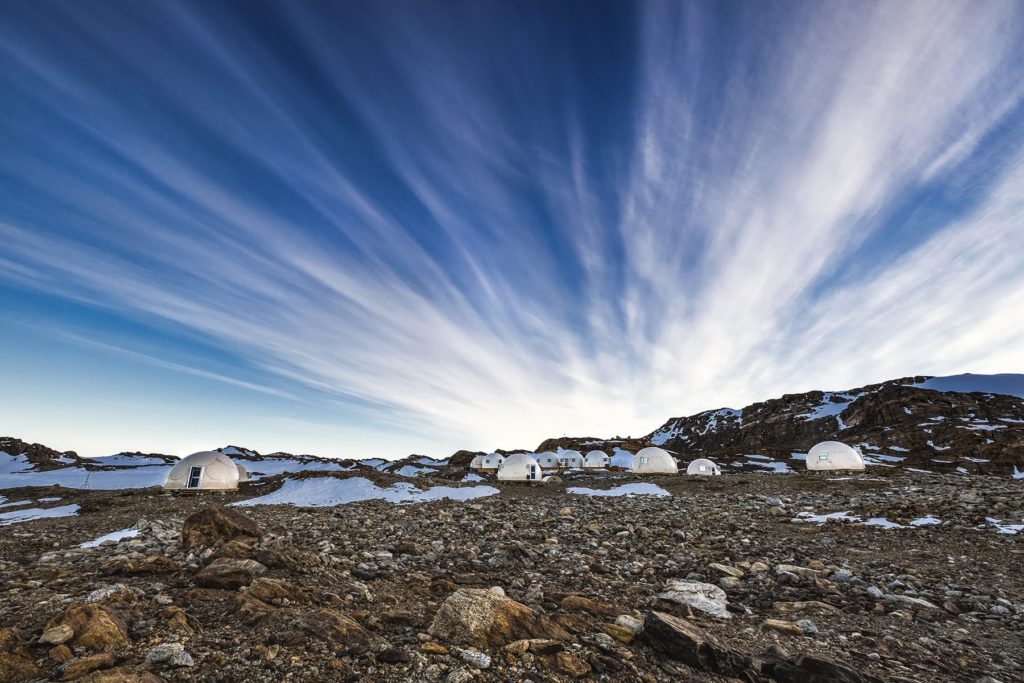 The journey to reach Antarctica is a key part of the adventure. It is possible to sail from Ushuaia at the southernmost tip of Latin America, crossing the turbulent Drake Passage on the way, but if you don't care for boats (or are pushed for time), Journeysmiths offers you the opportunity to fly from Cape Town in South Africa, landing on Antarctica's Wolf's Fang Runway. The international flight in a Gulfstream private jet takes five hours, and it is then just a short hop on to the White Desert Whichaway Camp near the coast. You will have clear views all the way, as you'll arrive in the middle of the Antarctic summer when there is daylight around the clock. This is the land of the midnight sun.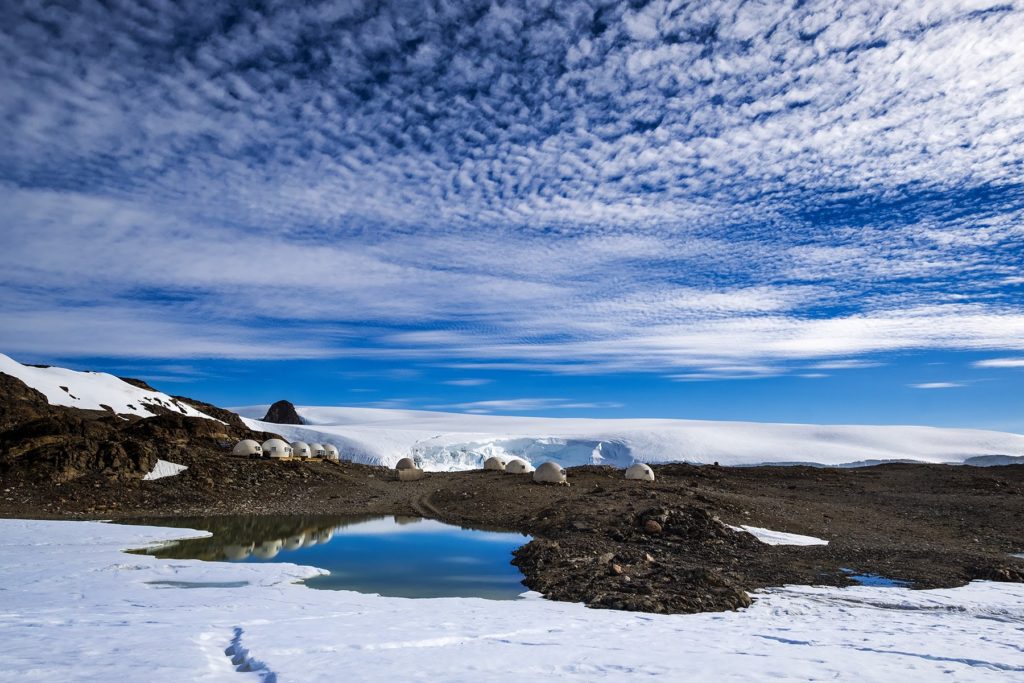 The first thing to strike you in Antarctica won't be the cold, because you will be dressed for that. Instead, it is the vast scale and the quietness, which at times is almost eerie. The Wolf's Fang Mountain Range rises almost vertically from the ice, creating jagged peaks that contrast with the snow in both colour and shape. This will be your first up close sighting of Antarctica, and it is one which will be branded onto your memory as long as you live.
Whichaway Camp — your fabulous polar home — is comprised of a dozen or so bubble-like pods. If you were colonising a far off planet, the architectural designs you would choose would probably not be dissimilar, but the levels of luxury at Whichaway will undoubtedly take you by surprise.
This is glamping, but certainly not as you have ever experienced it before. Each pod is an engineering masterpiece, curved and insulated to protect you from the strong Antarctic winds. The monochrome interiors of the six bedroom pods are softened by the use of different textures, including thick faux fur throws and wicker storage units. There are two twin beds in each pod, and enough space left over for an en suite washing area and toilet, plus a living area with a writing desk.
Separate pods house the camp's communal spaces. They are stylish and contemporary in their decor, with a flash of the stronger statement colors of brick red and deep blue. Between your outdoor activities you might sit on a tan colored leather sofa poring over topographical expedition maps and books of fine art photography, watch the light slowly change on the snow and ice landscape outside, or chat with fellow guests about what it is that has drawn you to Antarctica.
Whichaway Camp boasts an award winning chef; this an unexpected pleasure in a place so far from civilisation. 14 people can dine together in the round, which builds a warm sense of community between the guests and guides. A three course dinner might well be lit by candlelight, and as it is always cosy inside, you can strip back your thermal layers and don an outfit which is altogether more glamorous. The wine and spirits selection is flown in along with the food, so you will have no difficulty finding your favourite pre dinner tipple, or the right wine pairing for your meal.
Activities at Whichaway Camp are always optional, but it would be a crying shame to venture all this way and not make the most of every opportunity to explore Antarctica. There are professional polar explorers to guide you, and a maximum of 12 guests on site at any one time, so every experience can be tailored to your interests, available time, and level of skill.
The gentlest of all the activities is probably a picnic overlooking the ice waves. Suitable polar clothing is provided as standard, so you don't have to worry unduly about the cold. As you sit and eat, breathing in the purest air you will ever find, it's highly recommended to look up at the sky; Antarctic seabirds such as the snow petrel are likely to be circling above.
Hiking and snowshoeing are a little more strenuous and will get your blood pumping. You can travel even further afield if you opt for kite surfing or ice climbing. The latter might well include abseiling down the side of a naturally formed ice sculpture, and you can guarantee the most extraordinary views when you reach a lookout point at a raised elevation. Just imagine the cachet when you regale your friends with those adventures! Nothing can really compare.
One of the undoubted highlights of any visit to Antarctica, though, is the chance to see the continent's wildlife. There are species here which you simply can't see anywhere else in the wild, and an encounter with penguin is a must on any trip.
Antarctica has multiple emperor penguin colonies, but one of the largest is a three hour flight along the coast from Whichaway Camp. It is estimated that there are 3,000 breeding pairs of birds here, plus their newly hatched chicks. This particular colony is rarely visited by tourists, so the penguin are wonderfully curious. It is not uncommon for a chick to waddle right up to you, especially if it thinks you might feed it a fish or two!
The icing on the cake of this extraordinary expedition is to go all of the way to the South Pole. People to have done this are still few and far between; the cruise ships which visit Antarctica have no possibility of reaching so far inland. But from Whichaway Camp, Journeysmiths can arrange you to fly five hours into the Antarctic interior to a fuel stop, then two hours more on to reach the pole. It is not that the jet is flying slowly; it is a total distance of 2,400 km, which makes you realise just how huge Antarctica really is.
The South Pole was the Holy Grail of early polar explorers, and getting there is still an impressive feat. The flags of those nationalities which have accompanied it are proudly displayed, so if your country's flag is not yet there, you might well want to bring one with you and pose for a commemorative photo. You will definitely want to crack open a bottle of the best Champagne in celebration of the fact that whichever direction you walk from the pole, you are going to be heading north.
Close to the pole is the American-run Amundsen Scott South Pole Station where scientists are studying predominantly study astrophysics. When you visit, they will enthusiastically tell you about their work — it's rare that they have guests to talk to!
Depending on a variety of factors including the weather conditions, you may be able to stay a night at the South Pole. If you do, you will never forget it. There are specialist tents which will enable you to sleep comfortably in one of the wildest places on Earth. A hearty breakfast will equip you for the day ahead, and you can then fly back across the almost endless expanse of snow and ice to Whichaway Camp. A hot bath will await you, and not doubt be very welcome indeed.
---
US
Canada
Digital Version
Subscribe to Swanky Retreats Magazine's DIGITAL version. Read the latest issue online or download it to your computer.