Words by Ann Marie Scheidler
Photography provided by Visit Telluride
One of the greatest gifts of being a writer is that new two days are ever the same. One day I may be interviewing an incredible philanthropist and the next fielding an amazing travel adventure.
Travel writing is truly one of my favorite things because it opens my eyes to parts of the world I might not otherwise see. So when invitations come—even those that take me far outside of my comfort zone—I try to always embrace "the yes."
Just before the holidays, Visit Telluride invited me to come and see their storybook village tucked away in the southwest corner of Colorado. While the city of Telluride is synonymous with iconic skiing, a skier I am not. While I clearly laid my cards on the table explaining I had only sported skis a handful of times in my life, that seemed to only increase the tourism board's enthusiasm to show me, a non-skier, that Telluride could be my paradise, too.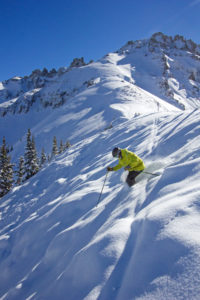 From Chicago, I flew directly into Montrose, a cozy little regional airport about 90 minutes outside of Telluride. An experienced driver met me upon landing and whisked me safely through the valleys of some of Colorado's tallest mountain peaks, past Ralph Lauren's stunning ranch, to the Hotel Telluride where I would stay for the duration of my trip.
The Hotel Telluride is a four-star hotel located in the historic district of Telluride. Its ideal location makes a car completely unnecessary during your vacation as everything is walkable, shuttle-able, or reachable by gondola. With a fireplace going at all times in its lobby during the winter, this sets the tone for the warmth Hotel Telluride exudes—from its free ski storage, on-site restaurant, and complementary coffee, tea, and cookies in the lobby—the pristine Hotel Telluride is an easy choice to hang your hat while you're visiting Telluride.
Although I was an amateur skier at best (and this only proven on the hills of the Midwest), it was important for my hosts to get me up on the slopes. So after easily renting my equipment from Camel's Garden Telluride Sports and being carefully evaluated by a team of ski instructors, I was placed in the Telluride Ski School's "never-ever skied" lesson. For the better part of a day, I grew comfortable in my equipment and confident that I could handle the smaller, shorter runs. But with more time, and maybe one more lesson, I'm sure I would have graduated to the more challenging slopes without any fear.
Having been completely won over by the skiing enthusiasts, I returned to my mission of validating that Telluride is indeed a vacation destination for everyone.
In addition to attracting skiers and snowboarders from around the world, Telluride is a magnet for foodies as well. The rich culinary scene is yet another way this small western town is differentiating itself from others—having been the setting for several episodes of the culturally acclaimed television series "Top Chef." On our first night in town, we visited the newly opened Tunnel restaurant. Owned and operated by Mark Krasic, who has head local Zest Catering since 2001, he unveiled a throwback to an old-time, speakeasy-inspired restaurant that requires a password (and reservation) to enter. Only 12 lucky diners enjoy a pre-set menu at each seating where the food and drink offerings change seasonally—or at the chef's whim—in an effort to keep his restaurant concept fresh and unexpected.
Telluride prides itself for not having any chain restaurants making every threshold you pass through feel like a bespoke experience. Another local favorite is Allred's, the Telluride Ski Resort's signature restaurant, located at the top of the gondola. We were able to check our ski boots at the door and change into slippers that were waiting to soothe our aching feet. We were treated to an expansive buffet lunch that satisfied every palette, only topped by the most breathtaking panoramic views of Telluride's most glorious peaks (Telluride has the largest concentration of mountains soaring past 14,000 feet).
And if cutting-edge dining is what you seek, executive chefs Ross Martin and Erich Owen
have recently opened an elevated gathering place that offers unconventional yet approachable food. Once inside, you feel as if you've been transported to the heart of one of the country's most cosmopolitan cities with its chic and urban décor. Their menu and staff live up to the bar its backdrop sets.
Finally, if you prefer a more "to-go" approach to eating, there are a number of choices within walking distance of the slopes. Ghost Town for its eco-approach to dining and The Butcher and The Baker for its endless list of made-to-order breakfast and lunch items topped my list. And The Last Dollar Saloon is a fantastic local bar because it is in fact—where the locals go. And if an après ski with local spirits is your heart's desire, Telluride's Distilling may be the best you'll ever experience.
There is loads of fun shopping if you prefer to take Telluride at your leisure and experience its culture. Filled with art galleries, interior design shops, and fun clothing and souvenir stops—there are plenty of places to keep you occupied if you're not on the slopes. Additionally, Telluride is making a name for itself in the spa world, debuting a Himalayan Salt Spa Cave at its award-winning Pure Beauty & Wellness Spa. They have an expansive pink salt cave where visitors enjoy beauty treatments and group yoga classes in an environment that promotes detoxifying and stress relief.
If your thrill-seeking itch has yet to be scratched, experience Telluride from a snowmobile—but I have to say this is not for the faint of heart. With Telluride Outfitters as our guide, I saw the ups-and-downs of Telluride's mountains at 50 miles per hour (fast enough for me). It was an unforgettable experience as the sun shined on our faces as we zipped through the snow.
Telluride is clearly a way of life with its natural beauty, varied landscapes, and its bustling but uncrowded terrain. It captured this non-skier heart and soul.
---
US
Canada
Digital Version
Subscribe to Swanky Retreats Magazine's DIGITAL version. Read the latest issue online or download it to your computer.