Three decades ago, when I was a child, British food didn't have the best of reputations. But somehow, in the intervening years, the country's culinary fortunes have been transformed by a new generation of talented chefs, who have drawn upon Britain's
excellent agricultural produce and international ties to create diverse and delicious cuisines to be proud of.
Hywel Jones, Executive Chef at Lucknam Park, has been at the forefront of this gastronomic revolution. Raised in South Wales, Jones originally considered a career in the Royal Navy, but fate had a different plan for him, and a week before beginning basic training, he was informed he had been accepted into catering college. His diners will be forever grateful. Jones honed his skills in London's best restaurants, including under Marco Pierre White at the Hyde Park Hotel, and he earned his first Michelin star whilst working as the Head Chef at Foliage at the Mandarin Oriental Hyde Park. Jones was invited to Lucknam Park in 2004, where he has not only matured as a chef but also raised the hotel's reputation to become one of the foremost foodie highlights in the southwest of England. Restaurant Hywel Jones has proudly held its own Michelin star since 2006, and every season brings with its more opportunities for Jones to demonstrate his imaginative and prowess in the kitchen.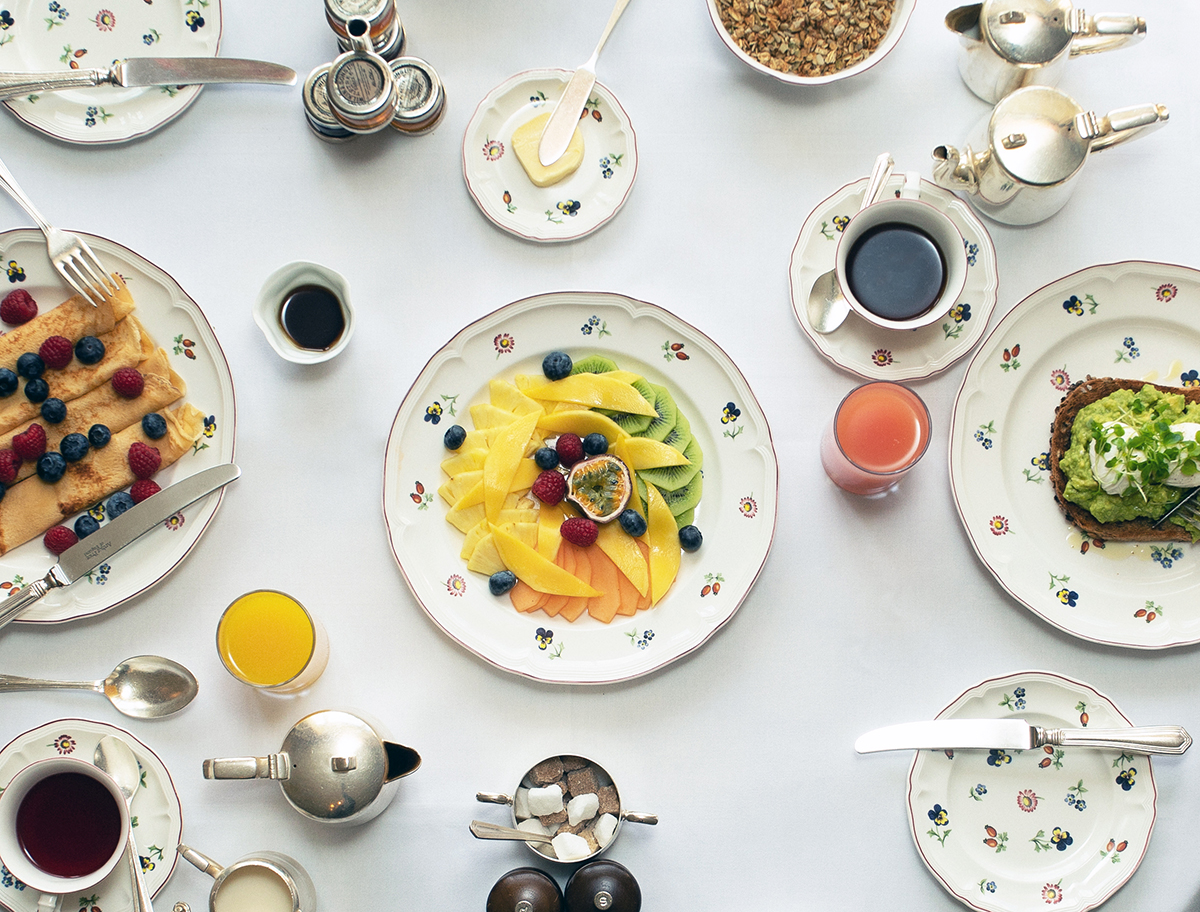 The Palladian mansion on the 500 acre Lucknam Park estate in Wiltshire was built in the 18th century. Some 400 lime and beech trees line the main avenue to the house, stretching for more than a mile. There is an arboretum in the parkland, a walled garden, a rose
garden, and a recently renovated vinery, collectively creating a glorious natural environment which changes markedly throughout the year. Much of the produce grown here makes its way onto the restaurants' tables: there are more than 30 varieties of fruit and
vegetables, including alpine strawberries, rhubarb, and runner beans.
The great joy of these natural surroundings is that guests at Lucknam Park can explore the Wiltshire countryside without ever having to leave the estate. On an English summer's day, there really is no greater pleasure than taking a walk and then settling down for
a picnic, served on fine white porcelain plates from a traditional wicker hamper. Like a Victorian lady or gentleman, you can feast on dainty finger sandwiches filled with Cornish lobster, tomato, and dill; and enjoy valley smoked salmon flavoured with orange and
fragrant fennel. The summer fruit trifle has just the right amount of sweetness, and of course the glasses of Champagne will keep flowing as long as you have the desire to propose a toast.
When the weather fails, as in England it is sometimes wont to do, Lucknam Park will welcome you indoors. Afternoon tea has been a firm English favourite since it was first invented by Anna, the seventh Duchess of Bedford, in 1840. At Lucknam Park, afternoon tea is
served each afternoon either in the library or outside on the emerald green lawn, and it is a truly sumptuous affair.
All of the best afternoon teas begin with a glass of bubbles, and at Lucknam Park the beverage of choice is Joseph Perrier Champagne. It is poured into fine stemmed glasses which are as sparkling as the wine itself. There is a choice of teas and coffees from specialty merchants Gillards of Bath, and of course it is served in delicate bone china cups with saucers.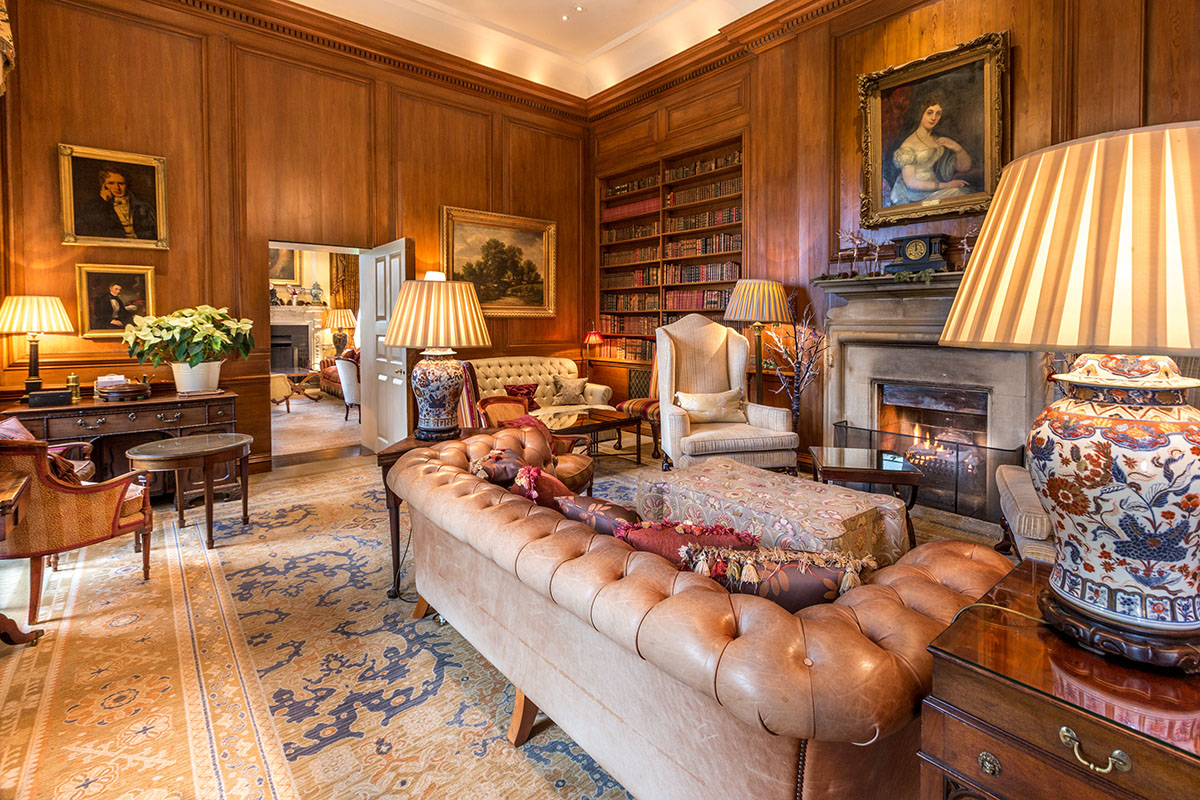 To eat, you will have a mouthwatering array of tiny sandwiches, warm homemade scones, and dainty patisserie, all served on a decorative tier of plates. The delicious, light and fluffy scones are accompanied by lashings of clotted cream and jam, so it is a truly
indulgent treat. It is hotly contested in England as to whether you should spread the jam or the cream on first, but whichever you choose it is guaranteed to be equally delicious.
Although Restaurant Hywel Jones is unpretentious, I wanted to dress for dinner in order to enhance the sense of occasion and feel I was showing due respect to the master craftsman's food. In my elegantly appointed bedroom there was ample room for me to sashay between the carefully chosen pieces of antique furniture, a long mirror to check my attire, and all the amenities you would expect from a 5-star hotel. All I was missing was a lady's maid!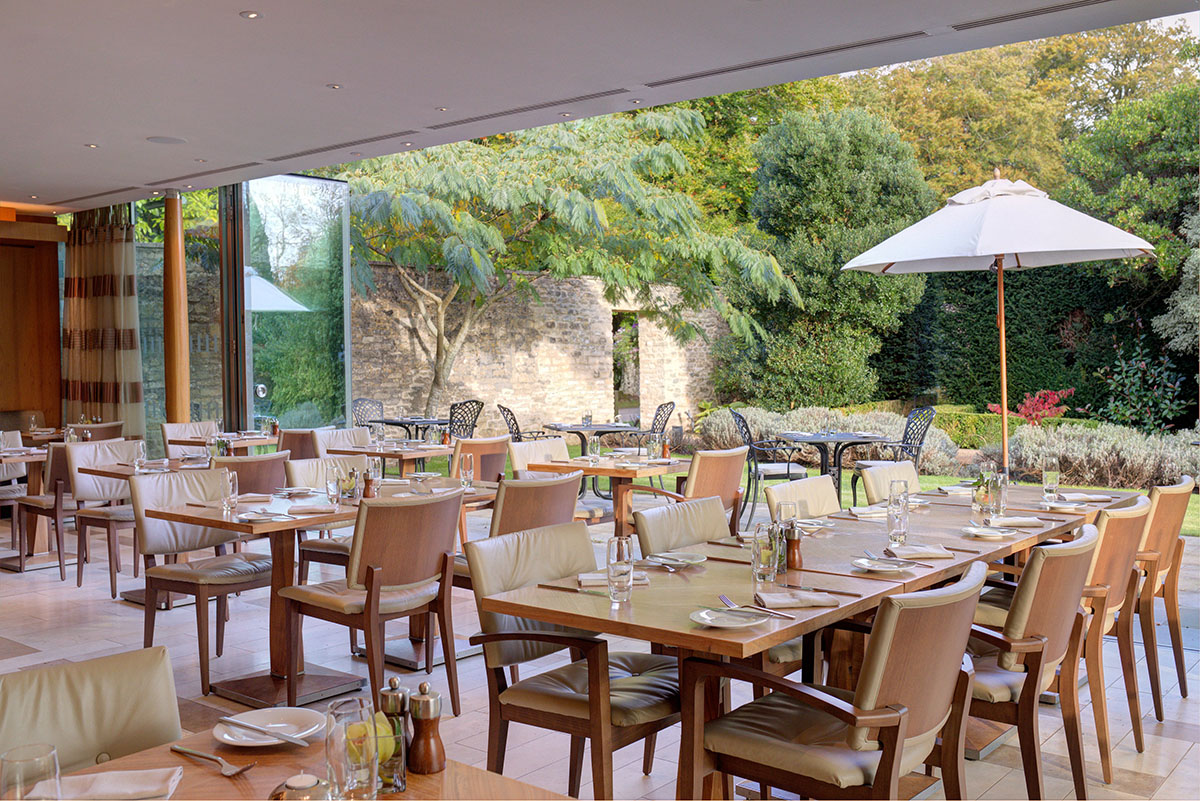 One of the things which impressed me with the appearance of the rooms was the way in which Lucknam Park's interior designer has balanced the sense of history with the needs and tastes of a contemporary traveller. Many of the rooms have four poster beds and chandeliers, polished mahogany side tables and attractively upholstered chaise longues, but it never feels too much like a museum: this is a livable space where you can properly relax, albeit in opulent surroundings.
I descended the main staircase for dinner at 8pm, and felt like an honoured guest in a lavish private home. Lucknam Park's staff are always attentive but without fussing around you, and they encouraged me to begin with a pre-dinner drink in the library. I was already
quite powerless to refuse their charm, but as they passionately described the different cocktails, I knew any willpower on my part was gone. It was absolutely the right decision: the crispness of my martini, and the delicacy of the garnish on the side, was second to none.
Iwas already entirely at ease when the time came to be escorted through to Restaurant Hywel Jones. The house's main dining room is a high ceilinged space with large windows, and in daytime it is flooded with light. After nightfall, however, with the heavy brocade curtains drawn, the room feels much more intimate, and the tables are sufficiently well spaced to allow for social distancing and for private conversations to carry on without being overheard. The large, central chandelier glitters and twinkles, and the star-like
effect is reflected in the ornate mirrors on the walls.
I was handed a menu when I first sat down at the table with its crisp white linen tablecloth, but I scarcely needed to glance at it. The waiter knew every dish, and described them with such joy that my mouth watered with just the thoughts. Each of the options on the short a la carte menu has been curated with a quiet confidence that can only come from decades of refining one's skills, and knowing exactly what combination of ingredients and methods will have the desired impact on the diner's eyes, nose, palate, and stomach. I was thrilled to hear just how much of the fresh produce being used had been grown on the estate at Lucknam Park: not only was it seasonal, but its carbon footprint could be measured in feet rather than miles.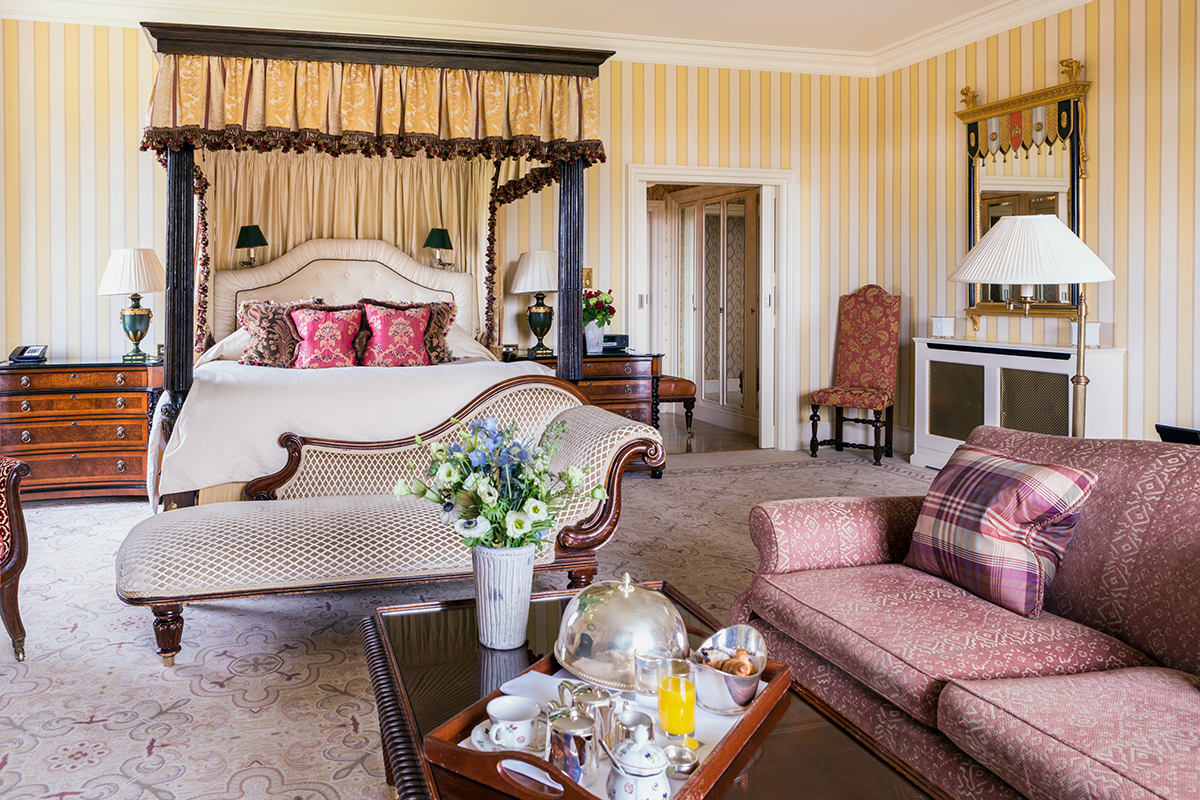 In honesty, I could have picked any dish on the menu at random, and am sure it would have tasted divine. But I have a penchant for certain ingredients, and am always drawn towards them, if only to see what imaginative concoction the chef will create this time.
At Restaurant Hywel Jones, I found the roasted diver scallop irresistible, not only because of the scallops themselves, but because it was accompanied by the Severn Estuary smoked eel, Bramley apple, and a red wine vinaigrette. My fellow diner opted to start with the
poached Devon lobster with chilled melon gazpacho, cucumber, and sesame, and it truly was an explosion of favours. It would never have occurred to me to pair lobster with melon, but Jones pulled off the recipe with aplomb.
Choosing a main course was no easier than selecting an appetiser, so I asked the waiter to decide on my behalf. I find this is often the best course when fine dining: the staff have always tasted the dishes in the kitchen so that they can describe them and make recommendations, and they, therefore, know if anything stands out head and shoulders above the rest. My eyes opened wide as the Isle of Gigha (a remote island off the west coast of Scotland) halibut was brought to the table and presented to me with a flourish. The pale flesh of the fish flaked away on my fork, and the delicate flavour assured me it was caught wild, not farmed. The halibut was served with sweet peas, maple glazed chicken, hazelnuts, and a lemon thyme jus gras, so every mouthful contained the most wonderful union of tastes and textures. I was able to sneak a forkful of my fellow diner's Wiltshire downland's lamb with yoghurt and North African ras el hanout spices, and though very different from my own meal, it was commensurately divine.
It is possible to book a table at Restaurant Hywel Jones just for dinner, and indeed non-residents do come to dine at Lucknam Park, driving there from miles around. But for me, the meal alone was only part of the experience. Had I had to forgo the wine in order that I
might safely drive home, or even leave by carriage, like Cinderella before the toll of the midnight bell, I would have missed the delightful feeling of weaving my way through the hotel's historic corridors to my room. As it was, I knew that when the evening had ended, I could
retreat upstairs at my own pace. I would awake in the morning refreshed and surrounded by the tasteful interiors, refined architecture, and natural beauty of Lucknam Park and its estate. The restaurant and the hotel complement one another just as exquisitely as the ingredients in one of Jones' unmissable desserts.
---
US
Canada
Digital Version
Subscribe to Swanky Retreats Magazine's DIGITAL version. Read the latest issue online or download it to your computer.