This winter's Swank List is curated by Peta Phipps.
These are a few of her favorite things for travel this winter.
She loves travel (obviously). Pairing this passion with her penchant for the coupling of casual elegance and you'll see why her picks for this winter are a perfect fit for her (and you). Her style is eclectic but a common thread runs through all of her pieces. What commonly ties them all together is a classic look and feel that screams casual elegance, without her ever having to say a word. Another connector for Peta is a back story. This is probably obvious since her life is about telling travel stories and surrounding herself with some of the most eloquent voices who love to do the same. When she discovers an interesting product that catches her eye, and has a fabulous and creative story, she's all in. This winter, she is living for these four must-haves.
The Ebby Rane Quartermaster, and its secret sauce, are currently her exclusive travel companions.
Only four years old, this line of elegant luggage is designed by Jamaican-Canadian Sonja Salmon, who, as a former finance executive, wanted a piece that fit her busy lifestyle while staying true to her elegant aesthetic. In our opinion, she nailed it! This piece, and its accoutrement, is reminiscent of travel accessories from a time when travel was romantic and dare I say, elegant. In the same way that its founder lives her life, ignoring obstacles, nay-sayers, and preconceived notions of what she should and should not do, so does our Editor in Chief. Sonja Salmon pushes through her life with confidence and the Quartermaster and its band of perfectly designed organizing pieces, keep Peta traveling in style. Sonja demanded excellence of herself and her travel accessories, then – thankfully, made them available to us all. The product is so much more than a suitcase. We are sure you'll see it popping up on our social media feed for a long time to come. This is the line you want to travel with!
#TravelSimple and #TravelSwanky and you will never check a bag again.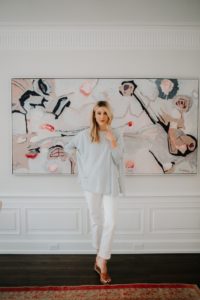 Of course Peta's fave things are all about living your best travel life. Her next 3 items are from one company. She is obsessed with Mer Sea, to say the least. Talk about functional, casual elegance and you have got to visit www.MerSea.com and grab yourself these three products as well as almost everything else they are selling. The Belt Bag with Tassel in navy suede is so delicious that we know Peta has already put her passport inside of it and she doesn't have an international trip for 12 days! Did we mention she was obsessed with this line?
Currently sitting on top of her bag for a flight to San Francisco in the morning is the Catalina Travel Sweater in Sky. Just saying those five words, all in one sentence, puts a smile on her face. "Please remember to leave my Catalina Travel Sweater in Sky on top of my Ebby Rane. I like to slip it on as I approach the ticket counter." Her exact words this afternoon, and we gladly obliged. It's now become her go-to travel piece as it keeps her warm and is a piece for her as it is the epitome of inflight casual elegance.
Now, let's get back to that passport (already packed) and where she's headed after this trip. Her destination after this trip is Los Cabos. She will be there for about a week and thought the Tassle Wrap, mad for the true wandering spirit. This is all she needs to throw over her shoulders and begin to immerse herself in the spirit of Mexico while staying warm at 37,000 feet.
Tie all of this to the back story of the founders. Mer-Sea was founded when Melanie and Lina, connected by their children and inspired by the sea; they heard the call of the ocean, even in Kansas. They had already been successful professionals in a different life, and looking to dip their toes back into creative work. Combining a small investment and their talents of product development and sales, they began dedicating their time to creating a gift company based in inspiration. They begin and end with simplicity.
We thought this was adorable:
'Mer' means 'sea' in French and together phonetically they sound exactly as we feel—thankful. Merci!
Travel well. Travel often. Travel light. We couldn't have said it any better.
Anatomie
Launched in 2006, Anatomie is a sophisticated contemporary travel wear brand with a playful sensibility, which epitomizes the personality and style of its founders, Kate and Shawn Boyer. The brand was born from their personal quest to create a flattering pair of pants, and has since grown into a full women's ready to wear collection, including outerwear, tops, dresses, and the perfect pants that started it all.  
Today, the easy care, high performance designs are a favorite in exclusive hotel, county clubs, resorts, spas and other travel destinations. Combining innovative features, high style and everyday practicality, Anatomie represents functional fashion for the sophisticated traveler who appreciates quality and comfort.
Anatomies' guiding philosophy has always been functional fashion. The foundation of their collection is the utilization of high-performance "technical" fabrics that are durable enough to 
meet the demands of extreme sports yet luxurious enough to go from play-to-work and work-to-evening.  Anatomie translates these fabrics into sophisticated sexy silhouettes that are durable and ultra-modern.  
Contemporary travel wear is, essentially, stylish and comfortable clothing that woman can wear to any place at any time. Whereas many designer pieces prioritize form over function, Anatomie ensures the perfect balance of both by blending high performance, ultra-modern technical fabrics with classic designs and form-flattering cuts. The result is ultra comfortable clothing that looks great. 
Anatomie is the most loved luxury travel brand in the world. Combining high functionality and performance fabrics with sleek design, we create exceptional everyday wear for the adventurous jet-setter.
---
US
Canada
Digital Version
Subscribe to Swanky Retreats Magazine's DIGITAL version. Read the latest issue online or download it to your computer.