By: Robin Subar
Photo credit: Libertador and Robin Subar
I jumped at the opportunity to work on an assignment entitled "Travel Outside the Obvious" because as the saying goes, that is my wheelhouse!   For instance I saw it as a perfect complement to combine a Mexico beach trip with a visit to the subterranean roadways and plazas of Guanajuato.  My vacation to Vietnam and the obvious visit to Ho Chi Minh City included a detour to watch world class windsurfers in the town of Miu Ne.
Therefore pushing the boundaries of Peru beyond the obvious Machu Picchu, was right up my alley. Don't get me wrong.  Machu Picchu IS extraordinary.   I can now attest to it.   But I assumed Peru had more to offer well beyond the wondrous Machu Picchu. For instance, my travel partner and I indulged on the exemplary cuisine rooted in the cultural odyssey of Incans, Spaniards, Japanese and Italians.  We experienced firsthand how Peru caters to the luxury market (thank you, Libertador & Luxury Resort Collection!) in addition to the numerous budget-conscious backpackers. We lingered in the Sacred Valley, explored the deserts and sunbathed on the beaches outside of the obvious and breathtaking Andes.  (Next time to the jungle!)
LIMA
Our 8-hour journey on Copa Airlines to Lima from Chicago included a quick stop in Panama City.   Our driver met us at the Jorge Chavez International Airport in Lima, and we navigated the congested traffic and cacophony of horns through the bustling city.  In roughly 30 minutes we approached the sleek and sophisticated Westin Hotel in San Isidro, Lima's financial district.  Our driver informed us that the Westin was the tallest building in Lima (due to soil and earthquake concerns) and added as we eagerly unloaded ourselves and our bags that we must try our first Pisco Sour in the English styled bar.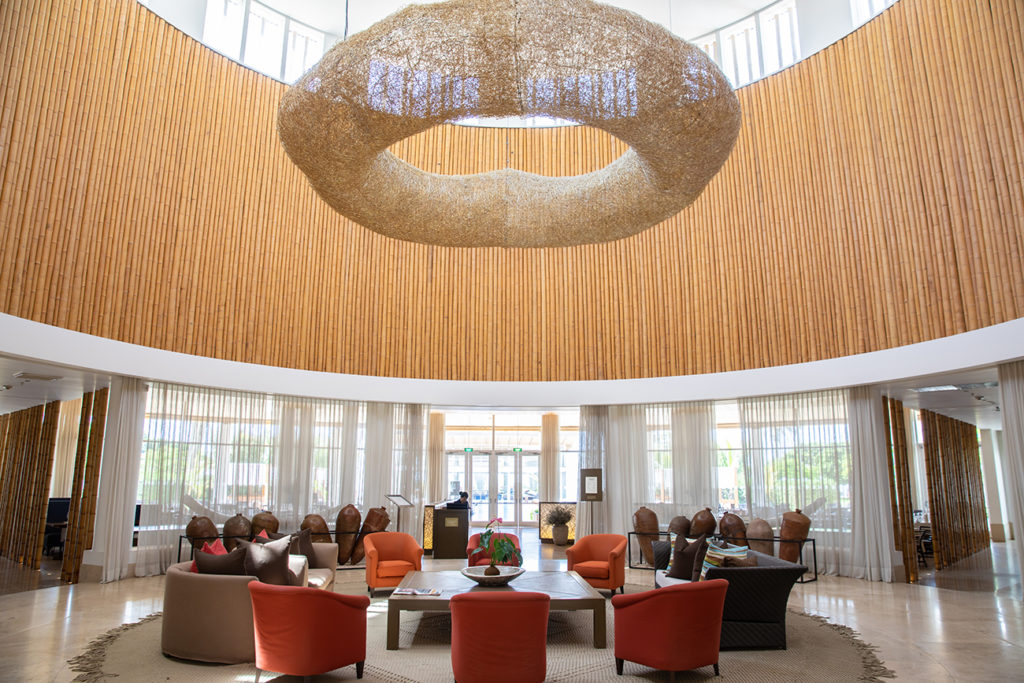 We took in the immense glass structure of this environmentally friendly hotel (also the only LEED Gold certified building in Peru) and washed up in our elegant room overlooking the city lights. Dinner that evening consisted of a quick jaunt near our hotel to Osaka Restaurant where we were introduced to Peruvian-Japanese fusion at its best.
After a good night's sleep (thankfully jet lag was a non-issue as Peru is on EST) on Westin's Heavenly bed we headed down to the buffet breakfast for our first Peruvian breakfast consisting of typical peruvian tamales to chicharrón de cerdo, omelettes, fresh juices and organic ingredients such as sprouts, chia, maca, sunflower seeds for a very healthy start to our day.   We were serenaded by a chorus of waiters singing Cumpleanos Feliz in perfect harmony to a woman celebrating her birthday at an adjacent table.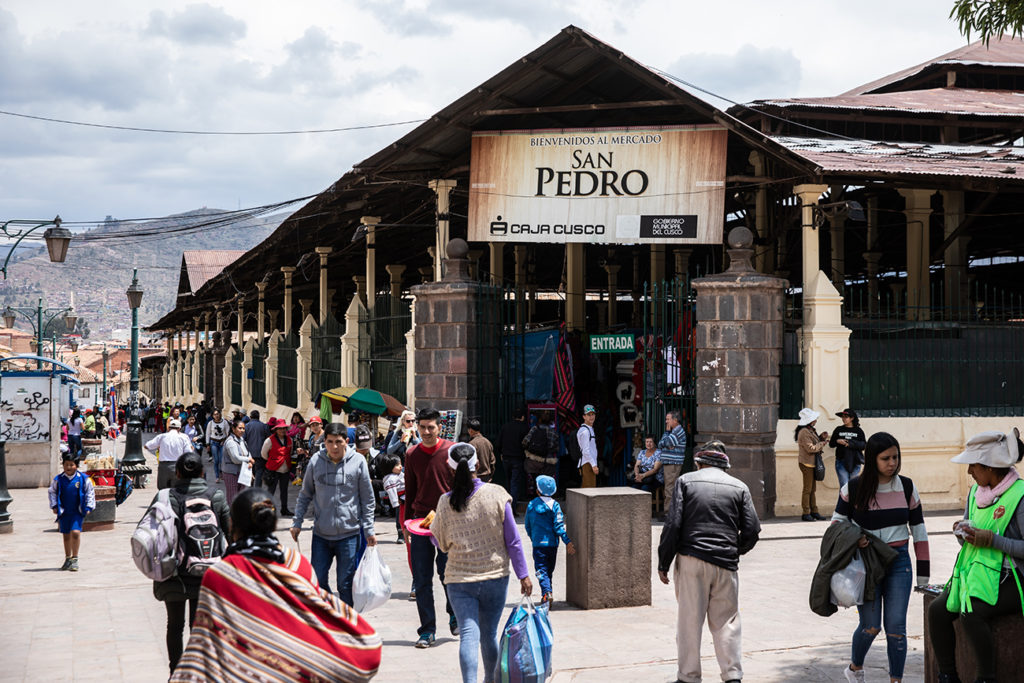 After breakfast we hailed an Uber (Uber is recommended unless your hotel organizes a taxi) to begin our own Lima walking tour starting at Kennedy Park in Miraflores.  Miraflores is the main tourist district in Lima offering great restaurants serving up lomo saltado (beef tenderloin), the famous mercado indio (Indian market) for colorful Peruvian handicrafts and souvenirs and the boardwalk near the famous Parque de Amor or Love Park housing the famous 'El Beso' statue of lovers embracing by Peruvian Artist Victor Delfin.
We snacked on the sweet and succulent Chirmoya (apple custard fruit) from a street vendor and journeyed to Larcomar Shopping Center, a stunning feat of architecture tucked away in a cliff with views of the Pacific Ocean. We strolled down to the Barranco District (Bohemian District) and took in the sights of the parasailers over the ocean while marveling at the twisted limbs of the Poinciana trees.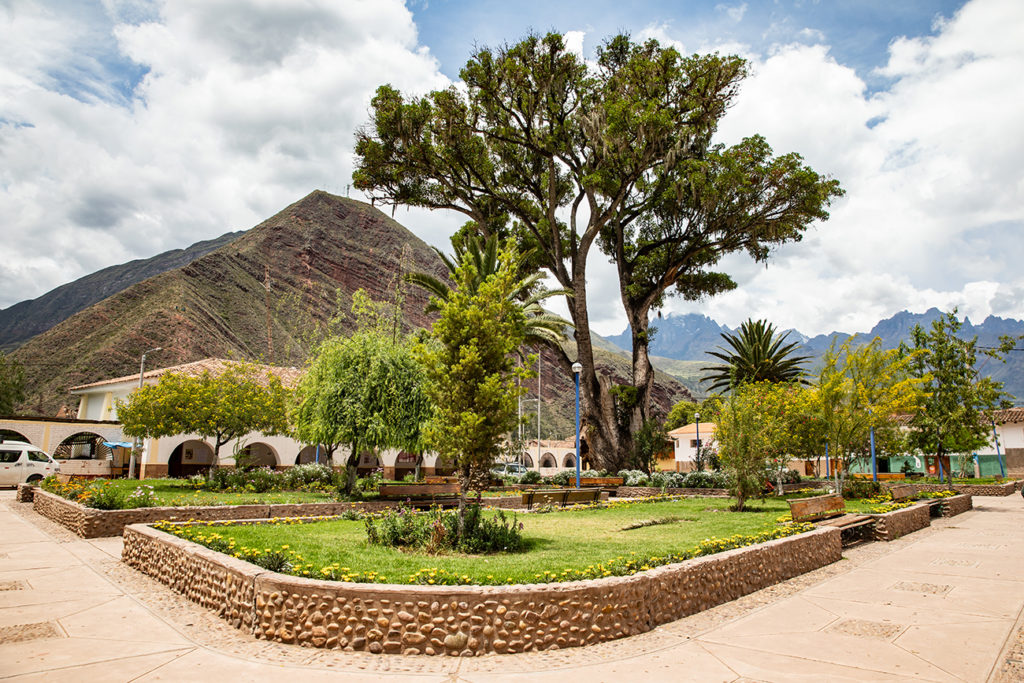 Our next stop included the Boutique Hotel B, which draws inspiration and Belle Epoque design from its bohemian surroundings.  We ventured to the famous Dedalo shop housing Peruvian crafts and home décor as well as an artistic courtyard restaurant.  With food on our brains, we heard that the ceviche at Chana Rana was not to be missed so we did as we were told and devoured ceviche of cojinoua with a refreshing Cusqueno beer.
That night we were treated to an exquisite meal consisting of fish of the day in curry marino followed by peruvian torrija of lemongrass, figs and orange slices.  Renowned Chef Rafael Piqueras Bertie of our hotel's Maras Restaurant, pays homage to Peru's native ingredients and culinary traditions.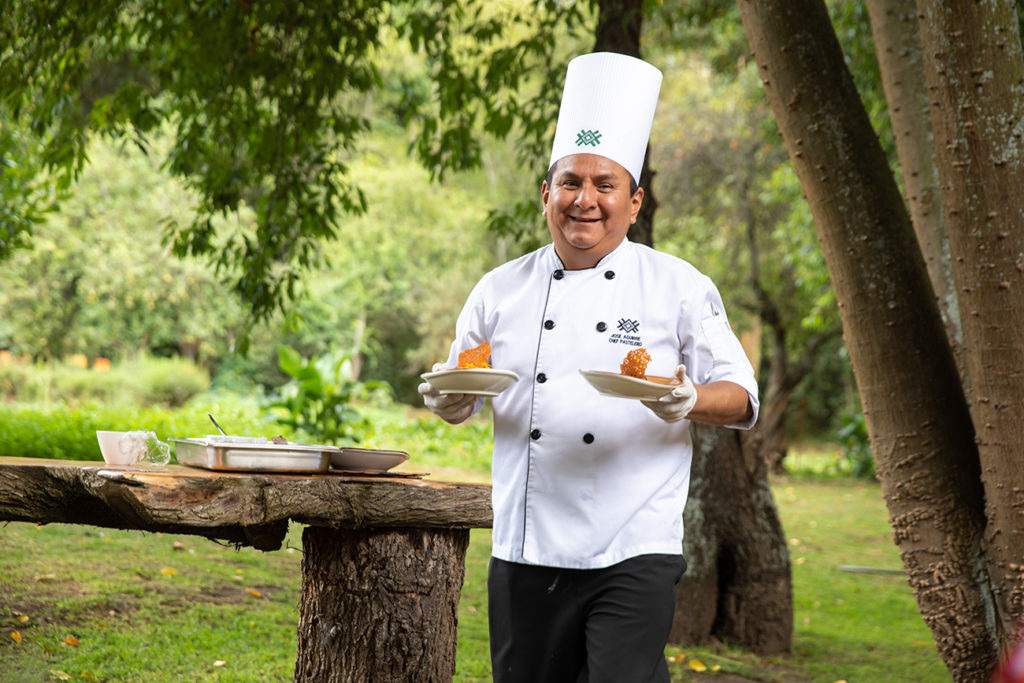 CUSCO
The next morning we awakened early for our flight to the UNESCO heritage sight, Cusco on Peruvian Air.  There are numerous flights from Lima to Cusco to choose from on both Peruvian Air and Latam.
Cusco was once the capital of the Inca Empire and now known for its archaeological remains and Spanish colonial architecture and a population of over 100,000.  It was interesting to learn that Cusco, means center in Quechua and is referred to as the belly button of the world. (Peruvians/Incans find bodily images in so many ways such as street patterns and rock formations, in fact Cusco itself is said to resemble a puma) Cusco is also touted as one of the safest cities in Peru.
As the launching pad for Machu Picchu, tourists are attracted to Cusco's culture and mysticism.  It's a must to prepare for the altitude of 11,152 ft./3399 meters above sea level. The locals say, "Tome poco, come poco y durerme solo ", which means drink little (alcohol), eat light and sleep alone."  Well at least we were two for three!  Peruvian coco leaves are a natural aid to altitude sickness and abundant (they even offer them when you get off the plane) in teas and candies.  Just don't drink the tea at night or you may end up with a secondary effect of insomnia!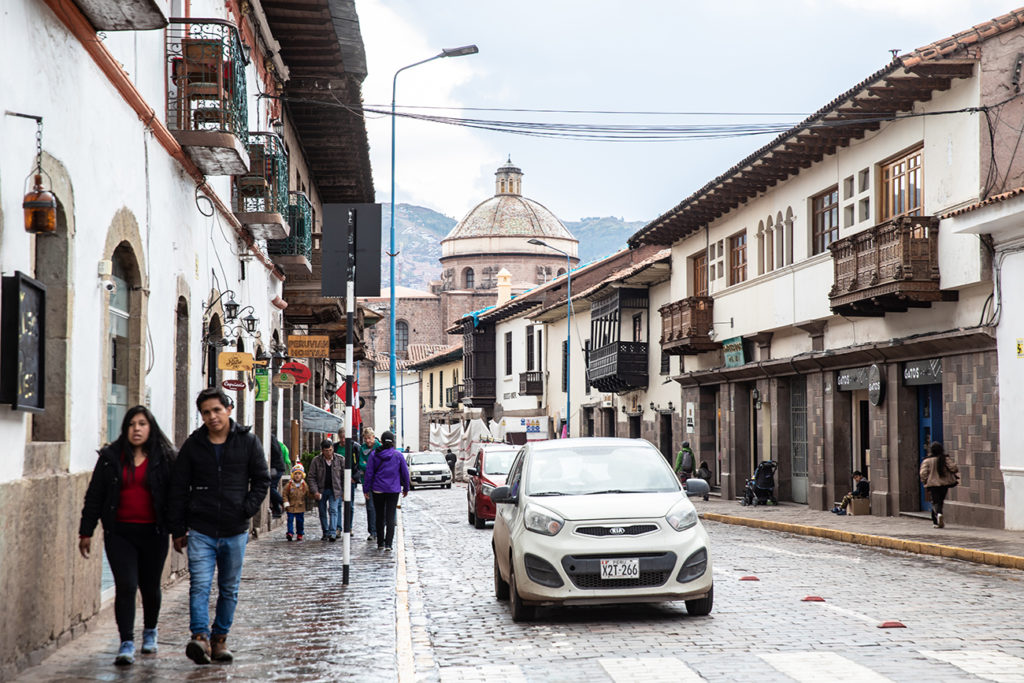 We meandered through narrow cobblestone streets and colonial houses with wooden balconies and red tile roofs on our way to Libertador's Palacio Del Inka.   The Palacio stands directly across from the Quoricancha or Temple of the Sun and is situated in the Casona de los cuatros bustos.
We were immediately struck by the five century old mansion's ornate glass roofed lobby and the contrast of the sapphire walls with arched passageways against the crimson of the grand area rug.  Our room had a warm and medieval feel simultaneously with original hand-painted frescoes on the walls and headboard, colonial furnishings and all of the creature comforts of modern amenities.
During our tour of the hotel that afternoon, we learned the rich history of the Palacio. It was built for Spanish Conquistador Francisco Pizzaro. The 16thcentury chests in the lobby belong to the government.  Its 17th century paintings throughout are valued at millions. The exterior once covered in gold was pillaged by the invaders.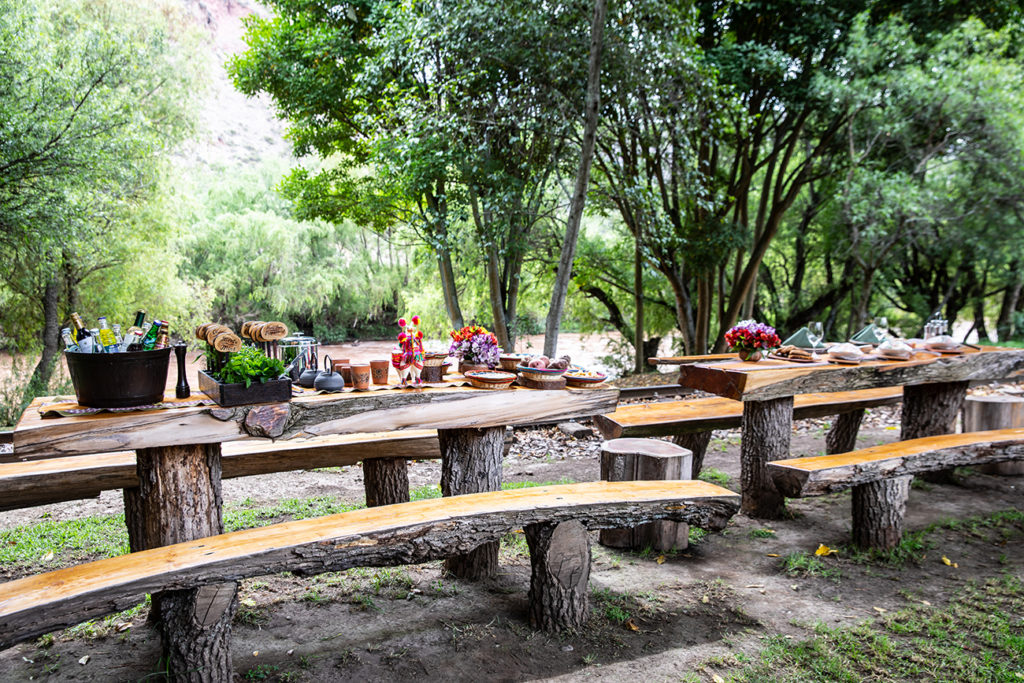 After our tour, we were invited to attend a Pisco Sour lesson at the Rumi bar. Rumi means 'stone' in Quechua and is the perfect name for a bar sitting against an entire wall made of Inca stonework. We learned that Pisco is derived from one of the eight grapes of Peru. The Palacio recipe contains 3 parts pisco, to one part simple syrup, one part lime juice and one touch of egg white for the foamy top. The Libertador's signature pisco comes engraved with an "L" using bitters.
As if we were not inspired yet enough, we were then ushered into the adjacent lounge area to enjoy a glass of Gran Tinto Malbec, Petit Verdot and an artisanal platter of local cheeses before our scheduled massages.
I must say a massage was the perfect antidote to an early wake up call and altitude adjustment! Libertador's spa treatments offer indigenous Andean minerals and products and we were presented with our choice of locally sourced aromatherapy oils.  The therapists were as well trained as the rest of the staff and inquired about pressure and tight spots.
On day two after enjoying another nourishing Peruvian breakfast, we set our sights on the San Pedro Market as our destination and taking in the Plaza de Armas and streets of Cusco along our journey.   We traveled only a block or so and were approached by a group of Peruvian women dressed up in colorful garb and their alpacas for photo ops.   Although this was an obvious tourist ploy we happily fed right into their hands for Instaworthy pictures!
The colorful and vibrant San Pedro market surprisingly did not carry the usual odors or hawkish vendors of the other markets we have experienced throughout the world. We enjoyed a stroll through aisles of grains, vegetables, juices and handmade souvenirs.
We huffed and puffed our way back to the Palacio (the altitude!) and prepared for
our final dinner in the romantic and historic Inti Raymi Restaurant.   The full page of vegan offerings intrigued us, consistent with the healthy gastronomy everywhere in Peru.  We opted for a beautifully plated carpaccio appetizer and river trout and were served like kings by the Palacio's friendly and attentive staff of waiters.
SACRED VALLLEY
It was time to discover the Sacred Valley. I slowly felt relief from the altitude as we started our 2500 ft. descent from Cusco. The Sacred Valley is a beautiful and remarkably unspoiled area known for its vast patchwork of agricultural fields and green terraced slopes framed by the peaks of the Andes.
While the Sacred Valley is generally a stopover between Cusco and Machu Picchu, we planned to linger for a couple of days at Libertador's Tambo Del Inka in the town of Urabamba…outside the obvious!  We stopped along the way in the picturesque town of Chinchero known for its intricate traditional textiles and were fascinated by the ancient process of converting bugs into dye, to the art of weaving and display of the finished products.   Of course how could we leave Chinchero without yet another alpaca blanket to lug with us on our travels?
Perched on the banks of the Urabamba River, the five-star Tambo del Inka's sloping red tiled roof reflects a typical Andean home offering the vast cultural and natural richness of this enchanted region. The rooms feature local granite and chihuahuco wood from certified Peruvian forests. Incan-style textiles with bold geometric patterns and colorfully painted decorative paper mache masks add to the traditional and indigenous décor.
This stunning property is surrounded by 'Chicon" the picturesque glacier and water source of Sacred Valley and that which was most revered by the Incas for their sustenance. Blooming gardens run harmoniously along the emerald river. It is the only hotel in the valley with a private train station where our travels will lead to Machu Picchu the following day.
After the Libertador's signature welcome infused iced tea, Venturia, the expert private tour operator organized our introduction to experience the valley on our maiden voyage of electric bikes.   After fitting us with helmets and gloves, Christian guided us carefully through town and into the valleys of quinoa, corn and potatoes where we learned there are over 3000 varieties of potatoes in Peru.  What a treat to lean on the bicycle's power when you need a rest! Unbeknownst to us, while we were cruising through the lush fields of the valley (and stopping for many photo ops along the way), a crew of elves at the Tambo were busily preparing a picturesque farm to table lunch.  Libertador offers this new addition to their guest experiences entitled the "Sacred Greens and Grains Tour".
Our host Manuel, led us down a road on the Tambo's property into a clearing with wooden picnic tables, an Andean stove and we stood over a pit while he explained 5 cooking techniques including Pachamanca or 'buried fire'.   We walked a bit further and encountered a vista of picnic tables adorned with local textiles and ceramics situated between the river and a panaoramic view of the snowcapped Andes.  Chef Eduardo and Sous Chef Hermones were busily preparing our lunch at a wood-fired stove.
Manuel gave us a tour of the immense organic biogarden, a primary source of our lunch and major ingredients for the menu items at the Hawa (heaven) hotel restaurant.  We encountered a variety of herbs, lettuces, radishes, asparagus, pumpkin, tomatoes, gooseberries, and the local pepper used for Peru's beloved aji sauce.  Manuel shared ancient Inca remedies such as his grandmother's use of the Rueda herb to clear bad vibrations and heal headaches! He encouraged us to taste as we toured and we vowed to commit these tastes to memory with the understanding that they would be tough to replicate back home in Chicago.
Our lunch consisted of 2 types of organic salads, fresh trout, chicken breast, beef tenderloin with greens and a heavenly chocolate mousse topped with fresh berries.  We could not tell you whether the cuisine, the white gloved service or the surroundings were better than the next as we felt drunk on the entire experience!
Paying tribute to the Urubamba, which is in fact, a headwater of the Amazon, was a hydrotherapy circuit complete with hot and cold cobalt blue-tiled plunge pools, an aromatherapy hamman, a Vichy shower, and an outdoor deck facing the fast-flowing river. We began with a sauna then migrated to the steam.  Our attendant was on hand to usher us from station to station.
MACHU PICCHU
After a delightful meal at Hawa and a restful night's sleep, we were ready to board our PeruRail's 3-hour luxury train (outside the obvious once again!) to Machu Picchu. A host from the hotel escorted us down the pathway to the personal greetings from the PeruRail staff donned in dark blue suits and golden ties…but how did they know our names? If you have never traveled by luxury train (this was our first experience) it may take you a few moments to catch your breath at the sheer splendor of the dark wood inlaid panel walls of the cars contrasting with the starched white linen set tables adorned by inviting wingback chairs.  Before we managed to take our seats, we were approached for our drink order and offered a tall glass of refreshing infused iced tea along with a 3-course lunch menu. The lounge car with a glass observation ceiling offered a full bar including unlimited piscos, local wines and a caboose balcony for passengers to catch fresh breezes and uninterrupted views of the Andes.  We deliberated over the decision to stay seated at our private table during lunch or relish the views from the observatory lounge. This was a tough decision indeed!
The leisurely pace of the train meandering through the valleys and allowed us to soak in all that Peruvian countryside had to offer!  The maitre'd kept us abreast of the scenery and points of interest as we passed the Maras salt flats and the famous Sky Lodge consisting of 3 guest capsules jutting out from the mountain like a condor's nest. Our comfort and experience was PeruRail's number one priority.
Next stop, Aguas Calientes where we located our bus to take us up through the harrowing switchbacks to the Inca city.   Since I am committed to telling you about 'travel outside the obvious', I will keep this portion of my story very brief as the Machu Picchu story has certainly been told since it is one of the Seven Wonders of the World! However, no matter how much we have seen or read by way of articles or photos, there is nothing quite like being there. The technical skill of the Incas during the fifteenth century was akin to the Romans.   At one point, the sunlight poured through the clouds in celestial rays and we felt connected to a force greater than ourselves.
With eavy hearts we ate our farewell breakfast while Ruth provided us with the 'Grains' finale of the Sacred Greens and Grains tour.  We began in the dining room where she pointed out super foods contained in the average Peruvian diet such as maca (for virility!), sacha, inchi, kiwicha, canihua and camu camu.  She then carried out a tray of more quinoa, powders and seeds and explained their nutritional values.  We marveled at how the Peruvians inherently understood nutritious eating habits long before it became fashionable.
In retrospect, it is not surprising in the least to learn that Travel & Leisure named Tambo Del Inka as one of the best 100 hotels in the world.  It is certainly our favorite!
PARACAS
We landed at the new and modern Pisco International Airport. There are two flights a week serving Cusco/Pisco on Sundays and Thursdays on Latam Airlines.  (Paracas is also a 3-hour ride up the coast from Lima).  The contrast in culture from the mountains to the beaches was palpable.  We left the llamas behind in exchange for pelicans and the vibrant hues became a memory as we ushered in the soothing beach tones of our final destination.
After a short cab ride down dusty streets, we arrived at our final destination, Libertador's exclusive (the most exclusive hotel on Peruvian coast) two-story cubist Hotel Paracas situated in front of the Paracas National Reserve.
The atmosphere throughout is whitewashed and spa-like with bamboo, clean lines and a Greek island vibe.   While waiting for our oceanfront room, we were overwhelmed by the line of cabanas outlining the magnificent pool on our way to the pier.  Lunch consisted of plantain chips with aji, causas (out of this world potatoes) and ceviche at Hotel Paracas' Chalan, touted as one of the best restaurants in Paracas .  We never tasted fish quite so fresh and citrusy with fat nuggets of fried and steamed choclo (corn). Of course, no meal is complete in Peru without a Cusqueno beer to wash it down!
Venturia appeared like angels once again to offer us a trip to the Ballestas Islands and 4×4 Sand Encounter for our last day in Peru.
After our breakfast buffet on the veranda, we headed down to the dock to board to explore the Ballestas Islands.   We were excited to connect with sea lions and Humboldt Penguins, but had little knowledge about the Ballestas.  Gloria, our guide explained right off the bat that the Ballestas are referred to as the "Poo Poo Islands" because of the huge volume of excrement left by the Cormorant birds.  We wondered why she felt compelled to share this unsavory piece of information with us at the start of our expedition! Soon we learned that indeed it was another example of the Peruvian culture's symbiotic relationship with nature.   Every seven years, a group of workers are stationed at the island to scrape the bird excrement and sell it in bags to Peruvian farmers as fertilizer.
With one Venturia excursion to go, we slipped out of our swimsuits and into our shorts and sandals for the desert.  Jahson our host met us in the lobby and Bruno our driver pulled up in his Mitsubishi SUV.  I felt a small pit in my stomach when we were instructed by both to buckle our seatbelts and Bruno hesitated to leave until we had done so.  Twenty minutes later we approached an arched doorway leading into the dunes. The vast rippling sand drifts looked like a painting against the backdrop of blue sky. Bruno probably decided to ease us into this adventure slowly and we cruised around giggling with glee.  At a certain point, Bruno must have felt we were ready for the big leagues and stepped on the accelerator. Right before our eyes, Bruno transformed into Mario Andretti. We dipped and turned 45 degrees over sand cliffs while we white knuckled our door handles and shrieked.
After several minutes of this joy ride, we parked on a steep hill and Jahson unloaded the sand boards.  The guys demonstrated how to lie face down on the board and use our feet as brakes.  Within seconds we were sailing down the dunes for the ride of a lifetime!  Afterwards, Jahson set out pillows and Andean blankets on the dune and poured us a glass of Peruvian wine as we watched the dazzling hues of our final Peruvian sunset and then a culminating dinner at Ballestas.  We reflected on our 'travels outside of the obvious' while we lounged at the cozy fireplace after our meal. The one thing we could say was obvious…. this was certainly a trip of a lifetime!
www.libertador.com.pe
Venturia, www.venturia.com.pe
 PeruRail, www.perurail.com
 Other Sacred Valley Activities include: zip line, paragliding, rafting, bungee jumping, rock climbing, bouldering, horseback riding and Urubamba market
 Other Activities in Paracas: Tour of Nazca lines, Pisco tours
 Other Activities in Cusco: See Venturia's website for options!
---
US
Canada
Digital Version
Subscribe to Swanky Retreats Magazine's DIGITAL version. Read the latest issue online or download it to your computer.