…Just like Bogie and Bacall
It would be cliche to say, "When your head says one thing and your whole life says another, your head always loses." I knew that, as I made my way through the teal gates of this spectacular resort, I would be hard-pressed not to fall deeply in love with the romantic setting and wind up being a cliché myself. The picture-perfect scenes unfolded before us as we were driven from the reception to our…bungalow. Come to think of it, maybe it actually started at reception. As we pulled up in our Jeep, (top down of course) an island host valeted the car while another one opened the door to a glimpse of what lay ahead. Stepping into the elegantly-appointed thatched reception area, we knew we were in for a treat. Everything about the space whispered Bogart and Bacall, while my eyes wandered around, what amounted to be, a large and welcoming living room, taking in the well-curated antique decor while sipping on my welcome cocktail, the Largo Lemonade, I was immediately intoxicated. I had to squeeze my partner's hand to make sure I was not dreaming. By the look on his face, I could tell we were both experiencing the same feeling of having arrived.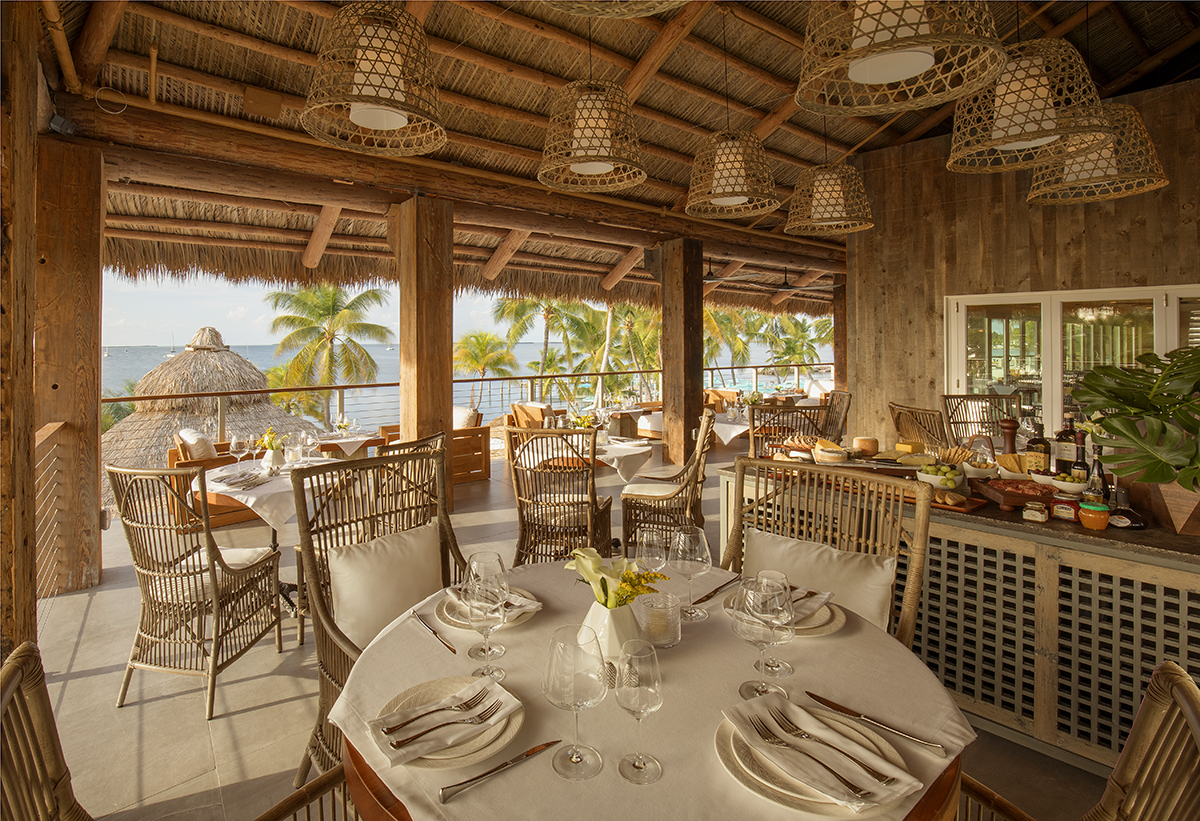 Before I get too much deeper into our tale, here's a backgrounder on the movie Key Largo: "John Huston (The Maltese Falcon) directed this smart thriller about a gangster (Edward G. Robinson) who holds a number of people hostage in a hotel in the Florida Keys during a tropical storm. Humphrey Bogart is the returning war veteran who takes on the villains, and Lauren Bacall is on hand as one of the people on the wrong end of Robinson's gun. Somewhat similar in tone to Howard Hawks' To Have and Have Not (which also featured Bogart and Bacall), this moody movie captures a certain despair offset by the bond between individuals united by common purpose. Claire Trevor won an Academy Award for her part as Robinson's alcoholic girlfriend." –Tom Keogh
The film noir crime drama having been filmed on this very Key added a backdrop of mystery… a dash of romance, and a bit of intrigue to our stay. This resort needed none of those, but they were in our minds nonetheless. Being Florida's only all adult all-inclusive resort put it in a league of its own and we needed to come and test the waters for ourselves. Now, let's get back to those teal gates that swung open wide as if welcoming us with open arms. Our cart, fringed with the same signature blue with white rope tassels, glided along the crumbled marl rock path. Both of our senses were heightened by all that surrounded us as we made our way to our awaiting bungalow. The crunch of the marl as we wended our way through a grove of coconut trees to our perch between Lovers Lane and Coconut Way, was the only sound we heard. I think we both took a deep (silent) gasp from the gates to the front door of our weekend home. Perhaps, metaphorically, taking it all in until reaching the front porch of bungalow number 312. As the door opened, we exhaled with a sigh. Simple elegance lay at our feet. The neutral tones of the room blended outside with in. This set the tone for our entire stay. The blurred lines were fitting since our indoor shower received no attention as every shower was taken outside and numerous bubble baths were taken in our outdoor white orb tub built for two. Was there a need to do much more than hunker down and enjoy this sexy setting? Indeed there were.
Our afternoon choices, outside of our bungalow, ranged from snorkeling, kayaking, dipping into the infinity pool, grabbing a cabana beachside, to trying our luck at spotting manatees or dolphin, or exploring on our teal hued Huffy Beachcruisers. We opted to start there. The resort is set up so that each guest has loads of privacy and space to unwind. We loved having that luxury. Riding around we saw a few guests along the way. Some strolling, others tucked inside the Mast Tree encircled jacuzzi, and a couple were in the Fitness Tiki Hut. It is exactly as it sounds. Loaded with Peloton equipment and treadmills, it gives you impetus to work out as it overlooks one of the resort pools. Talk about motivation! With all the eating I planned to do at Fish Tales and Sea Señor, and long romantic dinners at Bogie and Bacall's, I immediately booked a bike with my honey and we were all set to spin our hearts out, after spending some time soaking in sunsets and sipping on Tiki Tai's at the Sunset Tiki and soaking in all the goodness. We loved every minute of the unique experiences offered here. As relaxing as all of this sounds,I wanted to see how deeply relaxed I could get. Day two on the ground was a spa day. We sat in the Himalayan salt room, the steam room, the relaxation room, and walked among the exotic Black Bamboo that encircled the spa. Deeper relaxation (if you can imagine) was reached. We took a languid saunter back to our bungalow, knowing that a gorgeous sunset awaited us and a sunset sail could yield an encounter with some of my favorite beings on the planet…bottlenose dolphin. Just the thought brought a smile to my face, and I was ready in no time at all. David was excited as well, as he sprung back into action to catch the evening's transition. We watched dolphins play off of our bow, watched the sky softly melt around us like pink and orange cotton candy.
We melted into this evening, like all evenings spent at The Bungalows.
Part of us was wishing we were caught up in the movie Key Largo. Neither of us would mind having to hunker down at this resort, storm or no storm. I think the quote that came to mind at the beginning of this tale is fitting, "When your head says one thing and your whole life says another, your head always loses." Our heads were saying stay forever, but our whole life was waiting back at home…but we will return. The Bungalows puts an emphasis on quality, and it shows. If you have ever thought that the Florida Keys didn't have five-star resorts or that all-inclusive meant sacrificing luxury, I am here to tell you that The Bungalows will blow your mind.
http://www.bungalowskeylargo.com
---
US
Canada
Digital Version
Subscribe to Swanky Retreats Magazine's DIGITAL version. Read the latest issue online or download it to your computer.