Detox – Retox – Rinse – Repeat
(Fort Lauderdale style)
Field reporting can be daunting. Traveling around the world to bring you the latest and greatest travel stories can take its toll. Here we have one for you where we stepped up and took one for the team. Cheers to you!
The following is what we knew the trip had in store for us:
We'll get the heart pumping with an open-air pure barre class at sunset overlooking the Atlantic Ocean
Check….sounds promising enough.
Detox and get our glow on with a curated spa treatment at AWAY
Double-check that I read that correctly! I know most people think detoxing is just avoiding certain foods but it also means including detoxifying daily vitamins, rubs, massages and more. I guessed that we'd find out what that's all about once we got into the thick of it.
Below were my choices:
Spa Treatment Options:
50 min. Detox Massage – Detox and recoup with energizing techniques and a rich blend of oils designed to stimulate metabolism and eliminate toxins.
50 min. Go Deep Massage – Boost energy and banish tension, designed to target deeper muscle layers and release tension
50 min. Prescription Facial – Inside and outside recovery. Fully customized to whatever your skin needs most; hydration, deep cleansing, age protection or treat sensitivity
50 min. Detox Facial – Detox the skin from pollution and treat impurities and imperfections with this deep cleansing treatment suited to all skin types.
I read that thrice to ensure I was making good decisions!
Next up on the agenda?
The sea is calling! We'll retox with a half-day boat charter to explore Fort Lauderdale's iconic Intracoastal. Don't worry, cocktails and music are all in the queue.
I understand the assignment…
Indulge in award-winning cuisine at Steak 954. P.S. We can't miss its iconic 15′ foot jellyfish tank!
Read: Hold off on any weight loss plans until spin class.
Soak in the sun with crafted cocktails and bites at the Insta-worthy rooftop WET deck pool
See above
Work off last night's dinner with a morning cycling class. Trust us, you haven't done one like this before (ocean views included)
Here we are!
Happy Hour calls! We'll venture into the heart of downtown Fort Lauderdale for happy hour and scope out some other must-visit destination hotspots
What did I say in the beginning of this piece? Cheers to you, team.  
This was going to be a great time.I took a rideshare service to the W Fort Lauderdale which is located directly along the sultry shores of Fort Lauderdale Beach. Judging from the itinerary, it was better to leave the driving to someone else. W Fort Lauderdale lives up to its chic and glamorous reputation, with a bold personality to match. As South Florida's signature playground, this beachfront beauty pushes travelers to live it up from sunrise to sunset with an endless list of amenities and activities.
It all started innocently enough with welcome cocktails in The Living Room before dinner at El Vez. This is the Hotel's Mexican restaurant where the faint of heart need not belly up to the table. The choices are all delicious and portions are healthy. By healthy, I mean the opposite of what just came to mind. I ate (and became addicted to) Macho Nachos. They are delicious and festooned with chile-braised brisket. My mouth waters simply thinking about this dish. I nibbled on ceviche as an appetizer, but when I said addicted, I meant it. I went back for those Macho Nachos on a daily basis.
With afternoons at leisure, I indulged in the rooftop pool to soak in the South Florida sun. This Insta-wonderland is primed for selfies and underwater photos thanks to the see-through pool walls. After a lot of that, I decided to hop on one of the resort's E-bikes and cruise A1A (beachfront avenue). It wasn't so much of a workout as it was a fun way to explore the gorgeous beach and people-watch.
By 6:00 p.m. that next evening, it was time for Pure Barre Class (Living Room Terrace)
After a relaxing afternoon, in order to keep on track with the detox/retox theme, it was time to get the heart pumping with an open-air pure barre class at sunset overlooking the Atlantic Ocean before dinner at the decadent Steak 954, an award-winning steakhouse curated by James Beard Award winner Stephen Starr. The 15' jellyfish aquarium was more of a mesmerizing wall that greeted us as we entered the dimly lit dining room. The exercise class prior to this indulgent evening was a wise choice.  Guilt be gone!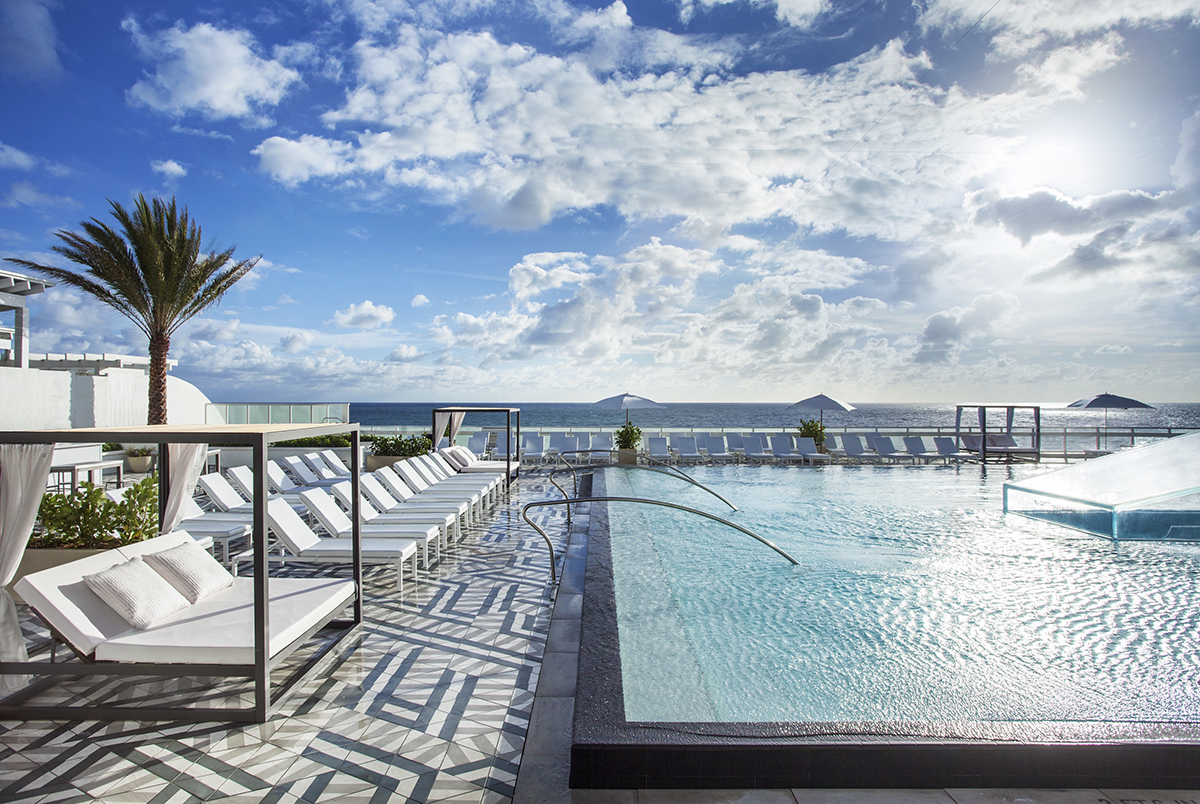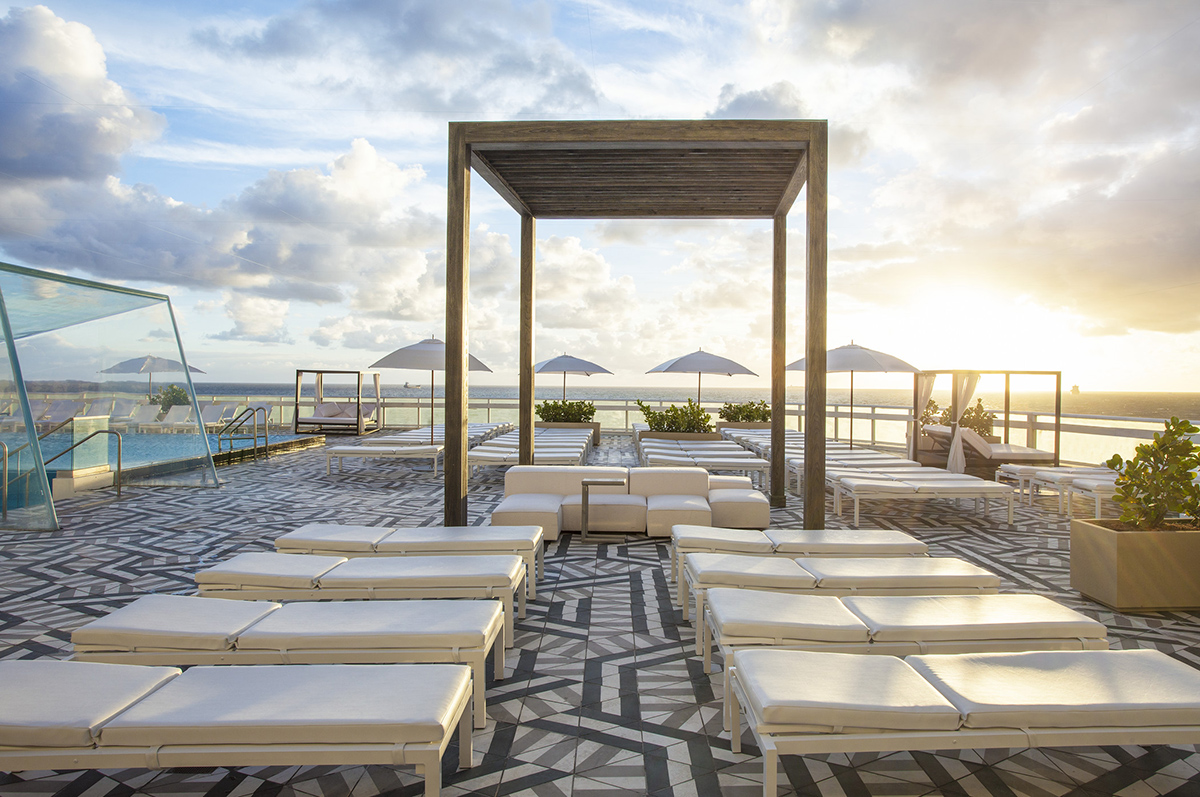 Mornings at spin classes by Sea Cycle, afternoons at WET or on the beach, Dinners and cocktails all flowed nicely together, punctuated by spa treatments. Only once did we head off property for happy hour at Rhythm & Vine and an Italian dinner on the famed Las Olas Boulevard.
After all of that, it was only appropriate to end with Beach Yoga and breakfast at SoBe Vegan.
There you have it. The perfect detox to retox getaway on the shores of Fort Lauderdale.
https://www.marriott.com/hotels/travel/fllwh-w-fort-lauderdale/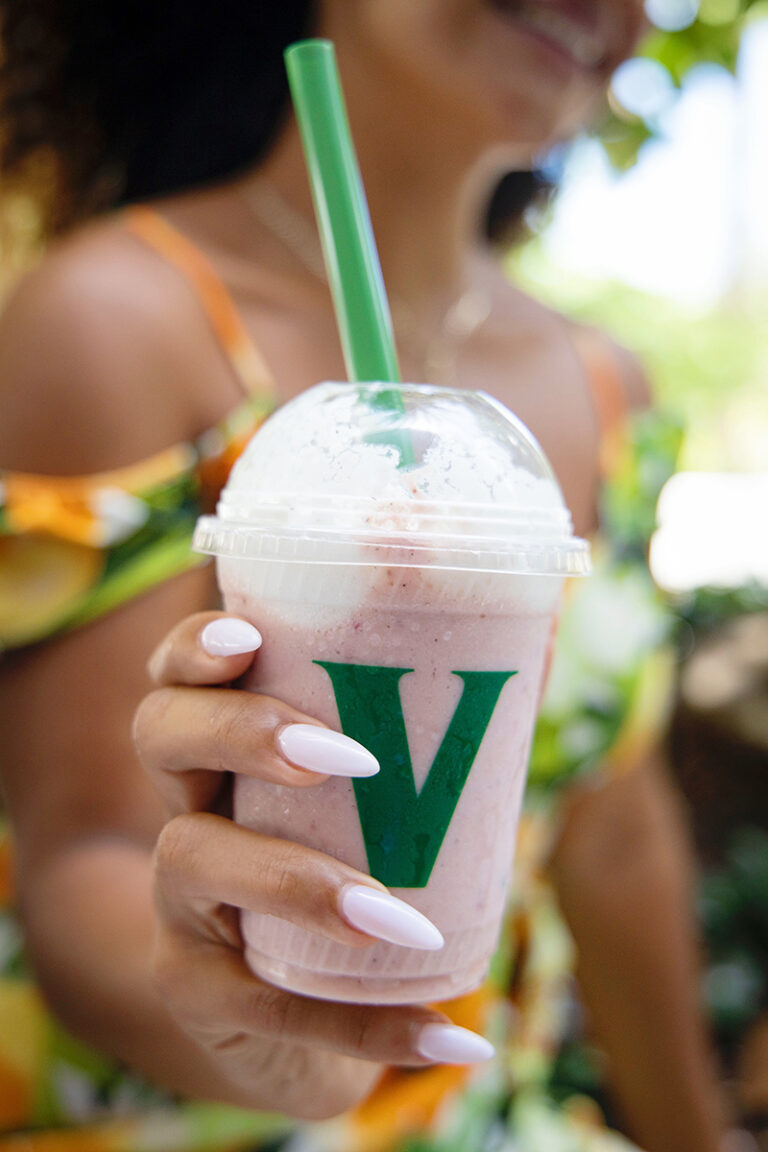 ---
US
Canada
Digital Version
Subscribe to Swanky Retreats Magazine's DIGITAL version. Read the latest issue online or download it to your computer.