We knew that the San Francisco market was ripe with culinary options and on our quest to find some of the city's more non-traditional offerings, we unearthed a few gems.   Luckily we got the inside scoop on The Proper Hotel and its existence within a delightfully reimagined flatiron. After bopping about for a few days, eating at fabulous breakfast spots; some fantastic cliffside lunches and not-so-quiet dinners to current tunes, immersed in Tiki décor, we saved the best for last. Tasting the highs and lows of San Fran, whetted our appetites for something that quenched our thirst , satisfied our eyes, and felt as comfortable as grandma's house (with an edge). Discovering the fact that each hotel room comes with a curated minibar service, we knew that this hotel took food and beverage experiences to the next level. If they're going to pay that much attention to an experience most folks shy away from, then the assumption was that they would have a keen eye on all things edible.
With the buzz of the city behind us and the sightseeing all neatly tucked under our belts, we were ready to tuck in to the delicious encounter that is Villon. This dining experience was due to be more than just another meal. The restaurant is situated right off of the "living room" of the hotel's lobby. We heard this was a nook where you could feel every bit a part of a neighborhood, while enjoying an elevated experience. Let's start there. San Francisco may very well be one of the country's most expensive cities. That's the impact of tech industry infiltration, a great standard of living for those in such fields, history, vistas and overall lifestyle. That being said, there is a juxtaposition between neighborhoods, lifestyles, cultural mingling, and dining experiences. This extends beyond one swanky spot to another. Crisscrossing the city, we noticed great hotels and fabulous restaurants only a street or two away from those who could are far less fortunate and most likely have yet to partake in the fare found just across the street. The city has a feel very much like one evoked while watching a Batman movie.
Sometimes a bit dark and edgy (that word again) but it pulls you in and keeps you exploring and it is just as much a part of this story as our latest gastronomic find. The setting of the restaurant is part DC comics' Gotham and, as mentioned before, part grandma's living room. This evocative ambiance is only fitting as everything the Villon does has a twist to it. Take its name as a prime example; it may very well be inspired from the artist names Jacques Villon yet The Proper pronounces it "villain." Twists and turns are to be expected here. Dishes range from yellowfin to lamb, as starters, and every morsel is plated to whet the appetite at first sight. The descriptive narrative to explain the dishes' ingredients is akin to reading a short story.  Their representation on the page is only the beginning. The menu's offerings also reflect the penchant for twists by incorporating flavors that give a nod to the melting pot that is this city. We spied ingredients such as  Korean rice cake, kimchi, dashi, chorizo, and sunchokes, and those were in the appetizer section of the menu. The names of their dishes lure you in and the cocktail menu is even more of a hoot. They had me at Ver Sales. The twists and, almost, hairpin turns on this page are fitting to the city as well. The Earthquake, Billy Le Kid, and The Umbrella which comes with the caption, "Why are there so many umbrellas in turn of the century paintings? Did it rain more or did no one know how to draw the top of heads?" With captivating captions like that, we had to try several of these adult beverages.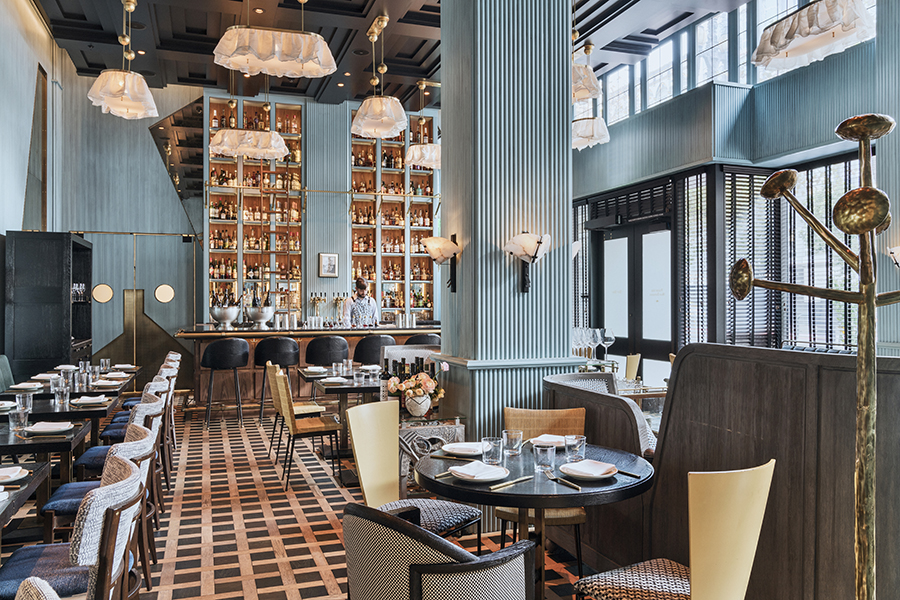 Villon is the hotel's sophisticated all-day dining option, but we chose to visit for dinner. That's the time for a restaurant to shine and show off some of their best dishes and service, when diners are also dialed-in to being a little more sophisticated, to match the tone of the room. If we had to cut to the chase, the one word that would pop up immediately is, superb. The service here is  attentive, and informative, in the most welcoming fashion. You will probably stay a while, as it's as inviting as grandma's house…if grandma had a well-stocked craft cocktail bar and over-the-top skills in making them, backed up by a kitchen with the finest creative chefs. Kiss Villon goodbye, after a delectable dinner and head to the rooftop. That's right, a rooftop lounge in San Francisco. Sounds like yet another one of those twists The Proper prides itself on. This year-round, weather-friendly, hot spot serves up endless views of the city. We were tickled at having our choice of sitting inside by the fireplace or outside by one of many firepits. Topping off our evening up here at Charmaine's was a perfect end to a proper evening.
---
US
Canada
Digital Version
Subscribe to Swanky Retreats Magazine's DIGITAL version. Read the latest issue online or download it to your computer.