BALI blurs boundaries. The island is famed for its beaches, but above them rise volcanic mountains cloaked in rice terraces and jungle. It's a province of Indonesia, but with a Hindu majority population, there are strong cultural ties with India. The 3.9 million people living here are of Indian, Austronesian, and Melanesian origin, and most of them are bilingual or even trilingual. Their cuisines – one of the highlights of any visit – encompasses not only the spices of the island's plantations, but also the freshest seafood of the Bali Sea and the Madura Strait, the suckling and roasted chicken raised on Balinese farms and sold in the markets, and yet more mouthwatering delicacies grown in he fields, rice terraces, and orchards.
Desa Seni acts like a magnet, drawing people and cultures from across the Indonesian Archipelago and beyond. Every one of the antique wooden houses which makes up this village here, resort has been transported restored, and refurbished, creating a visually appealing melee of Indonesia's many architectural styles. It is the best, most sustainable kind of upcycling: the islands' built heritage has not only been protected from the encroachment of modernisation and globalisation, but the houses have found a productive new use as well. The ghosts of residents past – if indeed they have travelled to Desa Seni with their homes – cannot but be happy: their new location is a slice of heaven on Earth.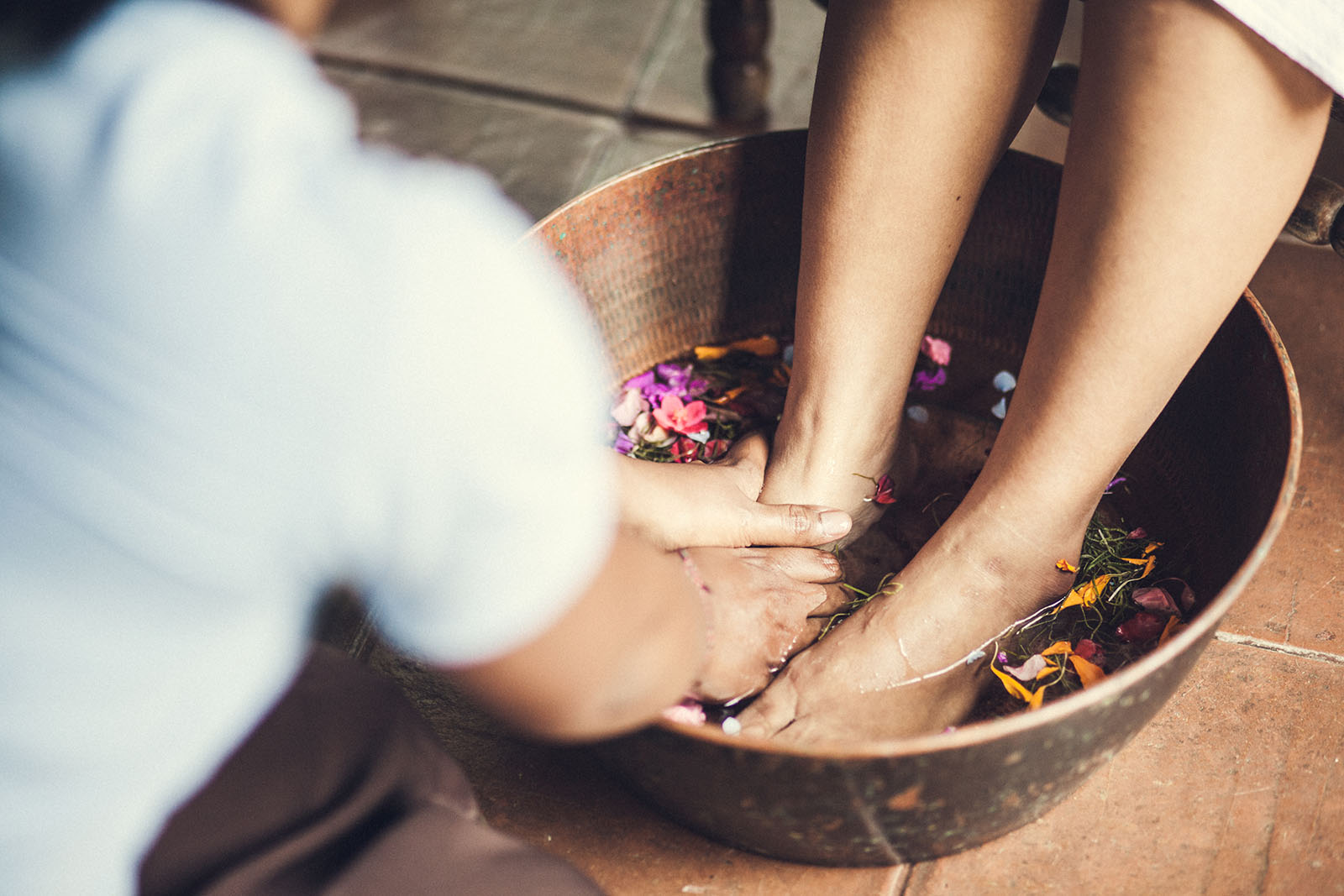 The houses nestle in a jade green oasis of trees and tropical plants. Birds twitter amongst the leaves, especially in the first few hours of the day. A short excursion will bring you to carefully crafted rice terraces, spotless beaches, and even an historic temple or two, so there is plenty around to see and do. When hunger strikes, the chefs step up to the plate with aplomb: 80% of the ingredients are grown and produced on site, and they are shaped into a mouthwatering array of fresh Balinese dishes to delight even the most demanding of palates.
But where Desa Seni really comes into its own is as a spa and yoga retreat. The quiet solitude of the natural environment is only enhanced by a programme of activities designed to enhance physical, mental, and spiritual wellness.
Every morning begins with yoga: the school is internationally accredited by The Yoga Alliance, and teachers come here from around the world to learn and teach. Each guest's yoga journey is unique, taking into consideration their individual n eds, goals, and objectives. Sun salutations from the Hatha Yoga programme are a fitting way to start the day, especially when accompanied by cleansing lemongrass tea; and throughout your stay you can experiment with Vinyasa Flow Yoga, Yin Yang, Mindfulness, Meditation, and Pranayama Practices. Beginners can have their first taste of yoga in a supportive, relaxed environment, whilst more experienced yoginis can check in for an intensive training programme with 200 hours of classes.
If the yoga is a bow to Bali's Indian connections, Desa Seni's spa experience pays its respects to the island's indigenous plants and traditions. Here, western and eastern medicines become one. The holistic output focuses on healing and health. The spa's name – Merapu Svaasthya – is totally fitting: it means "spiritual forces" and "wellbeing".
Specialists in massage, wraps, and facials combine their expertise to ensure guests realise optimal benefit from their time at Desa Seni. A hot stone massage might be broken up with refreshing dips into a salt water pool, and organic snacks and tea ensure your base desires are amply satisfied. The banana leaf is an indispensable part of daily life in a Balinese village, but in the Desa Seni spa it takes on new functions, wrapping a body coated in coffee scrub and papaya to rehydrate and rejuvenate the skin. The polyphenols in the banana skin are a natural anti oxidant, further increasing the efficacy of the treatment.
Every aspect of your wellbeing can be addressed: the therapists will advise you which treatment to choose. A salt body scrub and saucha body wrap will rid your system of toxins and improve circulation; an organic facial with aloe vera will remove dead skin cells and leave you with a radiant glow; and if you opt for a hair cream bath with virgin coconut oil, ginger, and aloe vera, not only will your scalp be reinvigorated, but your tresses will shine with health. At one level, you just want to lie back and luxuriate in a cloud of natural fragrances, and then admire the end result. Should you be interested in the combination of plants, the techniques, and the ancient traditions, however, Desa Seni's therapists are anthropologists, historians, botanists, and storytellers in equal measure. Listening to them speak is an educational experience, one from which you learn and appreciate the level of sophistication which goes into creating every natural product and treatment. Did you know, for example, that a footbath of coconut and warm salt water will reduce stress? Or that a combination of yoghurt, honey, aloe, and cucumber – all ingredients we have in our kitchens – will soothe the burning, redness,  and general itchiness of sunburn?
HOLISTIC" is a word which is often overused, and thus has lost much of its impact. But its original meaning – something which is characterised by the belief that the parts of something are intimately interconnected and explicable only by reference to the whole – seems to be a perfect description of Desa Seni. You could, of course, look at the buildings, the natural environment, or the food in isolation. You could try, or talk about, only the food or the spa treatments. But if you did so, you would only ever see and experience part of the story. It only takes a moment or two of reflection to see that these are all pixels in the same picture, interconnected jigsaw pieces in one puzzle. To make the most out of a stay here, you must immerse yourself in every aspect of the resort; not only will you enjoy it far more, but your body, mind, and soul will surely thank you for it.
---
US
Canada
Digital Version
Subscribe to Swanky Retreats Magazine's DIGITAL version. Read the latest issue online or download it to your computer.