Who invented wine? We have a lot to thank them for. It is tempting to believe that this nectar of the gods was handed down to mankind from the heavens; perhaps Zeus gifted it to us from Mount Olympus. But the reality, at least as far as archeologists have been able to discern, is that it was the ancient people of the Caucasus who first fermented grape juice and found that they rather enjoyed the taste. 8,000 years ago, the inhabitants of what is now the country of Georgia were already master winemakers, storing their wine in clay vessels, fragments of which have survived to the present day. Georgia truly is the birthplace of wine.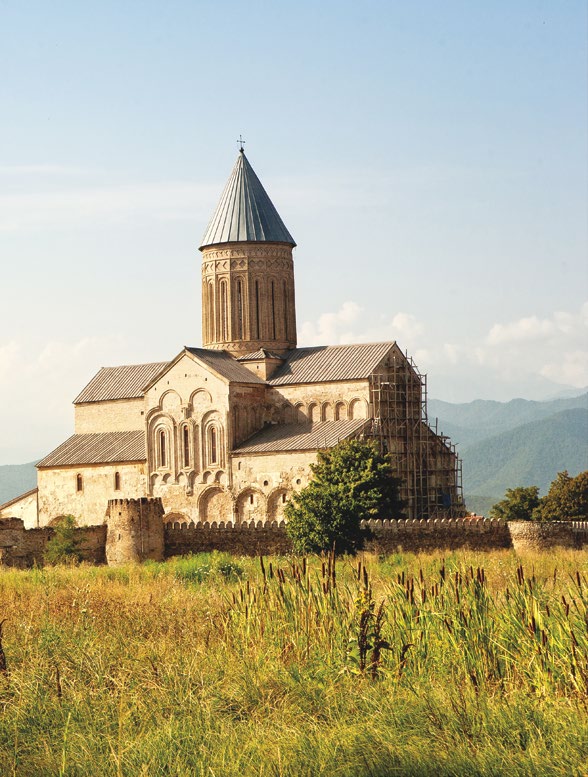 Fascinated by the millennia of history, and keen to try Georgian wine for myself, I travelled to Georgia's winemaking heartland, Kakheti, in the east of the country. Here, the Caucasus Mountains zig zag on the horizon, but the wide valleys are shallow and temperate, with plenty of space to cultivate vines. International grape varieties do grow here, but as Georgia has more than 500 indigenous grapes, which evolved in specific terroirs, it makes far more sense to plant the local species. There is a centralized vine library, the National Grape Collection, with vineyards and nurseries, close to the capital, Tbilisi, but wherever you drive you will see local grape varieties growing, especially red Saperavi and white Rkatsiteli.
Almost every Georgian I have met makes wine. And even if they are now living in a modern city apartment, far from their family land, a cousin or an uncle still tends the vineyards and makes wine on their behalf. Many of these artisanal wine makers still use traditional techniques which would be recognisable to their pioneering ancestors, and large scale producers, too, have realised that this ancient knowledge creates some phenomenal tasting, and very distinctive, wines.
Schuchmann Winery is attempting to combine historical know-how with modern expertise to secure a sustainable future for wine making in Georgia. Working together, partners Burkhard Schuchmann (a German wine buff) and longtime Georgian winemaker Giorgi Dakishvili aim to identify, develop, and promote methods which are economically profitable, socially responsible, and environmentally friendly. Since 2008, they have developed their estate in the Kakheti region with 60 hectares of land under vines. In addition to producing high end Georgian wines, they have also established a wine bar and restaurant in Tbilisi's old Tbileli Caravanserai, and created a fabulous spa hotel and luxury villas amongst their vines at Kisiskhevi.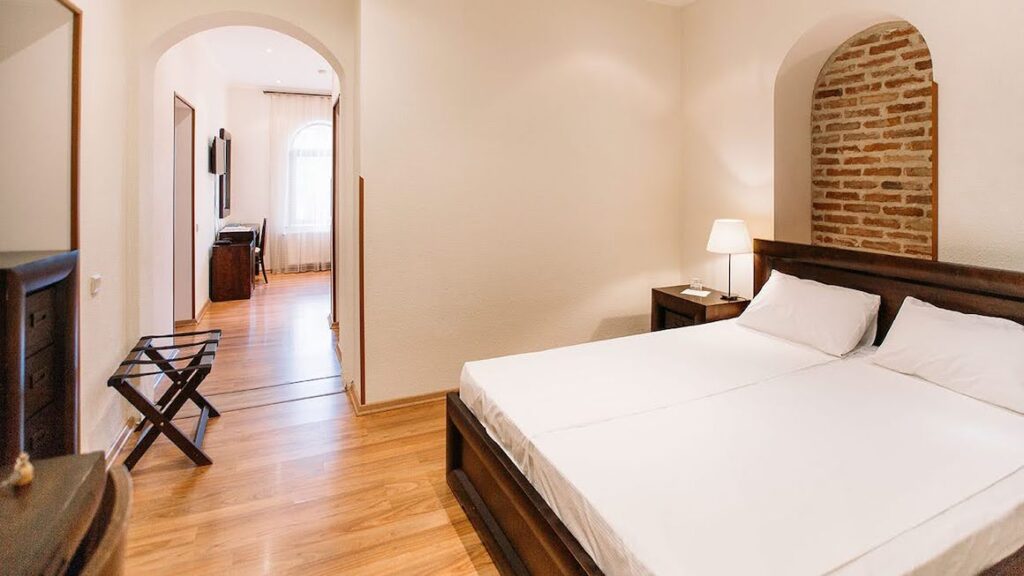 For a wine lover, it is a rare and wonderful thing to wake up and look straight out of the window at row after row of vines. Starting the day with a coffee on the balcony (the bottles of wine will come later in the day…), I was mesmerized by the soft swirls of mist and the mountainous backdrop. I inhaled the cool, clean air deeply and felt unusually at peace. This is a place to come and unwind, far from urban stresses. Of course, the wine helps you relax!
Grapes, as I quickly learned from the Schuchmann team, are not just good for wine making. Grape seed oil includes Omega 6 and vitamin E. Grape polyphenol is a strong antioxidant, and grape water is rich in moisturizing polysaccharides. The Schuchmann Wine Spa leverages the health-giving benefits of the natural materials all around on the estate, enabling guests to quite literally cover themselves in grape byproducts, experiencing the magical powers of wine on the outside as well as inside of the body. I soaked in a hot wine bath, almost tempted to have a slurp as I bathed; and then was treated to a regenerative scrub with grape seeds. The grape seed oil has anti aging properties, and certainly my skin felt softer and more elastic when I finally emerged dozily from the spa building into the afternoon sun.
The combination of fresh mountain air and a rigorous massage definitely drums up an appetite. The Schuchmann Hotel has three restaurants spread across the estate, and the staff have considered very carefully which foods will compliment their wines. The poolside grill is super for a snack, especially if you are feeling lazy, but at least once a day you should indulge in a proper Georgian feast. Schuchmann Traditional Restaurant overlooks the Alazani Valley and serves a mixture of standard and modern Georgian dishes, all of which are prepared from fresh, organic ingredients, many of which have grown in the same mineral rich soils as the vines. And, if you are in the mood for a visually stunning culinary experiment, there is a technically and artistically imaginative Molecular Gastronomy Restaurant on the vineyard, too.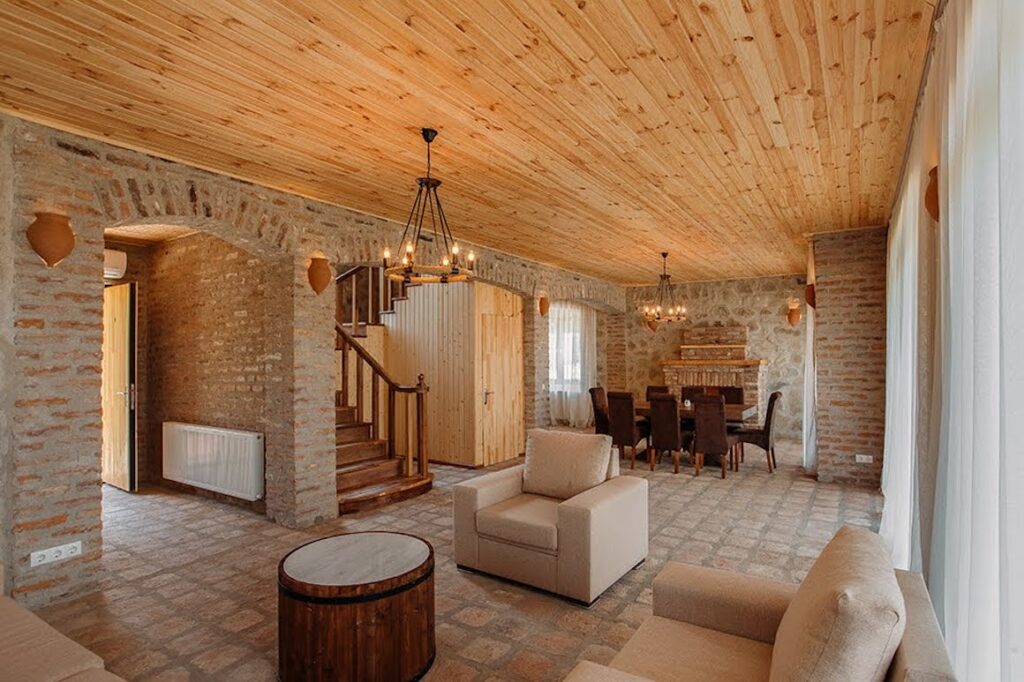 I f I could only eat one cuisine for the rest of my lifetime, I have no doubt at all that I would choose Georgian. If you try Schuchmann's culinary masterclass during your stay at the hotel, you will probably feel the same. Imeretian khachapuri may not be great for the waistline, but it is a taste of cheesy heaven; and it is served alongside healthier dishes such as spiced walnut paste wrapped in grilled eggplant, chakapuli (veal and tarragon stew), lobiani (red beans), and sun ripened tomatoes so sweet they might as well be dessert. Choosing the right bottle of wine to accompany such a memorable meal is key, but that is why a sommelier is always there to guide you. In most cases, I personally would lean towards Schuchmann's Vinoterra Rkatsiteli (2012), a crisp and intense dry white, but there are so many other unusual grape varieties to explore here, not least Kisi (which is native to the Kakheti region) and the deep, blood red Saperavi, Georgia's robust answer to a Cabernet Sauvignon. 
Little by little, we are starting to see Georgian wines in restaurants and specialist shops abroad. The quantities exported to the USA and European Union are tiny compared to the better known Old and New World Producers, however, so your best opportunity to learn about Georgia's wine making heritage and taste the country's full breadth of affordable wines is to visit and enjoy the warmth of Georgian hospitality. The Schuchmann Hotel is a gorgeous place to base yourself for a wine-themed Georgian adventure, but it is an equally idyllic spot should you want to just hide away from the world, relax, and enjoy drinking the fabulous wines.
---
US
Canada
Digital Version
Subscribe to Swanky Retreats Magazine's DIGITAL version. Read the latest issue online or download it to your computer.