Swank List
This winter's wine Swank List is curated by Amy Sedeño.
These are a few of her favorite splurge-worthy wines to gift and sip during the holidays.
Amy is certified by the Wine & Spirit Education Trust and has worked with brands such as Barton & Guestier and Wines of Chile. She's a contributor to the Vitner Project and a somm at Miami's Design District bespoke wine shop and tasting bar, Abaco Wines & Wine Bar. Amy's picks reflect her palate and wines she's discovered during her travels. When selecting a wine, she values terroir-driven vineyards and winemakers that have a story to tell.
Château de Béru 2017 Chablis Montserre
The Béru family has owned the historic Château de Béru domain for 400 years, and the
2017 Chablis Mostserre is the perfect example of their terroir-driven legacy. Made from
40-year-old vines, this Burgundian white natural wine is organic and biodynamic and harvested from the highest point in the hill of Béru. This wine has bright acidity, a beautiful texture and concentration with mineral, salty, and smoky notes and subtle hints of iodine. This is a purist example of Chardonnay done right. Head winemaker Athénaïs de Béru's recipe is to listen to the grapes and change her approach based on the fruit's needs.
BDV Phillip Leonard Pinot Noir 2014
Made from the ever-so-finicky, yet delicious Pinot Noir grape, Barowsky Disesa Vineyards' Phillip Leonard Pinot Noir is a food-friendly, easy-drinking Pinot from Northern California. The name comes from a combination of the middle names from owners Barowsky and Disesa. The Estate grown grapes used in the wine come from three specific Pinot Noir clones blended for an elegant and balanced finish. Bramble, dark and red cherries, cut hay, anise, and faint chocolate come through on the nose. A burst of cranberry comes through on the palate with nice acidity and a long finish.
Piper Heidsieck's Rare Millésime 2002,
Holidays have become synonymous with bubbly, and Piper Heidsieck's Rare Millésime 2002 is a celebration within itself. A Champagne of impeccable balance with fine bubbles and toasted brioche, honey, and smoked nut flavors. This is the sparkling you'll purchase to impress your boss (only nine vintages have been developed in the last four decades), but end up keeping for yourself. As regal as its origins, created as a tribute to Marie Antoinette, Rare is made from vineyards selected by their expression and in small quantities with only 300 cases available in the US.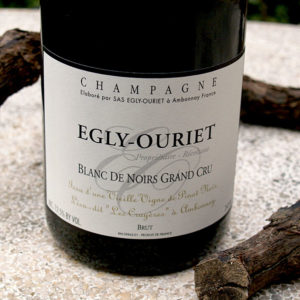 Egly-Ouriet Blanc de Noirs Grand Cru
Speaking of bubbles, I am a sucker for Grower Champagne and have fallen into the Egly-Ouriet cult following. Egly was amongst the first producers to emerge in the Grower Champagne movement, and rightly so, this family was using organic farming methods even before the term "organic" was coined. This Pinot Noir-driven Champagne has an intense bouquet of yellow apples, brioche, red berries, honey, and crushed stones. Although the Insta life may call for flutes, use white wine glasses to enjoy the remarkable aromatics.

Barton & Guestier Châteauneuf du Pape 2017
Barton & Guestier is known as the oldest wine merchant in Bordeaux, and today, the producer's wines are a true representation of some of France's top winegrowing appellations. Take Châteauneuf du Pape, for instance. Harvested in southern Cotes du Rhône vineyard, this well-balanced red has the rich diversity of black fruits from the Grenache grape and spicy notes, peppery notes from its share of Syrah. Ripe tannins and weight make this the perfect wine for rich winter stews and cozy snow days.
Don Melchor Cabernet Sauvignon 2018
Rarely does one come across a wine so meticulously crafted as those from Don Melchor. Enrique Tirado, Don Melchor's head winemaker, is in constant search for the best expression of the vine in the vineyard and aims to turn each bottle into a narrative of the Puente Alto terroir. Don Melchor became the first Chilean wine to be amongst the Top 100 Wines of the World list published by Wine Spectator, and today, it continues its legacy of tradition. This is a dense, red wine with ever- so-smooth tannins that can age. On the palate, notes of black fruit, chocolate, and oak.
---
US
Canada
Digital Version
Subscribe to Swanky Retreats Magazine's DIGITAL version. Read the latest issue online or download it to your computer.