THE CAPE LOS CABOS
The Cape, a Thompson Hotel, reopening today, welcomes guests back with enhanced safety procedures and creative offerings designed to meet the needs of today's traveler.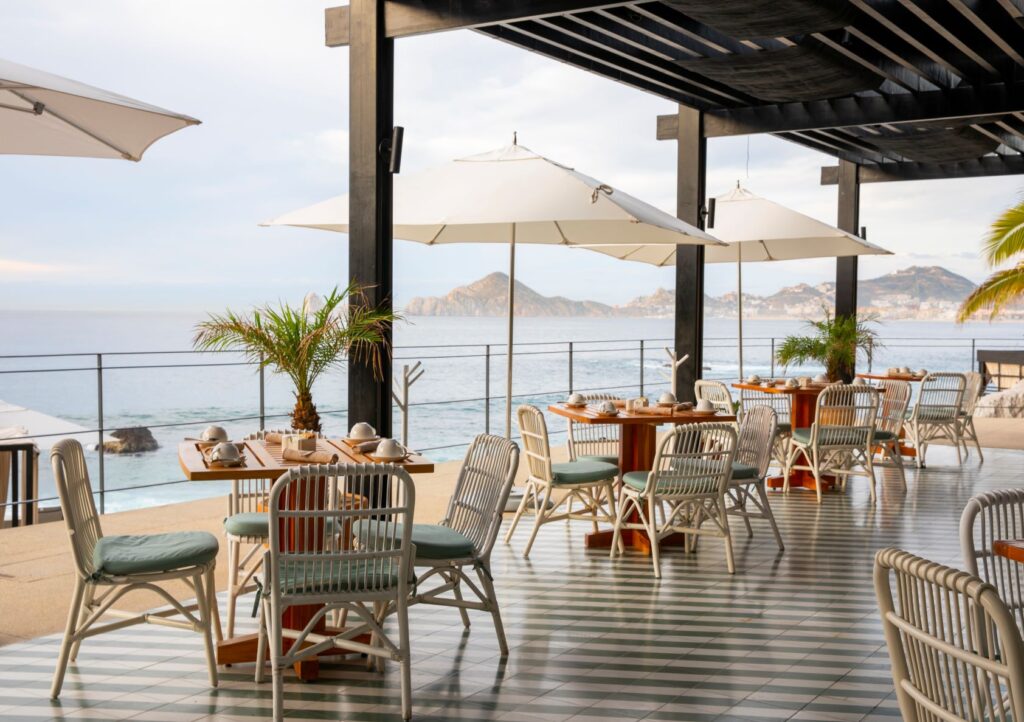 From the option to bring signature experiences in room (cooking classes, wellness, spa, and more) to bespoke private Villa stays ideal for traveling families, friends, and remote workers, amenities are curated to ensure guests are at ease and can continue to enjoy this unique Baja destination.
The Cape—in collaboration with Los Cabos' private healthcare provider BlueNet Hospitals and parent brand Hyatt—has significantly expanded its safety and sanitation protocols, integrating the latest technology and expert counsel to best protect guests and staff. Measures exceed federal and global health guidelines and include, but are not limited to: thoroughly disinfecting airport transfer vehicles between use (including luggage), providing complimentary personal safety kits (surgical mask, hand sanitizer, antibacterial wipes), assigning guestrooms for maximum distancing, providing QR codes for in-restaurant ordering and spacing tables to allow for social distancing, utilizing the latest technology (such as electrostatic sprayers with disinfecting mist and ultraviolet light) to sanitize surfaces and objects, and conducting daily team member wellness checks.
For additional details on comprehensive safety measures at The Cape, please visit here. General information about travel to Los Cabos is available at www.visitloscabos.travel
In addition to its robust health and safety measures, The Cape reopens with an expanded selection of special offers, tailor-made to meet evolving guest priorities, while continuing to embody the resort's singular approach to boutique, Baja-style hospitality. Additional offer details available here. These include:
A Villa State of Mind – designed for those seeking a change of scenery, yet still in need of the comforts of home, this multi-night stay package begins in one of The Cape's spacious, luxury Villas overlooking the Sea of Cortez. Amenity highlights include but are not limited to: high-speed wi-fi to allow for easy remote work, daily breakfast, dedicated personal concierge (for grocery shopping, excursion planning, and more), and private in Villa cooking class. Multi-bedroom Villas all feature chic, mid-century modern-meets-1960s Baja surf décor; fully equipped, state-of-the-art kitchens; expansive outdoor patios with hanging daybeds; unobstructed views of the Sea of Cortez and its famous landmark El Arco; and washer/dryer. Select options also include direct beach access, private plunge pool, multiple floors, sauna, gaming room, outdoor BBQ, and more. Rates begin at $599 per night excluding tax and resort fees; minimum seven-night stay.
Mind, Body & Soul at The Cape – with a focus on physical, emotional, and spiritual wellness, this five-day retreat encourages guests to find their grounding amid Cabo San Lucas' sweeping ocean and desert views. Guests stay in a spacious private Villa, challenge themselves with daily fitness classes led by their personal trainer (a part of celebrated fitness expert Modu Seye's ModuVated team), find balance via guided meditation sessions (like the traditional Cacao Breathing Ceremony led by breathwork specialists from Baja Wellness), enjoy massage or facial treatments in-Villa or at Currents spa, and savor locally sourced, nourishing meals custom-designed by Resort Chef Victor Garrido and a Moduvated nutritionist. Rates begin at $1,550 per night based on double occupancy and excluding tax and resort fees; minimum 4 nights; available for private groups of 10 guests or more.
Expanded In-Room Experiences – for those who prefer the security of their private guestroom or Villa, virtually all experiential amenities offered at The Cape can now be enjoyed in-room. This includes Baja Wine and Mezcal Tastings, Cooking Classes with the team at Manta or Resort Chef Victor Garrido, fitness equipment rentals recommended by celebrity trainer and resort partner Modu Seye, Currents spa treatments, and more.
Call The Cape directly at 844.778.4322 or visit www.thompsonhotels.com/the-cape to make a reservation or inquire about these special offers.
The Cape, a Thompson Hotel, located in the Cabo San Lucas region of Baja California Sur, Mexico, is situated along one of the most desirable stretches of white sand in Los Cabos: the world-renowned surfers' paradise known as Monuments Beach. The boutique luxury hotel features 161 guestrooms, all with unobstructed views of the Sea of Cortez and the destination's famed icon, El Arco—a stunning natural phenomenon of granite carved into an arch by centuries of wind and sea exposure. The first Thompson hotel to open in Mexico, The Cape effortlessly blends the brand's upscale urban aesthetic with a distinct 1960s Baja-meets-Southern California vibe. Guests enjoy two pools, including an infinity pool with swim-up bar and another built within a natural rock formation found on the property; a sixth story rooftop lounge and garden with unmatched views of the city and sea; an intimate spa and fitness center with a private outdoor cabana for treatments with an ocean view; and a diverse array of chef-driven food and beverage destinations, including Manta by award-winning Chef Enrique Olvera.
One-, two-, and three-bedroom Villas are available, as well as four, two-story Penthouse Suites with private rooftops and plunge pools. The premier Surfer Villa is a two-story, luxury suite ideal for a luxe vacation, private event, or intimate wedding. Every guestroom on the property offers unobstructed ocean views, as well as outdoor terraces—many boasting hanging daybeds for enjoying the picturesque surroundings. Room rates start at $369/night. To reserve, visit www.thompsonhotels.com/the-cape. The resort is located at Carr. Federal Libre Transpeninsular Km. 5, Misiones del Cabo, Cabo San Lucas, B.C.S., 23455. Follow The Cape on Facebook, Instagram, and Twitter.
---
US
Canada
Digital Version
Subscribe to Swanky Retreats Magazine's DIGITAL version. Read the latest issue online or download it to your computer.