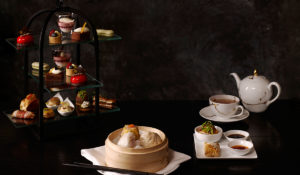 La Chine Afternoon Chinese Tea at Waldorf Astoria New York
La Chine is an authentic culinary journey through China, inspired by a desire to showcase the true depth of the country's cuisine. The dishes exquisitely articulate the complexity of Chinese flavors while the finesse of French inspiration adds to the singularity of the La Chine experience.
La Chine Afternoon Tea explores an elegant service of savory and sweet fare served alongside their expansive tea menu. In this untraditional tea service guests can begin their culinary journey with a beginning with collection of scones and savory amuse-bouches followed by a dim-sum course and a final course of a selection of pastries. www.lachinenyc.com
Plan ahead …"Blossoming Tokyo" at Palace Hotel Tokyo
Designed to coincide with Tokyo's cherry blossom season, "Blossoming Tokyo" launched at Palace Hotel Tokyo to coincide with spring in Japan. The package introduces guests to the beauty of sakura (cherry blossoms). During peak bloom, guests will be privately chauffeured about the city in a luxury automobile for a three-hour tour of the city's best sakura viewing spots (as well as any other sights they'd like to see). And after peak season, the tour can be tailored entirely to wherever guests would like to see in Tokyo – whether it be Ginza for a shopping spree or Aoyama and Omotesando for an art and architectural tour.
During March and April, the package also features a sakura season Hanami bento box lunch tasting for two at the hotel's signature Japanese outpost Wadakura, while in May, a spring seasonal bento set will be prepared for Blossoming Tokyo guests.
The hotel's signature 1-1-1 sake by Hakkaisan, produced exclusively for them, and is also included, along with a take-home gift by Nousaku, Japanese purveyors of artisanal metal works based on a centuries-old legacy of melding traditional techniques with modern day innovations.
The package is available from 1 March – 31 May 2017. www.en.palacehoteltokyo.com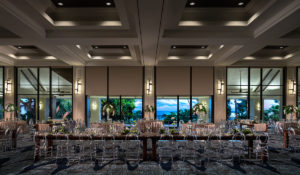 Meanwhile in Maui…HUMBLE MARKET KITCHIN by Roy Yamaguchi at Wailea Beach Resort – Marriott, Maui. Following a $100 million re-imagination, the property will become the ultimate 'foodie' destination for locals and tourists alike with the debut of Chef Roy's newest culinary concept.
The pioneer of the Hawaii Regional Cuisine movement returns to his island roots with this venture as an ode to his grandfather who immigrated to Hawaii, and draws inspiration from his island roots and from various local cuisines – Japanese, Filipino, Chinese and Hawaiian – to create his internationally influenced, Hawaiian-inspired menu.  www.Marriott.com
If you can make it here, you can make it anywhere: ROKC (Ramen, Oysters, Kitchen, Cocktail) on Broadway and 140th st. is the brainchild of Shige Kabashima who has you perusing 30 cocktail selections on the menu (a mix of classics and Shige's original creations), nibble on Spicy Shrimp or Pork Buns or select from the full raw bar curated by a former Maison Premiere sous chef.  Shige's theatrical cocktails (think drinks in frozen bell peppers, light bulbs, and birds' nests) include Tomato/Clam (mezcal, tomato, clam, wasabi), Smoke (bourbon, ancho chile, cynar, house bitters) and Lychee (lychee, ginger vodka, house lychee juice, lime).
Shige maintains that the last thing you eat in Japan after drinking is ramen – so what better than a menu that includes three steaming bowls of ramen, and one seasonally rotating recipe? Chef Isao Yoneda, formerly of Totto Ramen and Hide-Chan Ramen, oversees the menu.  At ROKC you won't find any pork broth based ramens. Instead Chef Yoneda offers chicken or fish based broth or even a combination of the two.  Customize your ramen with add-ins ranging from mizuna (Japanese watercress) to freshly shaved yuzu peel, which lends a bracing citrus bite. www.rokcnyc.com
We love a list that has a happy ending and where better to end than the happiest country on earth…
Gangtey Lodge offers a Bhutanese ritual in their new hot stone bathhouse. The signature treatment combines ancient Bhutanese medicinal practices with unobstructed views of the magnificent Gangtey Valley. In a specially prepared Bhutanese Dotsho, or hot stone bath, fresh spring water is used and river stones are collected and heated to warm the bath. Following a signature massage and foot scrub, guests will slip into their individually prepared bath and soak for 30 minutes. Champagne and beer can be enjoyed while soaking, or afterwards while relaxing in luxurious robes. You will leave energized and rejuvenated. www.gangteylodge.com
---
US
Canada
Digital Version
Subscribe to Swanky Retreats Magazine's DIGITAL version. Read the latest issue online or download it to your computer.