I am a sucker for wine tours and seek them out in many of the destinations I visit, but the Hunter Valley in New South Wales seems particularly well suited to this kind of tourism. The area is close to Sydney, a two-hour drive away, so locals can pop up for the weekend, but at the same time there is enough to see and do to warrant traveling here from further afield. None of the vineyards are particularly large, and they are situated close enough together that you can easily cycle between them, visiting three or four different properties in a day. In that respect, the Hunter Valley feels a little like California's Napa, but with added kangaroos.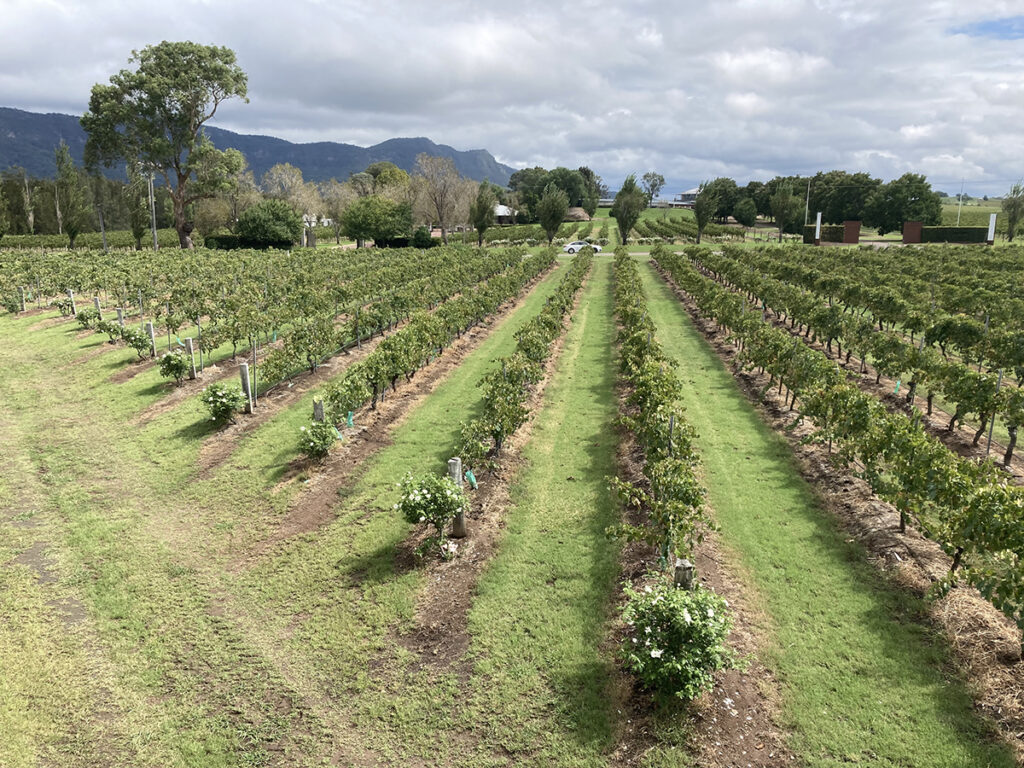 My guides, Will and Liam, have spent quite a bit of the past two years working their way through the Hunter's wineries, so I felt that I was in safe (or at least experienced) hands. As we drove out from Sydney in a roaring Toyota Hilux, the dark clouds threatened rain, despite it being the end of the Australian summer. I didn't grumble too much, though: the grape vines were no doubt in need of a deluge, and their needs must come first.
We pulled up at Spicers Guesthouse and I did a double take. I am familiar with this style of colonial architecture from South Africa and Zimbabwe, but this was the first time I'd seen it in Australia. For good or bad, the British Empire spread its tentacles pretty much everywhere, so I shouldn't have been surprised. Here were the perfectly manicured lawns surrounding a classic white farmhouse, and shady verandas where you could sit with a pot of tea enjoying the faint waft of breeze. Indoors, there are stone walls and open fireplaces where you can no doubt sit cozily, watching the dancing flames on a cold winter evening. The couches are well stuffed, interesting books are scattered on tables and shelves, and the ambience is best described as convivial. It's a country house, a country club, an idyllic country retreat.
At Will and Liam's insistence, we started our vineyard tour at Tyrrell's, which conveniently is located less than five minutes away from the hotel. Tyrrell's is one of the oldest wine companies in Australia, owned by the same family since 1858. Edward Tyrrell settled here from England, buying 320 acres of land in the Hunter Valley. His original ironbark hut still stands on the property. Around it he planted Semillon and Shiraz vines. 160 years on,  Bruce Tyrrell is the Managing Director, and his three children, Jane, John, and Christopher, all still work for the business. You could say that winemaking is in their blood, but their passion for their products is such that it is probably more accurate to say that it is in their hearts.
Tyrrell's welcomes wine lovers through their cellar door every day of the week, but it is so popular that you need to book in advance. The purpose built tasting room has a clean, modern aesthetic so your attention remains focused on the wine, not the decor. The introductory level tasting packages, Tyrrell's Tasting and the Single Vineyard Experience, are fine way to get a first sip of what Tyrrell's can offer, but if you have a more demanding palate and really know your wines, book in for the Vat 1 Vertical Experience instead. It focuses on Tyrrell's Vat 1 Semillon, one of the Hunter Valley's most iconic wines.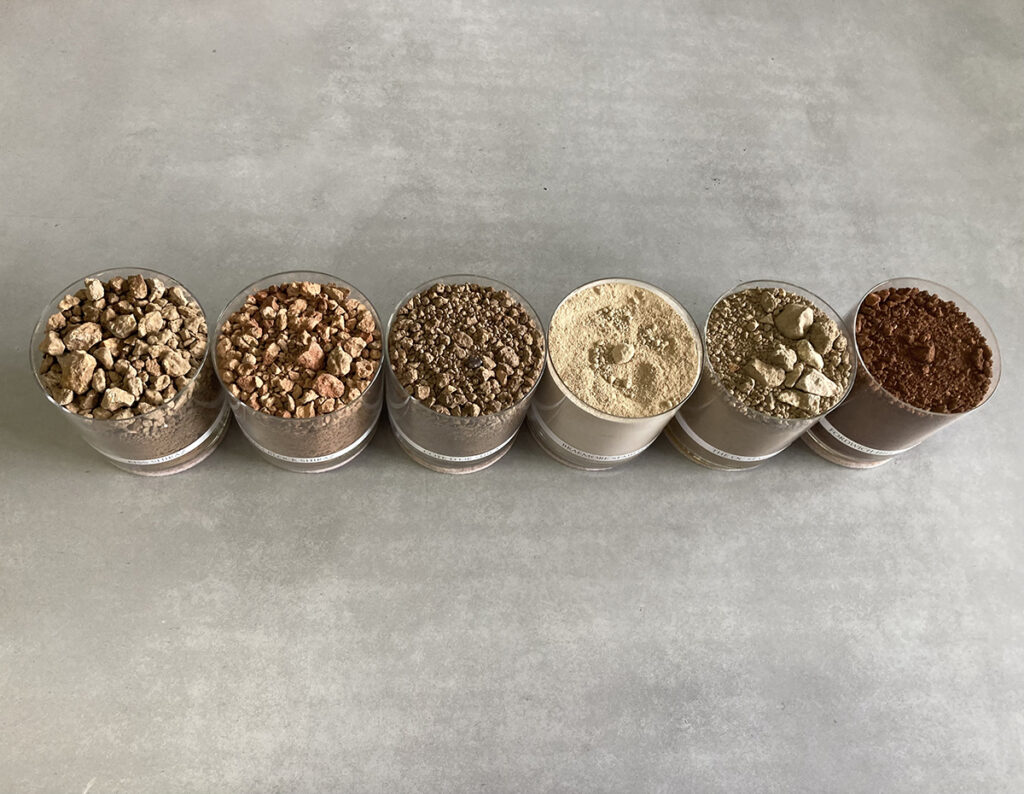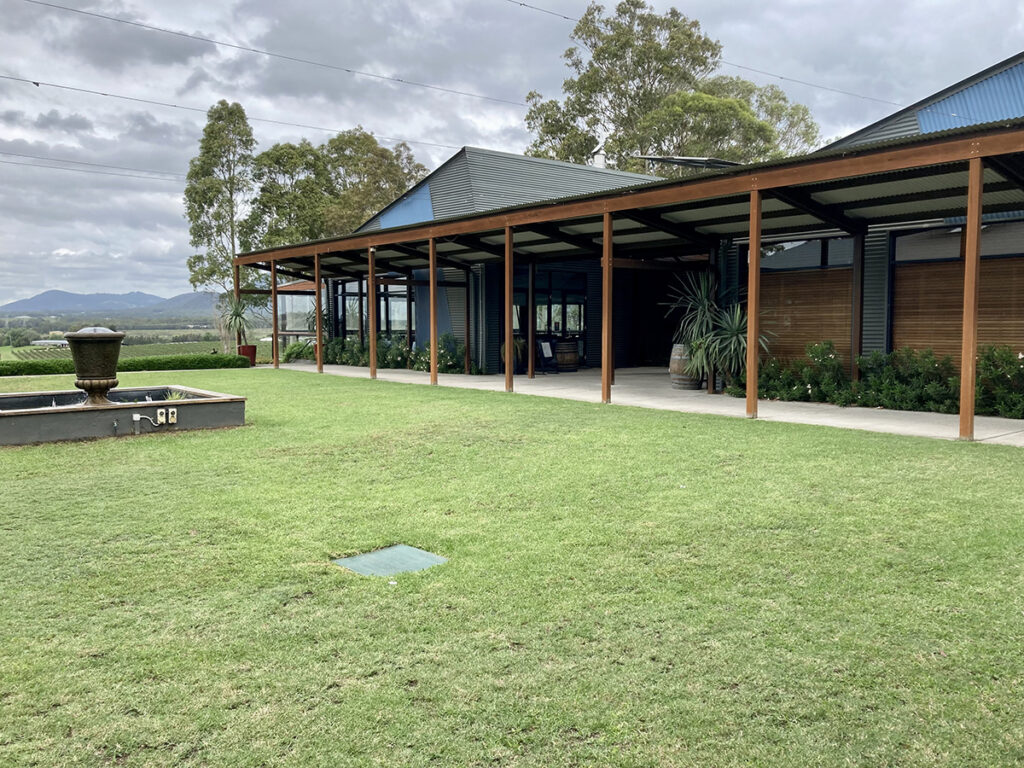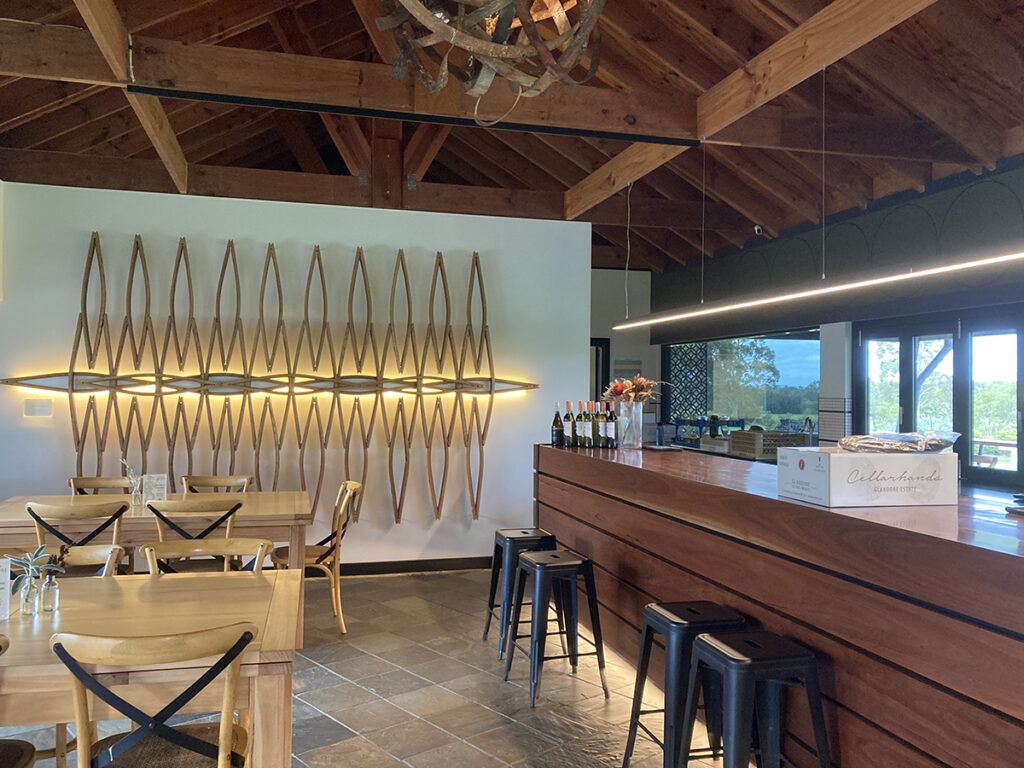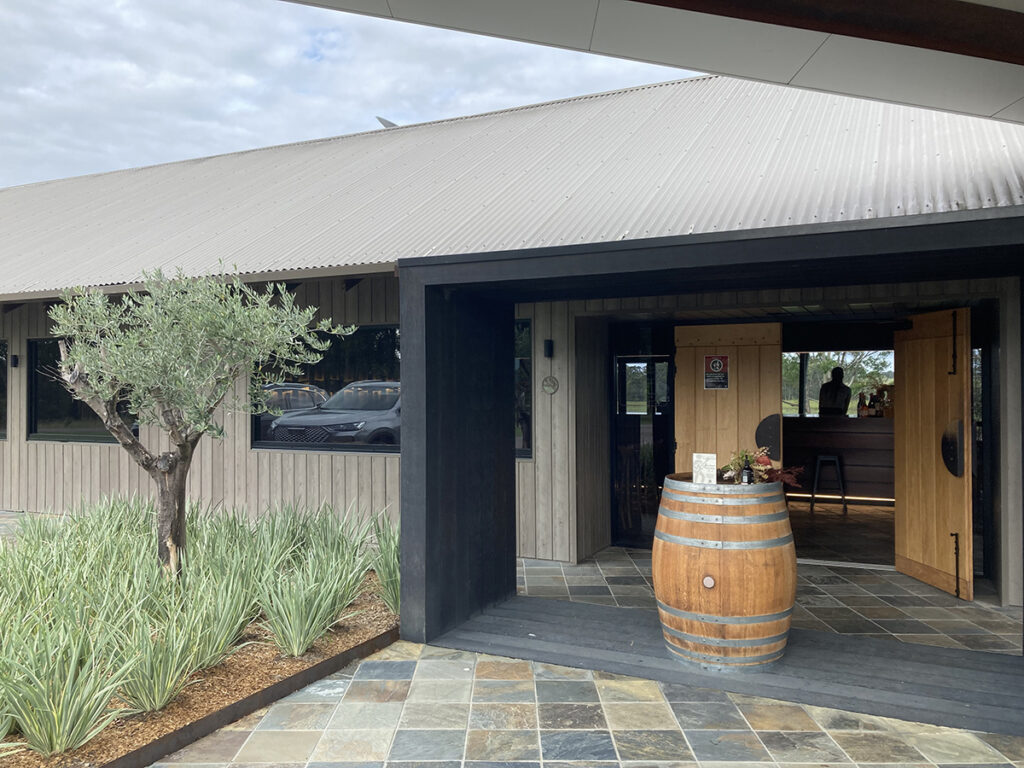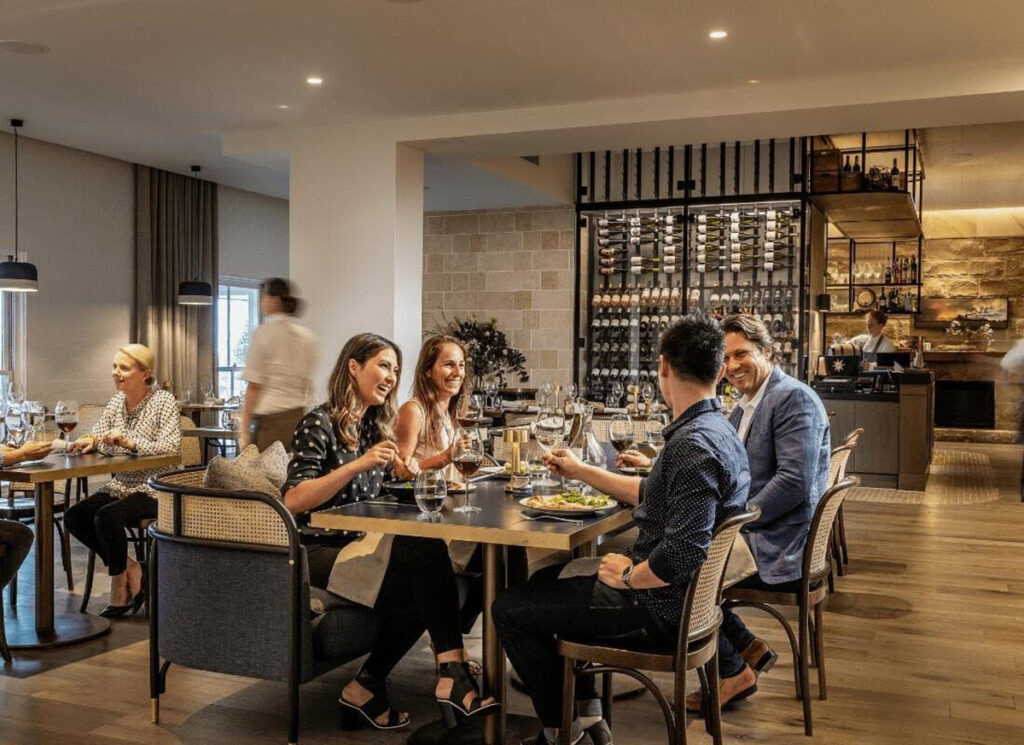 From Tyrrell's we continued on to see Andrew Thomas, a man the Sydney Morning Herald declared to be "a shining light in the Hunter Valley." Thomas Wines are renowned for their complex and refined Semillon but also a really classy Shiraz. With The Journey tasting you can mix and match as many as 15 wines from the wine list, shaping the session to your tastes or, as we did, letting the sommelier choose so that you can discover something new. Make sure you ask for the Braemore Semillon and Kiss Shiraz, two of Thomas' flagship wines, and also the 2013 Elenay Shiraz, which was re-released from the cellars in small quantities in 2023.
I have mentioned Semilon quite a bit, because it really is the signature grape of the Hunter Valley. The species is native to Bordeaux in France, and at one stage it was probably the most planted grape variety in the world, dominating the vineyards of Australia and South Africa. The vines do well in warm climates, in part because they are fairly disease resistant, and on long, sunny days the fat, white grapes gain a pinkish hue. When it is young, Semillon wine has a fresh, almost citrusy taste and goes well with seafood, but if you are patient enough to wait for five to 10 years, it develops into something altogether richer. A bottle such as Thomas WInes' 2016 Cellar Reserve Braemore has a taste reminiscent of roasted cashew nuts, or even buttered toast!
Though we had snacked throughout the tastings, we returned to Spicers Guesthouse for dinner. The menu at the hotel's restaurant, éRemo, claims to be a celebration of Italian cuisine, but although Italy may have inspired Head Chef Jayden Casinelli, it really offers a prime opportunity to try contemporary Australian fine dining. And that's a wonderful thing, because the fresh, seasonal produce in this part of the world is divine. Jayden and his team do masterful things with their ingredients, combining flavors and techniques in the most unexpected ways. Browsing through the a la carte menu you will be hard pushed to choose: should you start with the charred grapes with gorgonzola or the Wagyu bresaola with capers and truffle mayonnaise? And when it comes to main courses, should it be the market fish with saffron fennel, or the rib eye filet steak accompanied by celeriac remoulade and truffle pecorino? My only recommendation when faced with such complex quandaries is that you dine with two or more friends, all order something different, and are generous enough to share. Be sure to look at the wine list, too: it embodies the best of the Hunter Valley, and many of the wines are available by the glass so you can try something new with every course. When you do finally leave the table, there is no need to order a cab: your guest room will be waiting for you a few minutes' walk away. 
---
US
Canada
Digital Version
Subscribe to Swanky Retreats Magazine's DIGITAL version. Read the latest issue online or download it to your computer.