The west coast of Scotland reminds visitors that some parts of the British Isles are still truly wild. The pretty fishing village of Port Appin clings to the rugged coastline, looking out across the mythical sounding Lynn of Lorn. An area of outstanding natural beauty, it is a gateway to the islands and the sea. Whales, dolphins, and porpoises feed beneath the dramatic sea cliffs, whilst eagles, buzzards, and falcons circle overhead, swooping down now and then for a snack. 
In this place where land and water meet, anglers and seafood lovers find themselves in heaven. Scottish salmon is rightly world famous, and the nearby River Awe boasts large stocks of freshwater trout as well as salmon. Sailing out on strikingly beautiful Loch Etive, even amateur fishermen can reel in the mackerel. And with a longer day afloat on Loch Linnhe or the Sound of Mull, the tantalising potential catch extends to more than a dozen species, including pollock and skate, dogfish, rays, and whiting.
I am a strong believer in farm to fork eating, though in this instance it should perhaps be called sea to spoon, or loch to lunch table, instead. I began my culinary journey at Inverawe in Argyll, a family run fishery and smokehouse with a Royal Warrant to supply smoked goods and hampers to Her Majesty Queen Elizabeth II. Inverawe's four trout lochs are well stocked with rainbow trout, and beginners can hone their angling skills with a fly fishing lesson on Hugo's Lochan. There are no trees around this particular loch, so casting is snag free, and you can learn about the different kinds of tackle and techniques, as well as the environment and law.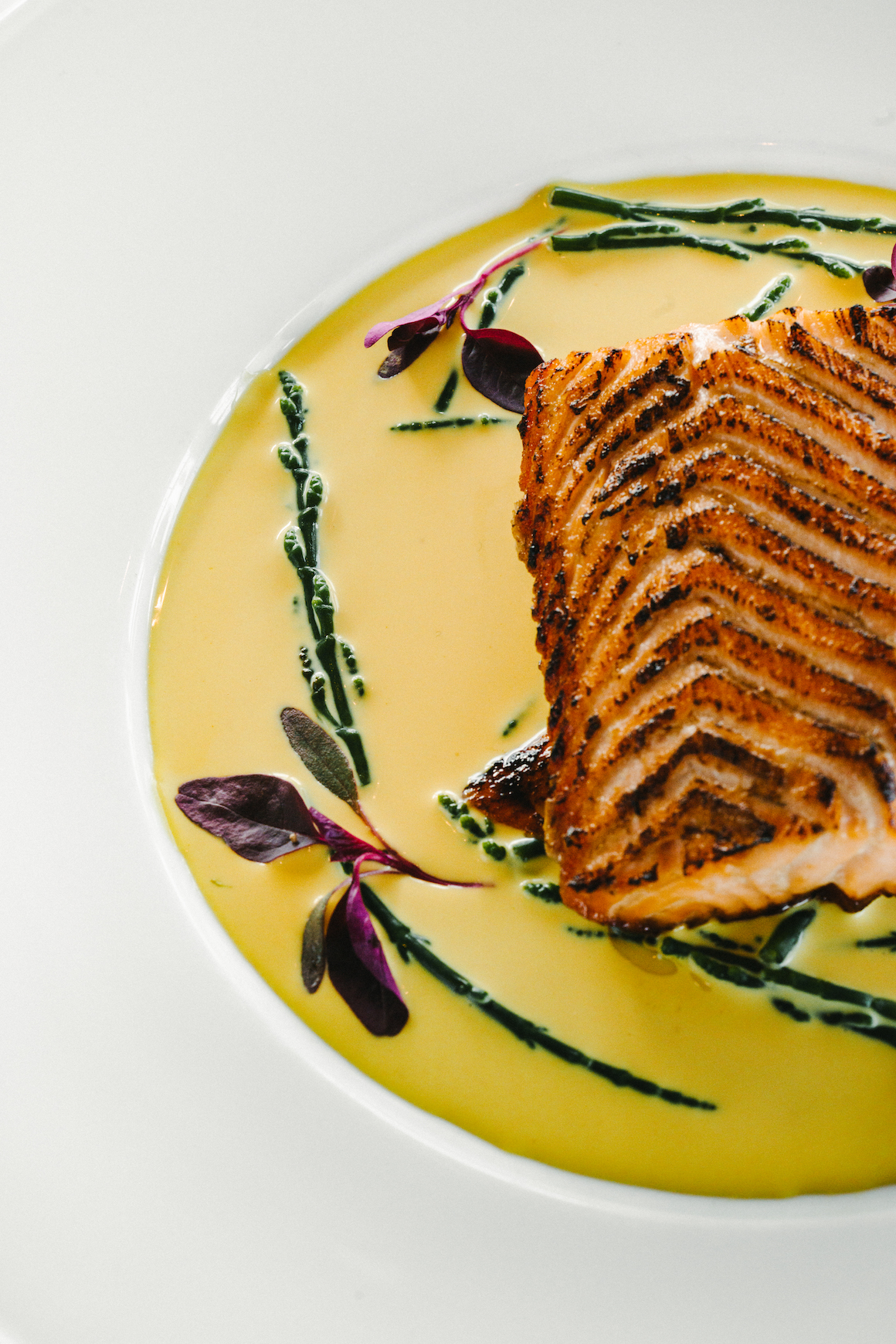 Although you can take the fish away fresh, it tastes even better once smoked. Inverawe has been smoking fish — and smoked salmon in particular — for more than 40 years, and the smokery still uses British oak log fires in old fashioned brick smoke boxes. The wood is certified by the Forest Stewardship Council so you can be confident that it is responsibly managed. This traditional style of smoking is a time consuming process: every batch of fish takes up to 36 hours to smoke, more than three times longer than it would in a modern kiln. But as Inverawe's exhibition about the history and craft of fish smoking reveals, this extra effort is definitely worth it for the superior taste. You can try the award winning smoked salmon and other products in the cafe, pick up some treats for a picnic, and even arrange for the salmon to be shipped back to you at home, negating the risk of having luggage which smells of fish.
In the mid afternoon I returned to Port Appin, checking in at the family run The Pierhouse Hotel. In the 19th century, this building was the home of the Pier Master, who was responsible for overseeing the cargo and passengers boarding the steam boats traveling across Loch Linnhe from Oban to Fort William. When Scotland's road and railway infrastructure replaced the steam boats, this historic property at the end of the pier was sold, and since 1992 it has been the finest place in town to experience authentic highland hospitality.  
There are just 12 en suite guest rooms at The Pierhouse Hotel, making it intimate enough to feel like a private home. The hotel is so close to the water that you can arrive by yacht, in which case moorings are provided. The rooms all have majestic views out to sea or along the cliffs, and from the two Superior Sea View rooms you can look right out across Loch Linnhe to the islands of Lismore and Shuna. It is a place to sit, stare out the windows, and gulp in the spectacular scenery around you. And, somehow, the weather doesn't seem to matter: it looks as dramatic on a dark and stormy day as it does when bright sunlight is drenching the coast and sparkling on the surface of the water.
The Pierhouse Hotel's first draw is its geographical position; the second is its food and drink. And, when you think about it, the two are intrinsically linked. Head Chef Michael Leathley uses only the finest seasonal Scottish produce on his menus, and he works closely with local suppliers. The Pierhouse Hotel's location therefore dictates what Michael prepares and you eat.
Take, for example, the lobsters and crabs, the crustaceans at the center of any self respecting seafood platter. Most chefs would count themselves incredibly lucky if they could get their shellfish from the boat to the table within 48 hours. Michael's time frames for creating his signature Pierhouse Platter are rather shorter. The creels hang from the end of the pier, so in no more than five minutes he can hand pick a fresh lobster from the water and bring it to the kitchen. Other ingredients hardly travel much further: the Loch Creran oyster beds are 15 minutes' drive away, and the mussels and langoustines are both harvested from Loch Linnhe and Loch Etive. The smoked salmon, of course, is from the Inverawe smokehouse. You really can't get fresher than that, and so diners go wild for the seafood on offer.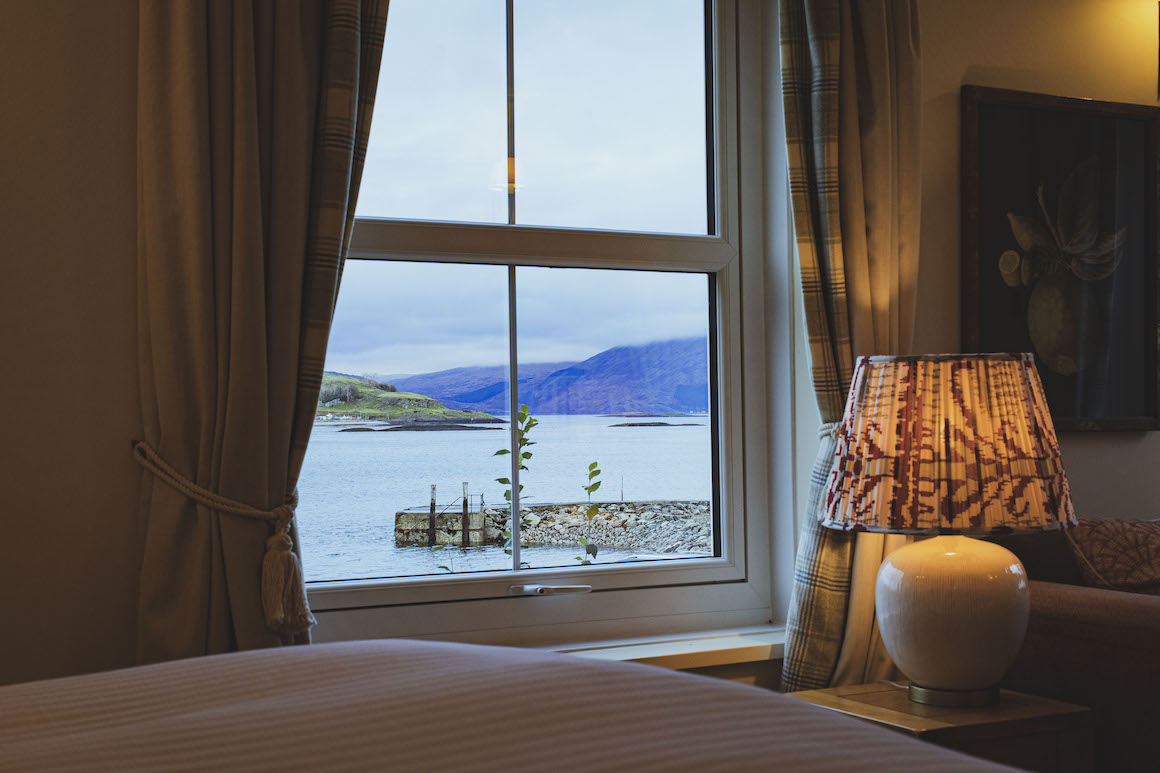 The Pierhouse Platter is a feast, the simplicity of the seafood speaking for itself. But Michael's understated style of cooking is best enjoyed through tasting a variety of dishes during your stay, as it is then you will experience the nuanced combination of flavours. Imagine, for example, the Loch Creran Oysters complimented by the tanginess of shallot and Orkney sugar kelp vinegar; or creel caught Loch Linnhe langoustines served chilled with a confit garlic aïoli. The recipes typically have few ingredients but are perfectly executed; that is where the gastronomic magic lies. 
If seafood is not your thing, a stay at The Pierhouse Hotel would probably be wasted on you, but there is no chance at all that you would go hungry. Michael sources his meats — including wild hill venison — from Letterfinlay near Fort William, and so you know that shortly before you eat them, the deer will have been running wild and free on Scotland's private estates. You can try local Scottish favourites Macsweens haggis and Stornaway black pudding (a traditional spiced blood sausage) at breakfast; all the milk is from Wee Isle Dairy on the Isle of Gigha; and the mouthwatering selections of cheeses are all sourced from cheesemakers in Kintyre, the Isle of Mull, and Ayrshire. More often than not you will be able to count your food miles on one hand, which is not only great news for the environment but also ensures every mouthful you eat tastes of the specific soils, waters, and winds of Scotland's west coast.
I have been so fixated on the food at The Pierhouse Hotel that I almost forgot to mention the drinks, which would have been a terrible oversight. The Ferry Bar looks out over Loch Linnhe and the pier, and the drinks selection has been just as carefully curated as the restaurant menu. This is Scotland, so of course malt whiskys are available in abundance. In fact, there are more than 100 on the malt whisky list, organised by region, so there is a dram for every palate and budget. The whiskeys from the island of Lismore, just a short ferry ride away from the hotel, deserve particular mention: everything from William Lundie in Speyside, Lismore is produced for export to the USA, but The Ferry Bar has special permission to serve their aged single malts, the 8, 12, 18, and 21 year olds, plus a special 21 year old called Legend.
Scottish gins are growing in popularity, too, and so The Ferry Bar is an ideal location to educate yourself about the country's craft gin scene. International favorites such as Tanqueray, Bombay Sapphire, and Monkey 47 are on the menu, but my tip is to put these aside in favor of one (or more!) of the 30+ more unusual Scottish gins you are unlikely to find elsewhere. Arbikie Kirsty's, distilled in Arbroath, counts thistle and kelp amongst its botanicals; the heather and red clover typical of Scottish golf courses feature in the flavor profile of Eden Mill Golf; and my personal favorite, Jura Lussa, is fragrant with lemon thyme and coriander. And, if I may add, it is hard to beat a gin and tonic with a sliver of smoked salmon or wild venison from the bar snacks menu before you make your way through to the hotel's restaurant for dinner.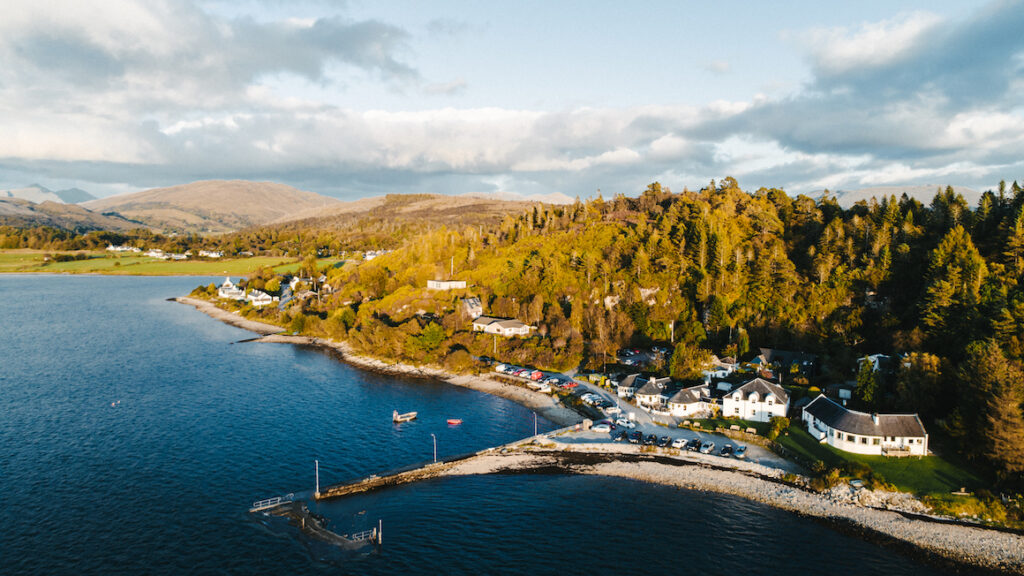 ---
US
Canada
Digital Version
Subscribe to Swanky Retreats Magazine's DIGITAL version. Read the latest issue online or download it to your computer.