Driving up the long approach to Grantley Hall, I feel like a heroine in a Jane Austen novel. I'm not in a horse-drawn carriage, more's the pity, but the grand country house at the end of the driveway, with a magnificent fountain outside the door, is just the kind of place where a Mr. Darcy or Mr. Knightley ought to reside. This jewel of a building hidden in the Yorkshire Dales between Ripon and Harrogate was built in the 17th century in the fashionable Palladian style. During its history, Grantley Hall has hosted lords and ladies, barons and businessmen, members of parliament, and even royals! It was a private home as recently as 2015, when it was purchased by the Sykes family, restored with passion, and opened as a 5-star luxury hotel and wellness retreat.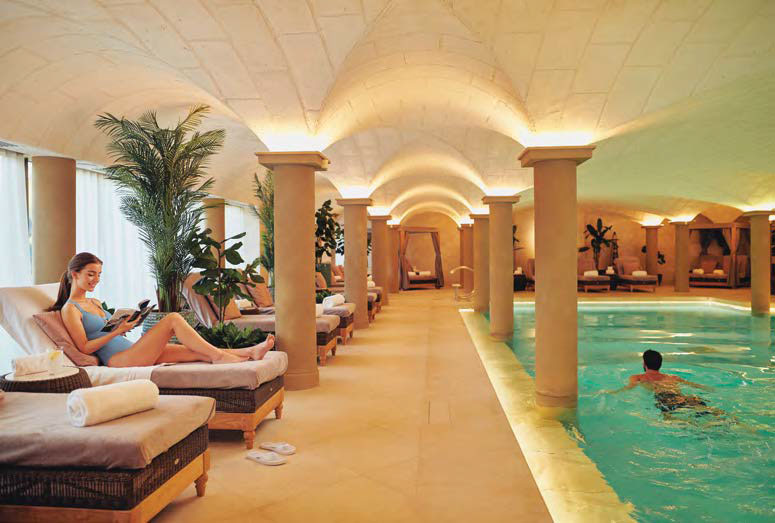 It was the wellness element of the hotel which drew me to Grantley Hall and Yorkshire,
the northern English county often referred to as "God's own country". The huge in-house spa is for relaxation and rejuvenation, but it is accompanied by the ELITE Performance Centre, a facility with cutting edge technology and expertise to take your health to the next level. The centre is used by professional athletes as well as hotel guests, and offers specialist treatments such as whole body cryotherapy, electric muscle stimulation (EMS), an underwater treadmill, a 3D body scanner, and even altitude training, which
improves endurance performance by forcing an increase in oxygen delivery within the body.
Cryotherapy sounds like something from a sci-fi movie: you are temporarily frozen in air cooled to as low as minus 250 fahrenheit minus 160 Celsius). At Grantley Hall, the cryotherapy experience lasts three minutes, and your whole body is immersed in the freezing air. The benefits of the treatment are numerous, including improved skin health, enhanced sleep and mood, and a reduction in inflammation and joint pain. For the maximum impact, you can combine cryotherapy with a rejuvenating massage or EMS, which activates your muscle fibres, burns calories, and is generally said to enhance your performance.
I could see myself coming to Grantley Hall whilst training for a marathon or extreme expedition, specifically to use the ELITE Performance Centre. But for regular guests, the Three Graces Spa offers an alternative: it is a place to relax and unwind, rather
than to push your body to its physical limits. The spa's wellness philosophy centres on balance, achieving a state of equilibrium which is unique to you, your wellbeing, your state of mind, and your body's unique needs.
The Three Graces Spa's centrepiece is a magnificent swimming pool beneath a vaulted ceiling supported on elegant classical columns. The golden hue of the stone is perfectly complemented by the turquoise of the water, and sculptural plants add further visual interest
and texture to the space. The temperature of the pool and of the air is warm without being oppressive, so if you lie back on one of the loungers on the poolside, you might well find yourself drifting gently off to sleep. If you do want to wake up your body and mind, you
can conveniently pass through the glass doors to the outside pool, inhaling the fresh, sometimes bracing, air there. The contrast between the two is invigorating, and on a cold day it is quite magical to swim outdoors, submerge yourself beneath the warm water with only your head exposed, and watch the steam rise from the surface of the pool into the ether.
After a stressful few months, it was the Kundalini massage which caught my eye on the Three Graces Spa's treatment menu. It is a massage created with treating exhaustion, stress, and chronic fatigue in mind. The therapists address your mind and body in a single session, with the chakra and sound healing therapy stimulating the body's subtle energy flow. I drifted in and out of consciousness over the course of the hour, and when I awoke, felt as though I was floating on a cloud. The tensions which had been almost permanent in my neck and shoulders had evaporated, and I felt incredibly calm.
To maintain my sense of zen once the treatment was over, I wandered out into Grantley Hall's Japanese Garden. Laid out in 1910, the garden has been sensitively restored, and its meandering gravel paths, manicured foliage, and well placed lanterns and benches transport you to another world. Standing on the red bridge looking at my reflection in the water below, listening to the twittering of birds, it was hard to believe I was in Yorkshire! But every part of Grantley Hall's gardens are charming. I sat a while in the
Japanese Garden, but then explored more of the estate, with its water features and planting which lead the eye towards a particular vista, and the most curious contemporary sculpture cross- building, a hemispherical structure divided in two, which seems to be covered with reflective glass scales. The planting throughout the gardens is superb, the gardeners doing a superb job to enhance the natural landscape and accentuate the features of the house.
I only retreated inside the house once the evening turned cool and the floodlights had illuminated the front of Grantley Hall. I took
drinks in Norton Bar and Courtyard, sitting by the window and listening to the River Skell tumbling past. In this room more than any other, I felt the friendly ghosts of the hotel's past. Seated on a sumptuous velvet sofa, surrounded by historic oak panelling on the walls, and beneath an impressive chandelier, I almost imagined I could hear the conversation of a hunting party who had returned to the house after a successful day's deer shooting. Although I was blessed with good company, I was tempted to browse the shelves laden with an eclectic array of books, and on a cold winter's day there would surely be no cosier, more atmospheric place to curl up and read than in a chair beside the open fire. I  treated myself to a Garden Raspberry & Rose Soda, and toasted my good fortune to be here.
Any guest at Grantley Hall is spoilt for choice when it comes to dinner.
Michelin starred chef Shaun Rankin, who has made numerous TV appearances, cooks to impress in his fine dining restaurant, Shaun Rankin at Grantley Hall. Fletchers Restaurant is rather more casual, and there's also the EightyEight pan-Asian fusion option. EightyEight has built quite a reputation, and I was keen to experience the novel combination of Yorkshire produce and far Eastern flavours. Having the ornamental backdrop of Grantley Hall's Japanese Garden also makes for a unique location.
Dining at EightyEight is a multi-sensory experience. One of the first things you will notice is the unexpected soundtrack, which is created live by DJs. The first thing on your palate should be one of the bartender's signature cocktails: it will cleanse and ready your
tastebuds for the explosion of flavours to come.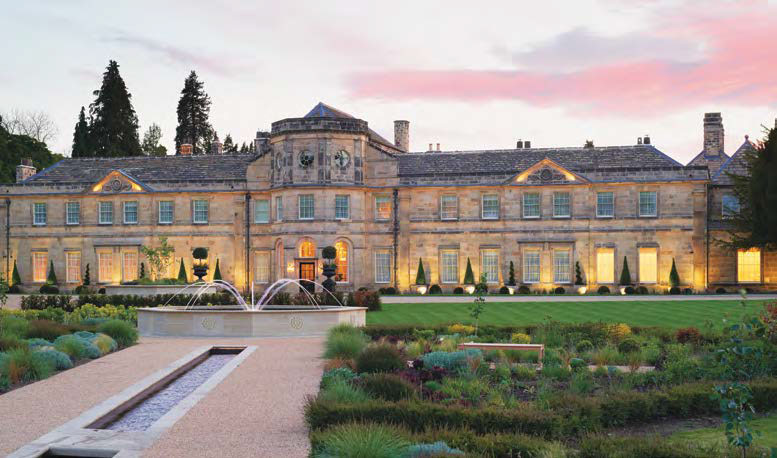 EightyEight does have an a la carte menu, but if you are a gourmande, by far the best decision you can make is to choose the eight course tasting menu. It is very competitively priced at £60 (less than $80), and it is available in regular and vegan versions. Sample dishes might include smoked shitake dumplings with aged soy and rice vinegar; five spice Yorkshire duck breast with pak choi, Asian pear, spring role, and Szechuan sauce; charred celeriac with burnt apple miso and pickled nashi; and a strawberry sorbet and meringue with cherry blossom and puffed tapioca. The presentation of each dish is imaginatively conceived and meticulously executed, such that everything you eat looks like a work of contemporary art. Part of me wanted to look at the food, admiring it from every angle, but in the
end it was just too tantalising, and I wolfed down every morsel with relish.
By the time I reached my room at Grantley Hall, I was overwhelmed with tiredness. It seemed ridiculous, but the combination of the relaxing spa treatment, the fresh air of my walk around the gardens, and the delectable food and wine had collectively brought on a stupor. I admired the free-standing copper bath, knowing it would be waiting for me in the morning, and was delighted by the elegant feel to the bedroom. The last thing that I remember was standing before the nearly full length sash windows, looking out at the inky blackness of a sky free of light pollution, then drawing the curtains and retreating inside for a deep and dreamless sleep in a huge bed between crisp white linens.
It had been a long time since I had slept so soundly away from home, but I get the sense that everything at Grantley Hall is curated very deliberately with sweet dreams in mind. For the best part of 400 years, this Spa Uncommon has welcomed generations of guests and enchanted them with its beauty and the warmth of its hospitality. Its history as a hotel is only brief, and the legacy of being a home — albeit a grant one — endures, beguiling all those who are privileged enough to discover this corner of "God's own country" and
contribute their own part to the story of Grantley Hall.
---
US
Canada
Digital Version
Subscribe to Swanky Retreats Magazine's DIGITAL version. Read the latest issue online or download it to your computer.