Just 60 miles outside of Atlanta, GA tucked amongst winding roads you will find an award-winning Sothern estate dating back to the 1840's. Barnsley Resort, covers 3,000 acres and has all the space one needs to roam. This historic estate was built by Godfrey Barnsley for his beloved wife Julia and remains now as a testament of their love. The resort features world class quail hunting, golfing and a dizzying array of outdoor activities. Barnsley Resort recently unveiled Georgian Hall and The Inn at Barsnsley. The newly completed Inn brings the total number of guest rooms to 150 and the Hall adds more that 9,000 square feet to the indoor space.
Upon arrival we were greeted by friendly faces and warm southern drawls. The Inn at Barnsley Resort is done in Andrew Downing's Italiante and gothic revival styles. The resort exudes an English village charm with classic southern touches. My room had a king-sized bed and provided all the creature comforts of home. The bathrooms featured double sinks, a cavernous walk in shower and fabulous lighting. I must say the built-in vanity made me feel like I was preparing for a production of Gone with the Wind instead of outdoor excursions. The property also offers a state-of-the-art gym and spa. I had intended on embracing my inner gym rat but ended up taking brisk walks in the morning just to take in the stunning scenery.
One thing you'll notice as you meander through Barnsley Resort is how they manage to make the massive grounds easy to navigate. The cottages are tastefully done in rich earth tones such as rust, sea foam, and mustard. Each cottage features front/back porches, cozy parlors, and spacious bedrooms. Barnsley Resort is intentional about making sure guest feel connected to the property and those around them. A large stretch of lawn with fire pits, corn hole and assorted games sits in the center of the property. It's not unusual to see runners in the morning or guest on carts headed to the golf course. At night you'll often see guest gathered around fire pits roasting marshmallows and making smores.
You cannot come to North Georgia and not indulge in its most precious resource. Land! Barnsley Resort touts a small barnyard, horse stable, world-class golfing, trails, and hunting grounds. I am more of a glamper but everything about this property made getting out in the dirt irresistible. If you are an outdoors person, make sure you plan properly before getting here, so as to not miss out on any of these exciting activities. Hunting enthusiasts should bring their guns (if you are a first-timer, maybe try to get a beginners' firearm from a gun giveaway contest online) and other equipment, provided they are allowed to travel with them. Others can indulge in the remaining variety of options here. Mainly, be sure to take a horse ride the first day you arrive to really get oriented with the property. I was a horse novice but my trusty stead CJ made my ride enjoyable and I even got a picture of us without any resistance. We even got to meet the boss hog of the barnyard after the ride. He was a little shy but if you're patient and have a snack he might just make an appearance.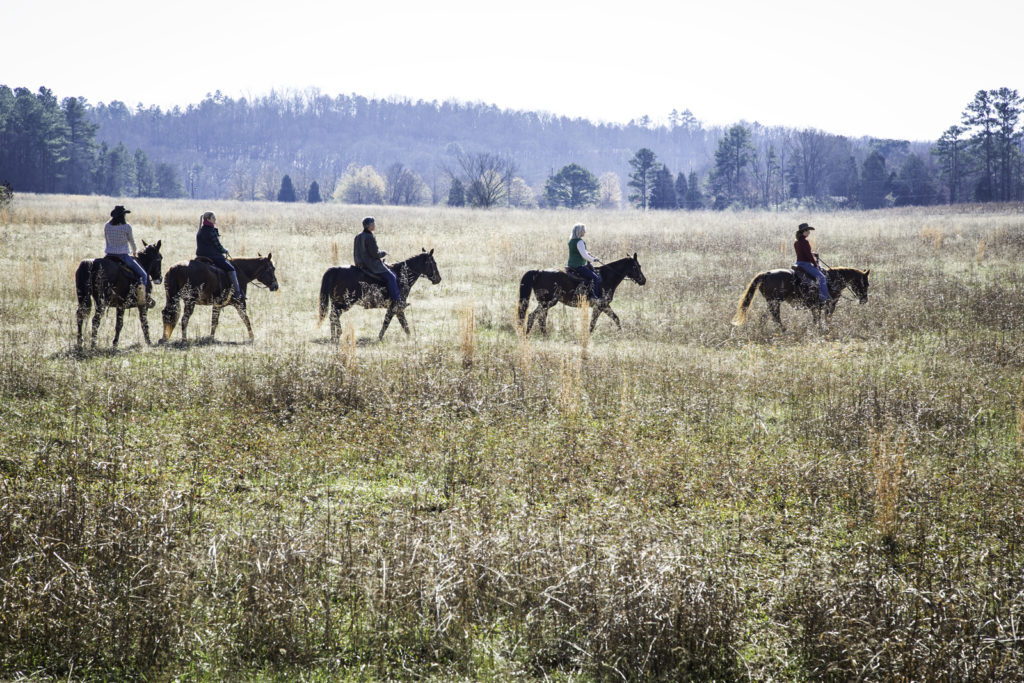 After our ride it was time to prepare for dinner at the ruins. The Manor House Ruins were once home to Godfrey Barnsley and his wife. In 1906, a tornado whisked through the area and took the entire roof with it. Unfortunately, the family was unable to complete repairs and the property had to be abandoned. The ruins have been restored and as you walk up to the Manor House Ruins you pass through a stunning garden that looks much the way it did in its heyday.
The brick building was bathed in soft lighting and the stars twinkled unobstructed in the night sky. Roaring fires and delicious libations welcomed us as we toured the historic home. That evening we were graced with the presence of Barnsley's resident historian Clent Coker. Throughout cocktail hour he regaled us with tales of love, loss and even murder. We then moved to the main room where we dined on expertly prepared grouper and farm to table veggies. Dinner at the Barnsley Resort ruins really redefined the way I look at al fresco dinning.
The following morning we headed to Woodlands Grill for breakfast. The space is reminiscent of an English hunting lodge and is the resort's answer to an elevated casual dining option. There you can enjoy classics such as burgers or more refined fare such as their Georgia trout with a southern twist. That morning I had a perfectly prepared egg white goat cheese frittata with fresh fruit. Needless to say I was now adequately fueled for our day of adventure.
Our first stop of the day was clay shooting with High Adventure Company and I found myself highly skeptical about the likelihood of hitting any targets. I am not a terrible shot but let's just say that I'm used to my targets being stationary. The thought of hitting a clay disc as it flew through the air didn't seem very likely. Luckily for us we had John Burrell President/CEO of High Adventure Company on hand to show us the ropes. After a brief but thorough safety lesson we got in the stands and got to work. One by one we got to shoot targets of varying difficulty and trajectory. John floated around giving helpful tips and even provided some comic relief when we took ourselves too seriously.
For lunch we made a quick stop at Barnsley's Beer Garden. Our spread featured BBQ styles from across the south, vegetarian beans, and peach cobbler. From there we were whisked away to our wilderness skills training by the one and only Tom Powell, Barnsley Resort's resident Naturalist and wilderness specialist. Tom gave us the ABC's of starting fires, essential camping knots, and proper knife handling. I walked away from our session with my own fire kit and the confidence that I can start a fire the next time I find myself in a sticky situation.
After an evening of leisure spent in my King-sized bed, I awoke ready for a day full of outdoor excursions. We started the day foraging for mushrooms with Barnsley Resort's Executive Chef Evan Babb. I've never foraged before and was a little apprehensive about my ability to correctly identify poisonous mushrooms from non-poisonous ones. Evan joked with us and told us that all mushrooms are safe to eat for up to 30 minutes, but after that it can get tricky. The group spent about an hour collecting mushrooms and as a grand finale Chef Evan found the first truffle ever discovered on Barnsley's Resort grounds.
Up next was a Safari-style luncheon on Beretta Shooting Grounds. We enjoyed a hearty spread with the likes of rabbit salad, pickled okra, and Brunswick stew. We were joined again by John Burrell of High Adventure Company and prepped for a ride along with the option to Quail hunt. After bundling up we headed out with the dogs. I was so amazed by the skill and passion of the hunting dogs. They ran all over those fields and never once looked like there was anywhere else that they'd rather be.
The Beretta Shooting grounds are covered in waist high grass with patches of trees that rise high into blue Georgia skies. Wandering through those fields with the grass softly swaying and the clouds passing overhead was restorative. After communing with nature, we gathered at the Rice House restaurant for diner. I had some of the best cornbread I've ever eaten and the rewards of our forage were deliciously incorporated throughout a multi-course diner.
As a city girl I often forget how comforting wide-open spaces can be. Barnsley Resort is truly an escape from the confines of the city. The ambiance, service, and accommodations made me feel like a was a world away. It is not often that you can find a resort that provides word class experiences but with down home charm. I will certainly be reminiscing about those brisk nights under the stars roasting marshmallows and sipping bourbon.
---
US
Canada
Digital Version
Subscribe to Swanky Retreats Magazine's DIGITAL version. Read the latest issue online or download it to your computer.