When did you last have lunch with a llama? Deep in the English countryside, but within easy reach of London, is The Merry Harriers in Hambledon, a classic gastropub and rooms which is now also home to a large herd of llamas. Mungo, Louis, and friends will escort you on a walk through the Surrey Hills Area of Natural Beauty (AONB). You can plan a children's birthday picnic with llama guests in the woodland, and you can even opt for a signature llama experience, with a cosy night's stay, a three course dinner, and — you've guessed it — llamas.
Llamas are far from being a native species in Britain: they have their origins in the Americas, and played an important role, historically and culturally, for the indigenous peoples of the Andes and Altiplano. But in recent years, llamas have become an increasingly common sight in Europe, especially amongst the rolling hills of southern England. They are prized for their good nature and, along with their alpaca brethren, for their wool; and although sheep and cows are still far more commonplace, the llamas, too, are putting in appearances at traditional agricultural shows, delighting attendees.
The English landscape is changing, especially in rural areas. Many of the changes are for the better: there is a greater attention to biodiversity and land management, including planting of hedgerows, native woodland, and wildflower meadows to encourage pollinators such as bumble bees. And, as global warming changes the climate, it is now possible once again to have vineyards, which disappeared from Britain in Roman times.
My reason for travelling to Merry Harriers (besides a love of llamas, which should go without saying) was to find out more about their partnership with Albury Organic Vineyard, a family-owned estate just a few miles away from the hotel. Owner Nick Wenman and his daughter Lucy Letley planted the vineyard in 2009. Working closely with vineyard manager Alex Valsecchi (who is one of the country's few female vineyard managers) and wine maker Matthieu Elzinga, they run it following organic and biodynamic principles.
You are probably already familiar with organic produce; avoiding the use of chemical fertilisers and pesticides isn't always easy, but organic viticulture produces better quality fruit and, ultimately, better quality wine, as well as being better for the environment. But biodynamic agriculture? Until I visited Albury, it was a concept I'd only heard of at the Makaibari Tea Estate in Darjeeling, India. I wasn't aware that it was in use in vineyards, too.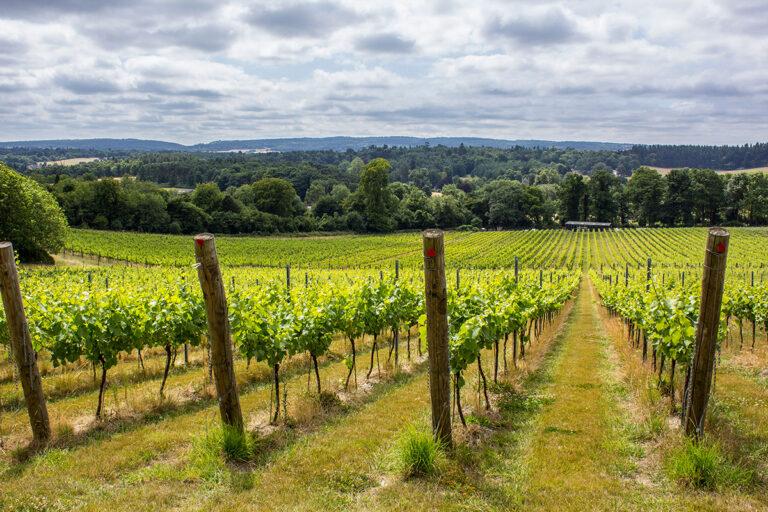 Biodynamic vineyards are very rare. Albury is one of just a handful in the United Kingdom; there are also a small number in Australia, France, and the USA. Biodynamics was pioneered in the early 20th century by an Austrian scientist, Rudolf Steiner, who was concerned that modern industrial agriculture was damaging the quality of the soil, leading to reduced crop yields. Steiner took a holistic view, considering soil health, the raising of livestock, and the growth of plants as interrelated, interdependent tasks. He also combined some spiritual practices with his agronomy, including sowing and harvesting crops in accordance with an astrological calendar.
At Albury, the team focuses on aspects of biodynamic agriculture which encourage a natural harmony between the earth, the vine, and the cosmos. They fertilise the soil with compost teas made from combinations of  yarrow, chamomile, stinging nettle, oak bark, and dandelion. Some of the preparations include ground quartz. In winter, Albury's staff bury cow horns stuffed with organic manure in the ground. Come springtime, the horns (their contents now wonderfully decomposed) are dug back up, and the manure is sprayed across the site. It may sound odd, but the consequence is that the vineyard's soil is incredibly fertile, and all the plants growing within it — including the vines — are thriving.
It all sounds sensible enough, but from a wine lover's perspective, it's what the wine tastes like which is most important. Having toured the vineyard on a fall afternoon, just as the leaves on the vines were beginning to change colour, I headed into the on site tasting room. I can genuinely say that I sat down with a feeling of excitement rather than intrepidation, but having never actually tasted a biodynamic wine before, I didn't know quite what to expect.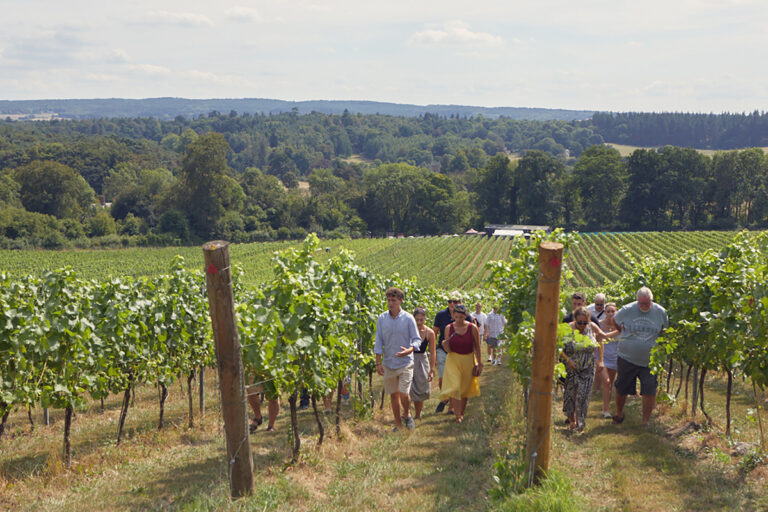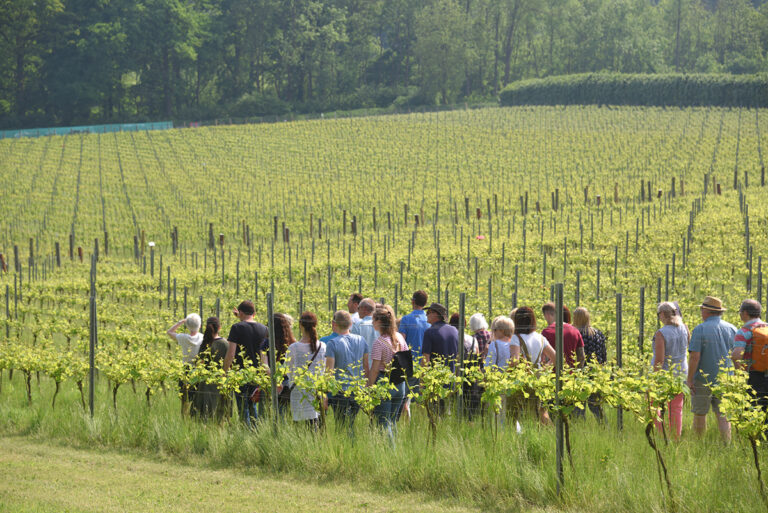 Well, my excitement was justified. The Albury Estate Classic Cuvée won gold at the International Organic Wine Awards in 2019, with a score of 95 PAR points. Combining Pinot Noir, Chardonnay, and Pinot Meunier grapes, it is fresh, lively, and exactly what you want from a fine sparkling wine. The 2015 Albury Estate Biodynamic Wild Ferment is a sensational wild yeast fermented Chardonnay, and as only 600 bottles were ever made, if you are lucky enough to get your hands on some, you should save it for the most special occasion.
I returned to Merry Harriers in the late afternoon. The air was already cool, but the pub is wonderfully warm and cosy inside. I spied upon the menu Albury's Silent Pool Rose, which is included in the hotel's two-night A Taste of Surrey package. There was no doubt in my mind what I was going to drink that night.
I wanted to sit a while before dinner, on the patio outside my Garden Room. My view overlooked the llama paddock, where the herd was lounging about. Gentle Mungo did wander across to see what I was doing, but he lost interest in me (unsurprisingly) when he realised I had no food. He had to make do with a good scratch on his soft, woolly neck. I sipped on a gin from the local distillery, The Village Spirit Collective, topped up with a Fever Tree tonic. All I could hear was the swoosh of the wind in the trees and an occasional grunt from a llama; it is a rare treat to feel so completely at peace.
With the equinox recently past, it was already dark when I crossed the patio from my room to the restaurant, which is in the historic part of the pub. It dates from the early 18th century. The glow from the windows beckoned me inside, and I'd scarcely stepped over the threshold before being greeted by house dog, Jake. His human assistants were hot on his heels. From then on unrolled a magical evening of good food, good conversation, and laughter, the quintessential English pub experience finishing off a perfect day.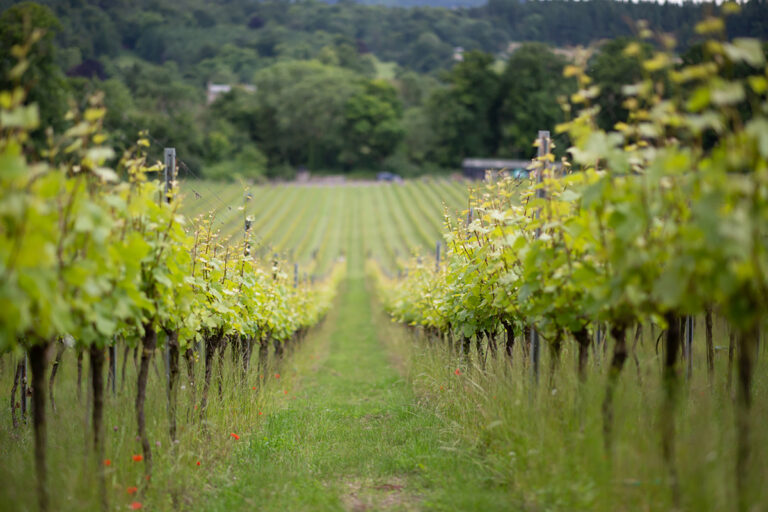 ---
US
Canada
Digital Version
Subscribe to Swanky Retreats Magazine's DIGITAL version. Read the latest issue online or download it to your computer.