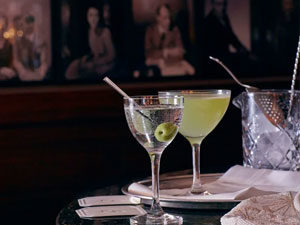 The American Bar at The Beaumont Mayfair, London
Having once been the parking garage for Selfridges, this hotel has great history, location and nothing to do with cars anymore, unless you count the courtesy Daimler always at the ready to take guests within a one-mile radius. The Beaumont oozes swank and is the new standard for what's hip, hot and timeless, all at once. We advise you check in, unwind and then pull yourself together and pop down to The American Bar in the lobby. Speakeasy comes close to describing what we have here, but truly needs to be experienced to be defined.  Dimly lit, cozy corners and service that goes above and beyond five-star expectations.
---
Hotel Marignan Paris, France
The city of lights is shining brighter than ever at Hotel Marignan which offers all the creature comforts of Paris in a modern and sophisticated (what else can we expect, it's Paris) hotel. Their restaurant and bar are so authentic that Parisians tend to be the top clientele rather than strictly hotel guests.  You know what they say when the locals think a place is good…it's good! Five-star, boutique hotel, Champs Élysées –all the words that make a Francophile or any traveler very happy. The hotel has been around since the 1800's but the Richard family, known for bespoke service and Parisian refinement in all of their dining establishments have kept that theme of quality and excellence going with their first hotel.  Of course the bar and restaurant are amazing, it's by the Richards…
www.hotelmarignanelyseesparis.com
---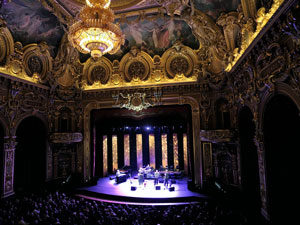 Monaco Always on top of what's Swanky, Monaco has three fabulous offerings to get you out and about:
The historic and iconic Rampoldi restaurant just re-opened in July. The newly redesigned restaurant located in the heart of Monte-Carlo will continue its legacy started in 1946 serving traditional Mediterranean food with fresh and local produce.
---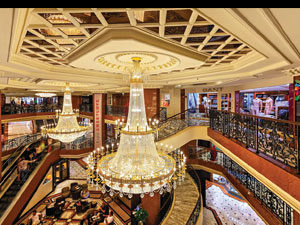 Begin your holiday shopping at the Métropole Shopping Center which welcomes you into a luxury décor of beautiful marble under a magnificent period chandelier.
Located beneath the famed Hôtel Métropole Monte-Carlo, this elegant mall offers 80 fashion boutiques and specialty shops, including the casual restaurant "Metcafé" by famous Chef Joël Robuchon, ideal for a break from a shopping session.
www.metropoleshoppingcenter.com/en/
---
The Principality of Monaco celebrates its 11th annual Monte-Carlo Jazz Festival from November 29 to December 3, 2016. The prestigious, intimate and acoustically acclaimed Monte-Carlo Opera House located inside the Casino de Monte-Carlo is an architectural gem designed by renowned French architect Charles Garnier who also built the Paris Opera House. The Monte-Carlo Opera House takes spectators on a unique musical journey every fall with the celebrated Monte-Carlo Jazz Festival.
---
Sofitel Hotel Santa Clara, Cartagena Slip inside the old convent and sip a tasty concoction just above Mother Superior's tomb.  Not being sacrilegious.  The hotel tastefully preserves the history while catering to the contemporary flair of the well-heeled traveler.  Stay for the ceviche.
---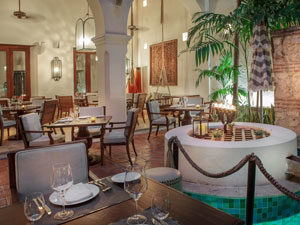 Hotel Casa San Agustin, Cartagena Satiate the palate at The Luxuriously chic yet ever so relaxed Alma Restaurant at Casa San Agustin.  Alma serves as a restaurant and a centerpiece of the hotel. Tucked into the ancient walled city, this is where fashionable locals and guests come together to share a passion of enjoying the cuisine of coastal Colombia amidst a vibrant and beautifully restored backdrop.
This is an unforgettable dining experience as every bit of the hotel is rich in character. You'll be hard-pressed to miss the ancient aqueduct and historic walls that make up the main components of the building.
---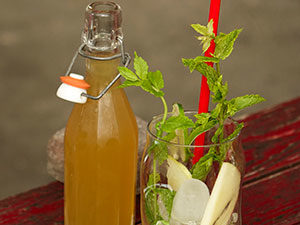 Cammerlander Innsbruck, Austria Whether you're out and about already or need a stop to prep you for heading out, the Cammerlander restaurant sits on the south bank of the Inns River at the edge of the Old Town. Grab a patio table with a view of the mountains as you listen to the river and sip one of their bespoke, homemade mint-based refrescos in either strawberry, apple, lemon, or lime flavors. If you're neither hiking, driving nor riding, spike yours by having them throw in some of their traditional liquor, martini, tequila, vodka or gin.
While the restaurant's been around for years, this drink option debuted very well just last summer. If you're hungry, add pasta, schnitzel, a cut of steak or a selection of their mixed grill before continuing your adventure.
---
Soneva Jani, Noonu Atoll, Maldives Contemplating the newest overwater resort in the Noonu Atoll – Soneva Jani is the latest to offer the ultimate beach escape all wrapped up in one exquisite location. Does it count as a beach if your accommodations are literally in the water?  The pristine, crystal clear water surrounding the villa is oh, so enticing for a morning swim.  I anxiously await the opening in October, for the chance to sleep under the stars, atop the gentle lapping waves beneath an expansive, ultra-exclusive Water Villa.
---
The Atrium at Grosvenor House Suites in Mayfair Dinner in the world's safest hotel can be a bit daring if you want it to be. Jumeirah has situated itself ever so elegantly in Mayfair, at the top of Hyde Park. Grosvenor House Suites is home to an aptly named restaurant called The Atrium. Flooded with natural light from the seven-story glass ceiling, this restaurant is teeming with orchids and excellent cuisine.  In the evenings, when the light fades, a more intimate setting emerges.
 Althrough the restaurant makes up the atrium of the hotel, there are nooks and spaces that provide a sense of seclusion and privacy.
---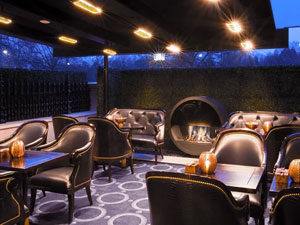 The Wellesley Knightsbridge, London Cubans next to Buckingham Palace should really be a headline. The Wellesley has curated a collection of hand-rolled Cuban cigars, enshrined in a bespoke humidor, the size of some people's living rooms.  We have it on good authority that the hotel was designed around the ability to enjoy cigars. With such a collection, ranging from Montecristo and Cohiba to limited edition Bolivars, the true cigar aficionado will be quite comfortable at this hotel and more specifically on their heated Cigar Terrace. The leather chairs were designed with the comfort of the cigar smoker in mind; ensuring the arms are at a specific height. Not sure if Prince Phillip or the Queen can actually see the terrace from the palace, but you're so close that I am sure they've cracked a window at times just to smell the sweet curls of smoke as they waft by.  You're that close!
---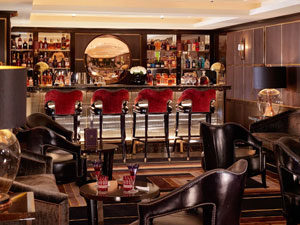 Manetta's Bar at The Flemings Mayfair London, England
As tradition goes, England and Mayfair are known to be bastions of the British heritage. One cheeky move by Flemings Mayfair is their newly opened Manetta's bar.  With every cocktail being named after a famous literary work, and mixed to evoke feelings from specific passages of those works, they've outdone themselves in giving a nod to wordsmiths of years gone by.  Don't worry that you may or may not have read some of these literary treasures; they've not just named the cocktails but under each is a short quote, making sense of it all.  Make your selection wisely, there's a realist set of cocktails and a few pages for the idealist.  This is great place to start many, many conversations.  Cheers!
---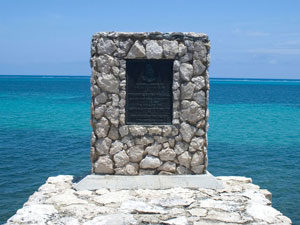 Wreck of the 10 sails Grand Cayman, West Indies
The wreck of the 10 Sails is a famous site where a convoy of ships wrecked along the breakers just off Cayman's East End in on February 7th, 1794. The people of Cayman rowed out to save the passengers and crew. One of which, as legend has it, was a royal prince; son of King George III.
Legend also has it that Cayman's existence as a tax-free nation is directly related to the resident's bravery and loyalty to the crown during this event, although there is no actual evidence to support this. Remains of the ship are still visible from the shore and in 1994, on the 200th anniversary of the disaster, Queen Elizabeth visited this site and dedicated a plaque to the brave people of Cayman who rescued the survivors of the wreck.  
Off Austin Connolly Drive
Gun Bay, East End District
---
The Zetter Townhouse Marylebone, England
Seymour's Parlour is an unexpectedly wonderful new spot.  As you enter The Zetter Townhouse on Seymour Street, you are immediately in Uncle Seymour's.  This is basically the living room of your quirky, eccentric, wealthy uncle.  That being said, you can imagine the décor are hints of and bits from all his travels.  Supple furniture that sucks you in and oversized chairs that are more like thrones than seating for those of us who want to try one of his ambitious cocktails.  The bar is part science part international traveler brought back a bunch of great recipes. For example, the Cedar Kir is actually made from liquor created by the bartenders, in a lab, under scientific supervision.  A plank of Cedar from Japan was Sous Vide to extract the essence of the wood…many steps later, there was a unique liquor formed and then paired with Champagne.  Tasting as any cocktails from their men is an unbelievable experience.  You'll need to come again and again as the list is a solid set of more than 12 cocktails.
---
US
Canada
Digital Version
Subscribe to Swanky Retreats Magazine's DIGITAL version. Read the latest issue online or download it to your computer.