A few days in Fort Lauderdale is all it took for a full refresh and a nice reentry into travel. Staying away from the usual suspects and indulging in a boutique hotel that is directly on the sand was my goal.
Pelican Grand Beach Resort – one of the only true beachfront, boutique resorts on Fort Lauderdale beach. Being a local, I took an extend staycation right in my own back yard. We know, not everyone is as lucky as to have hometown's like this, but indulge us here while we share a piece of our paradise with you. Hopefully it will inspire you to venture this way when you can.
Here's what we did, so you can get a feel for this resort and a glimpse of the town, through our eyes. This will be the written personification of those famous shots on Instagram of the girl reaching back for the guy's hand and leading him all around the world. Let us put that experience into words by starting out with a stay where we pamper you with a luxurious two-night stay in one of the resort's luxury rooms and tempt your tastebuds with an indulgent "toes-in-the-sand" dining experience at OCEAN2000 – and take in the design details that make this resort shine. Picture a Southern mansion, inclusive of a wraparound veranda, replete with white rocking chairs and the perfect subtropical yellow hue on its exterior walls…all capped off with a hot tin roof. This resort was everything we needed and the perfect home base to enjoy stunning sunrises on our private balcony, indulging in mouth-watering culinary creations and even  floating down Fort Lauderdale's only lazy river…as f the beach wasn't entertainment enough. We like having all the options at our disposal.
Wandering Las Olas Boulevard as a guest in our own backyard was different. We took time to see things we had not in years, taken the time to see, and do the things so many flock to this destination to explore. The memories we made during our stay at Pelican Grand Beach Resort will definitely last a lifetime. Here's what we did on and off-property:
We sipped, savored and sighed our way through the stay, starting our first evening out by grabbing pre-dinner drinks at O2K Lounge overlooking the resort's tropical pool and the Atlantic Ocean. We enjoyed a few Summer Harvest cocktails just before dinner. We highly recommend those, any time of the year. It's made with Grey Goose "La Poire" vodka, lemon, raspberries, simple syrup and fresh mint. We are definitely all about the pre-dinner drinks! Dinner on the Verandah gave us the ultimate waterfront dining delight at OCEAN2000. Nights here are not too shabby.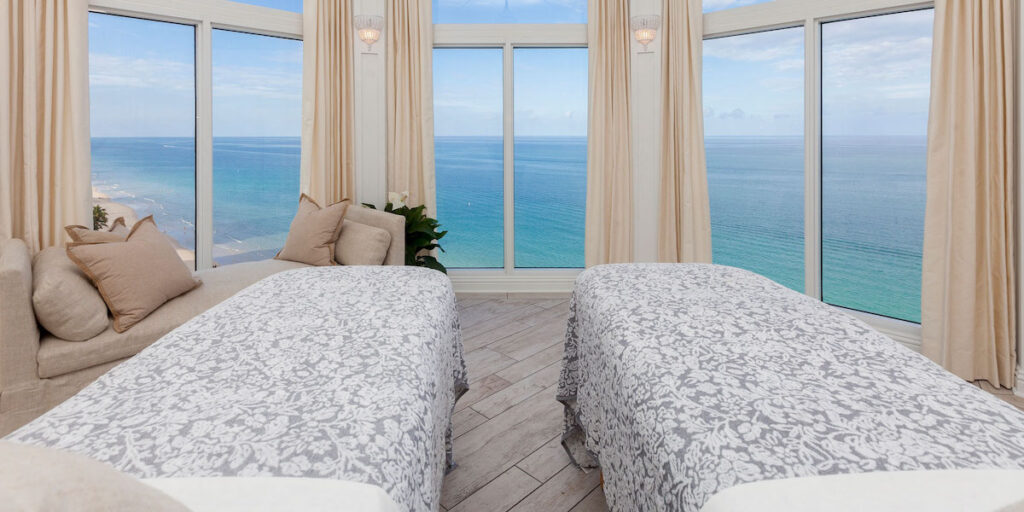 Take our hand and follow us just a bit longer as we head down to the famed Las Olas Blvd., the heartbeat of the city. Brunch at Louie Bossi is something not to be missed. I think nights at Louie Bossi rival the brunch scene, but either way you will be on the right side of fabulous! We can't make a recommendation on any one item food or bevrage-wise…it's that amazing. Insider tip: say hello to Mike, the manager and if you're lucky enough to get Mike the server, you've hit the winning streak and I would run out and buy yourself a lottery ticket. These two are the heart and soul of this restaurant, in our humble opinion. The food and cocktails are beyond delectable, the atmosphere is vibrant and intoxicating, but these two make it special. Try to find a more hip, chic, delicious, and entertaining spot on all of Las Olas and let us know when your search ends right back at Louie Bossi.
We are not going to say, "You're welcome!" Just yet because there's oh so much to do in this city. Choices, Choices, Choices! There are water sports with options ranging from paddle boarding and kayaking, to para sailing and snorkeling, and kite surfing (for the skilled and the brave). In Fort Lauderdale, there are so many ways to spend a day on the ocean!
After attempting (we won't say which one of the above) it was time for total relaxation at PURE Spa upstairs at Pelican Grand Beach Resort. This Scandinavian-inspired spa is on the 11th floor of the resort and even before our therapist laid hands on us, we were taken to another level of calm staring out at the ocean views. PURE Spa hit all the right notes from beginning to end and you should book your treatment before you ever arrive. It's an intimate setting and you will not want to miss out on the experience.
More choices, choices, choices abound. From shopping on Las Olas Boulevard to stroll down Riverwalk Fort Lauderdale to view the lush tropical waterfront located in the middle of an urban metropolis, there are memories to be made all around you. You may just want to do what we did to wind down our stay by lounging by the zero-entry pool, and floating down Fort Lauderdale's only lazy river then relaxing ocean-side while listening to the crashing waves.
Take our hand, take the trip, make the memories. We hope you enjoy the view of Fort Lauderdale from this resort as much as we did.
by Peta Phillips
---
US
Canada
Digital Version
Subscribe to Swanky Retreats Magazine's DIGITAL version. Read the latest issue online or download it to your computer.