Adrenaline Rush Cycling the Oregon Coast
Getting outside and connecting with nature does wonders for the soul. Nowadays, it's one of the best travel options on the planet, and what a way to see the world. From the saddle of a bike, it becomes apparent that you would be hard-pressed to find a more moving connection to the outside world. The visceral reactions that wash over you while pedaling down a coast road and seeing the ocean, outstretched, and lapping at the shore make some pedal faster while others pause to take it all in. We wanted all of this and set out to find a company that was swanky enough to accommodate our discerning tastes. While we looked around for that perfect fit, practically a butlered ride, we discovered Escape Adventures. Their motto suited us perfectly, "You dream it, we'll take you there…all you have to do is bike." Count us in!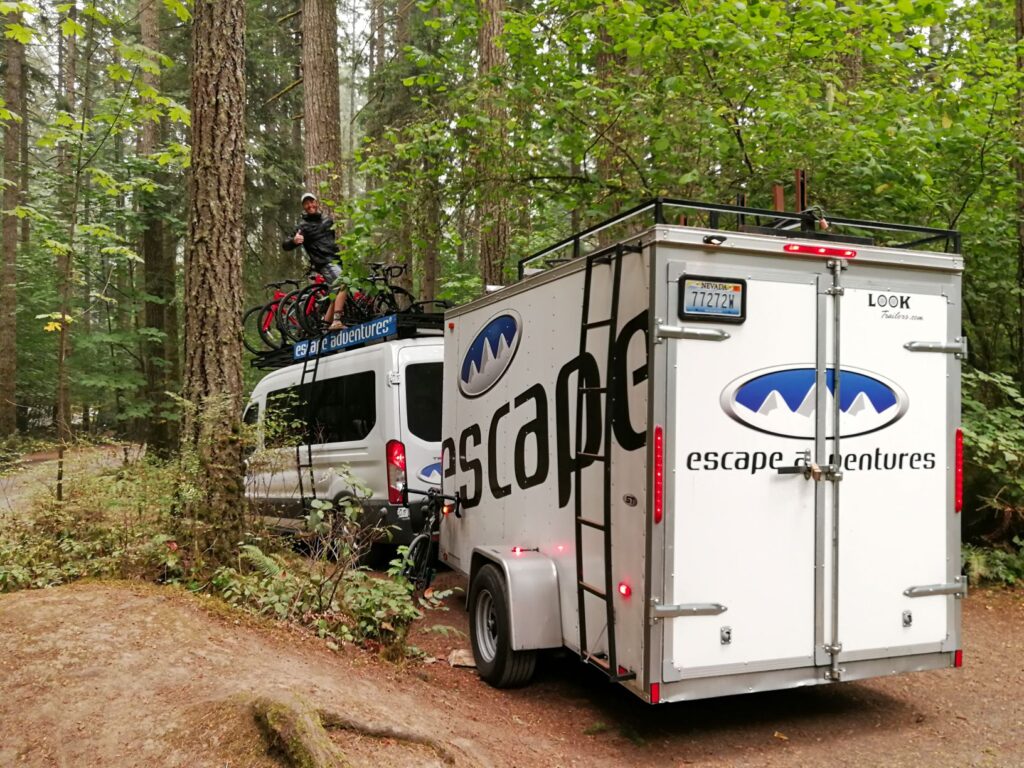 My boyfriend David is an avid cyclist and overall athlete (me, not so much). I love a grand adventure and I used to ride bikes as a kid and in college (to and from class). We selected a route from their extensive list of destinations and bike tours. The Bryce and Zion Road Bike tour, Best of Zion, Canyonlands, Arches and Moab tour, Bryce, Zion, and Grand Canyon adventure…were all dream journeys. They also came with an electric Bike option on a few of them, which had me sold. The athlete in the relationship was a little harder to convince, he loved the sound of those adventures but really wanted to get me in a tent, for a truly memorable escape adventure. See, with the electric bikes, camping is not the most conducive to charging the bikes overnight. He had a point, and I went along for the ride. He chose the Oregon Road Bike Tour for us and off we went. From the swampy lowland of South Florida, we caught a flight to Portland, Oregon where we overnighted and awaited our guides' arrival the next morning, along with the other riders who selected this trip that sounded magnificent on paper. The real test would be could I execute it in real life. The six day journey began with a gorgeous drive north of Portland.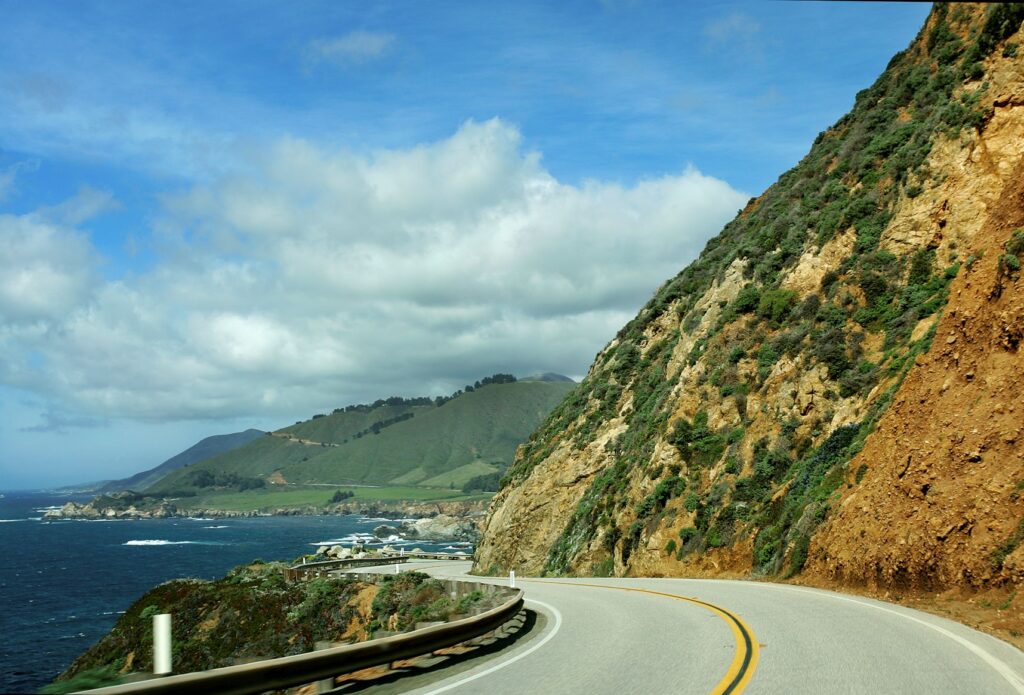 Along the way we all got to know each other, the guides and the other three riders. This was an intimate group and we were glad for that. The company really takes pride in a high level of interaction between guides and guests and service is of the utmost importance. During the two and a half-hour drive up to Ft. Stevens State Park located in the northwest corner of the state, we chatted about everything and I began gazing at the views outside the van window. Our bikes were all safely mounted atop the vehicle, as we motored to our starting point. I wondered just how different it was going to be when the rubber of my bike hit the road and I became one with the scenery. Alex and Carter, our guides brought me back to the present moment as they started describing some of the gourmet offerings they were going to be preparing for us along the way. With a 360 mile journey ahead of us, I knew food was going to be a necessity, but their descriptions sounded far more appealing than sustenance. These guys were not just our guides, they were to be our personal chefs, our campfire storytellers, sunset watching, dune-climbing buddies. Trust me when I tell you they were all of that and more, keep reading to find out all about the plot twist and how the words Escape Adventures were more aptly applied to our trip than we could have ever imagined.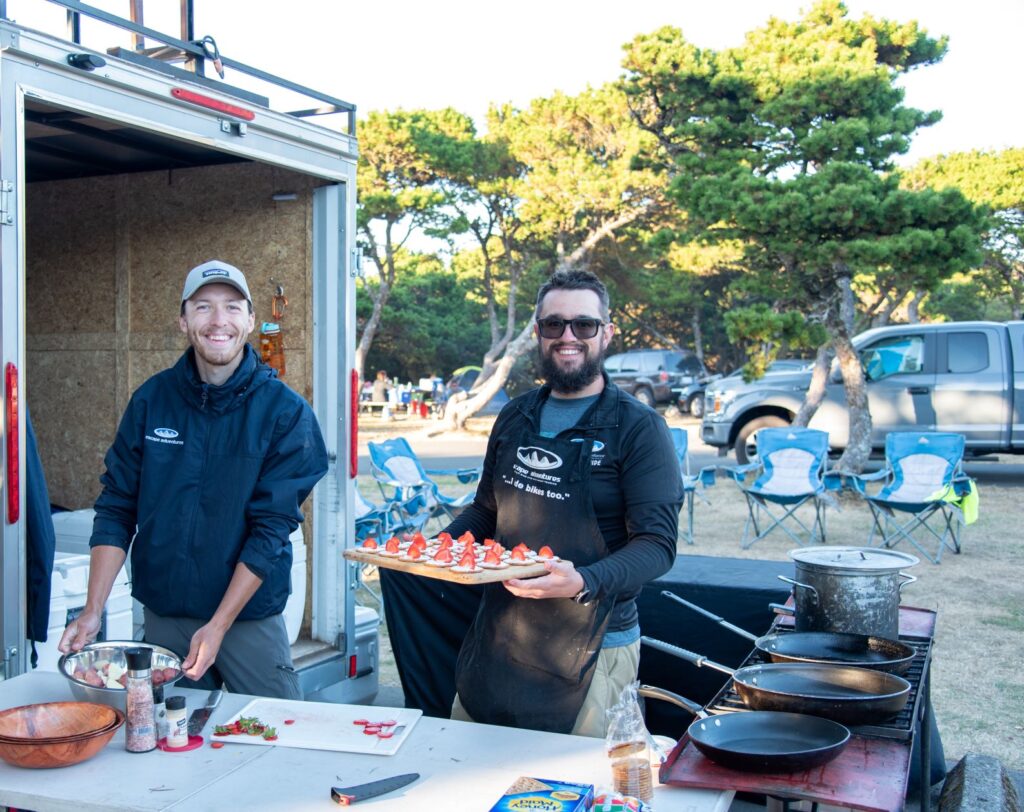 I'll start with an overview of how the trip was designed to go:
Day 1:
Meet in Portland. From a morning pick-up at the hotel, we'll shuttle two-and-a-half hours to Ft. Stevens State Park. Amidst this 156-year old coastal defense battery in Oregon's northwest corner, we'll get acquainted over lunch, prepared by your guides. Built in 1863 to repel anticipated British naval assaults, our first stage kicks off from Ft. Stevens at the mouth of Columbia River. Sweeping south, we'll pass through the town of Seaside, hugging the coast toward Cannon Beach. Called one of the world's most beautiful places by National Geographic, Cannon Beach is a seaside village of art galleries, glassblowing studios, and smart cafes, joined by pathways and courtyards spilling over with flowers. Besides its wide, white-sand beach—called the best in Oregon—Cannon Beach can lay claim to one of the largest coastal monoliths in the world: 327-ft tall Haystack Rock. The centerpiece of a national wildlife refuge, Haystack Rock looms a half-mile offshore. Birders take note: this coastal preserve draws the rare Tufted Puffin. Pushed by an oxygen-rich sea breeze, our peloton continues along the coast. Manzanita, a charming coastal town stretched across seven miles of sandy shoreline closes out today's stage. We overnight in Manzanita, Oregon's third most photogenic locale. This happened and my skill level was obviously not a level 2-3. I was a bit shaken, or as the kids like to say, "shook". I soldiered on though and my boyfriend stayed with me at my frightfully slower pace than he is accustomed to.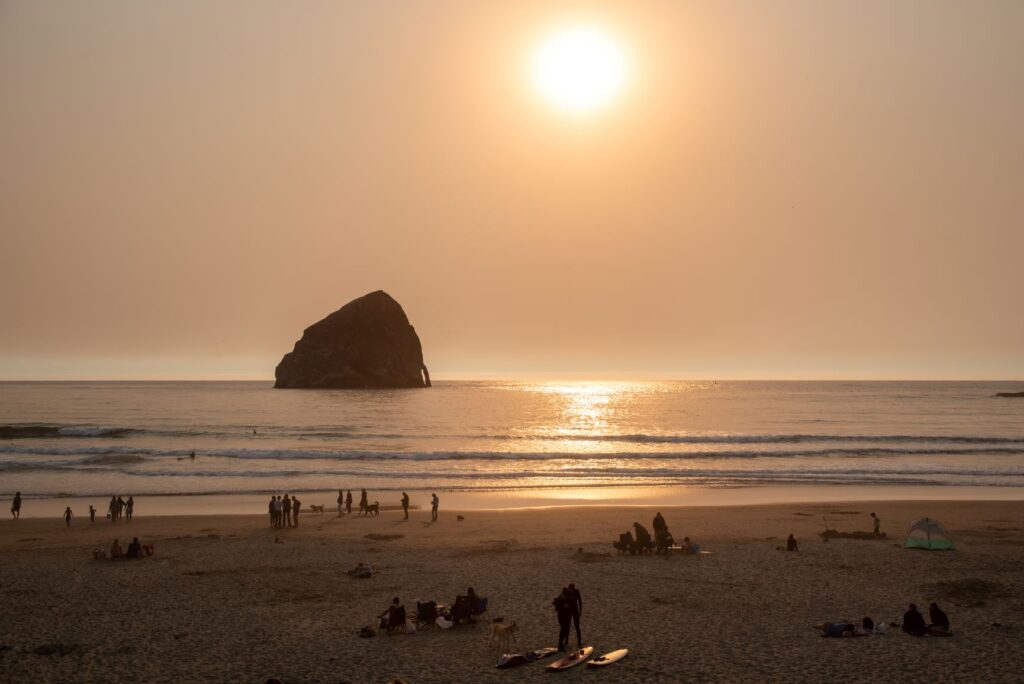 Day 2:
Today's stage transitions from lush coastal rainforests to dairy country. Departing Manzanita in the soft morning light, we swept along the North Oregon coast toward Rockaway Beach, a family-friendly vacation spot since 1920. Next up is Tillamook, where cows far outnumber bipeds. After taking in the home base of the world-famous cheese producer, set amidst estuaries, coastal bays, sloughs, and freshwater lakes, this stage then merges onto the wildly scenic Three Capes scenic route (alternate to US101). Segments along this 40-mile stage range from old growth forest to high coastal headlands where Grey whales are often sighted. Closer to the road, mink, elk, seabirds, and raptors are regularly spotted along this route. We close out with a panoramic flourish at Pacific City, the southernmost settlement along the Three Capes route: another sweet spot renowned for its epic seaside sunsets. All of this happened. The faster, more skilled set of riders advanced with Alex as David and I kept guard at the back with Carter by our side. Truly in Tillamook, I wanted nothing more than to stop and indulge in a scoop of ice cream, fresh from the creamery. Alas, it was not meant to be that day and we soldiered on. The itinerary called for a rest day, the next day, so I hoped I could convince the group to make our way back for a scoop. A girl can dream.
Day 3:
Call it the ultimate layover day. Giving the legs a day to refresh, we explore nearby Cape Kiwanda State Natural Area. Where heavy surf collides with sandstone headlands, you can ogle hang gliders soaring over the seaside bluffs, lose yourself in perfect crests of sand dunes, or watch fishing dories launch from the beach. If a more up-tempo option is preferable, you can thru-hike to Hart's Cove: a wonderfully withdrawn seaside inlet nestled within the stunning Cascade Head Scenic Research Area, or Cape Lookout. There's also Option Three: get barreled Pacific Northwest style. To that end, Pacific City offers both surfboard rentals if not an agreeable beach break. Option Four: The Happy Hollow Loop bike ride. This is where our plans, and the itinerary, began to take a turn, thanks to Mother Nature. I did indeed get my ice cream from the creamery. Guess what? Everybody was on board and loved laying on the lawn and enjoying their scoops. What was to follow in the coming hours was a little more adventurous than planned. This journey was to take us further down the coast for more climbs and sprints and well, more coastline. However, when we hopped in the van, bikes aloft the hospitality trailer, there was a new look to the day. The air was thick and thickening with smoke and an orange glow illuminated what appeared to be a sky at dusk, but it was actually midday. Conversations turned a bit more serious as we all wanted to continue the trip, but safely. As we drove to escape the obvious effects of the raging fires that were sweeping up from California, we were met with an official roadblock. Fire Engines and police cars blocked the road and we were forced to turn around. Things got a little more still in the van and decisions were being made. Alex and Carter wanted us to be safe, happy, and to keep the trip alive. We all wanted the same. As we wended our way through Oregon, the air was not getting any clearer, there was no part of the sky untouched by the ominous orange glow. The group of three guys that were on our trip decided they were going to end their trip and head back home. They had driven in from Nevada and really only wanted to see the coast. Carter and Alex did everything in their power to make that happen but life and limb were their top priority and officials would not allow us to carry on as planned. We ended up dropping the guys, sadly, back at the designated departure point, and the four of us that remained decided to head north. This is where the adventure begins!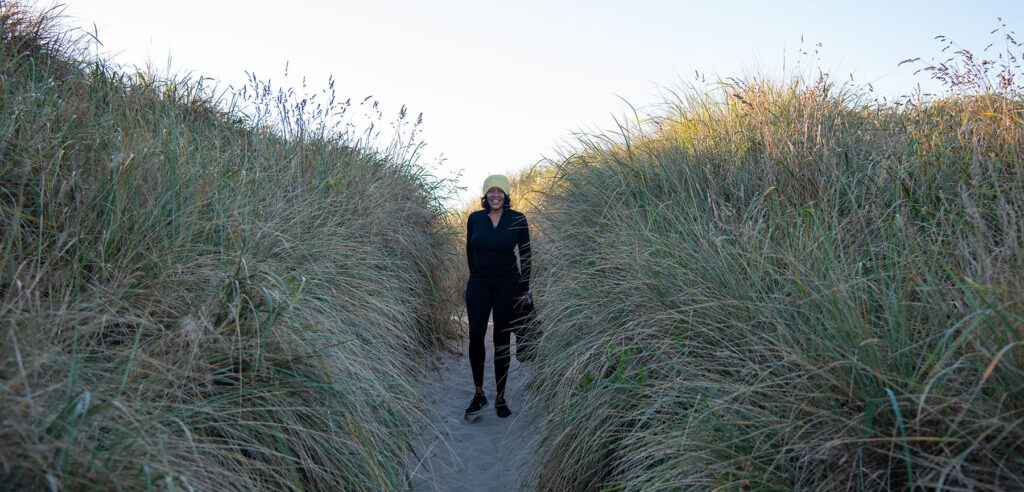 You know things are bad when you head to Mount Saint Helens to find clearer air and safe refuge. What a treat that was. We managed to dodge the smoke, for a couple of days. We entered uncharted territory and rode through lands that looked like another planet. Trees had been cleared and there was not another soul in sight. We rode on shale, up and down dusty unmarked paths, experienced two flat tires, and had the time of our lives as the adrenaline coursed through our veins. Ironically, I did some of my best riding in these parts. There were no cars, no people, and about eleven miles in, we discovered there was only one way out…back the way we came. With one guide having suffered two flats, the other decided to ride the eleven miles back to our campsite, ditch his bike and unhitch the van from the trailer, this way he could come back and retrieve us as we walked our bikes back to the meeting point on the paved road. As daylight slowly drifted away, we hastened our steps to make our way out of this land where we had encountered bear scat, heard animal snorts in the distance, and knew we were never totally "alone". Some time into our trek back toward the gate where we know our guide would be coming to our rescue, we got a call. The voice on the other end uttered the words we all feared hearing. "The gate is locked. I can't make it in to pick you guys up. You're going to have to keep walking." We surmised that we had about two more miles to go, and at our rapid pace, we would definitely make it before the light totally faded. Our calculations were correct and smiles came over each of our faces as we rounded a bend and the van came into site. Parked next to a blackberry bush, anyone watching (as if there were anyone for miles) would have called this a scene out of a survival movie where the rescue finally happens and the survivors are so starved they step in the bear scat surrounding the bush and go to town on the berries. Luckily for us, there was a gourmet meal to be prepared and a night of stories to be told. The guide who didn't have the flat (I am leaving their names out of this piece because they were both equally heroic.) rode back at a record speed, hearing large animals as he rode his way out of the wilderness, music blasting as both a defense and a motivator. He had a wild solo ride to fill us in on. While the three of us had our own tales to tell. We did all of this over a delectable dinner, replete with appetizers and dessert. These guys are the best. Nothing deters them from providing the most enjoyable, upbeat, hospitable experience possible. Before turning in for the night, they always ensured our tents were secure and we were happy. With wildfires in the state, we could not do campfires, but that didn't stop us from sitting around and chatting under the stars. This was the adventure we were looking for. I am going to leave the rest of the planned itinerary below. I highly recommend traveling with Escape Adventures. They do private tours, custom tours (even on the fly) and their adventures are great for solo travelers, families, friends, and couples.
Day 4:
Today's stage, long on calming atmospherics and big-ring rhythm winds through stands of dense forest beyond Lincoln City (pop. 7930). Sweeping south we route through a number of state parks, including Siletz Bay: a federal wildlife refuge where hawks, herons if not thousands of shorebirds gather above prime Chinook salmon and Cutthroat trout habitat. Today's stage closes at Newport, (pop. 9,989), a 151-year old settlement. Home to the Yaquina Head Outstanding Natural Area, Newport can claim not only the state's tallest lighthouse (93-ft.), but a mile-wide stretch of basalt rocks below that applaud the oncoming tidal surges. At The Old Bay Front, Newport's 19-century roots are on full display along a lively, if wonderfully preserved waterfront. But that dazzle extends clear out into the Pacific, given Newport's status as one of Oregon's premier ocean diving areas. The evening is given over to an enjoyable stroll through town, dropping into the art and jewelry shops along Main Street.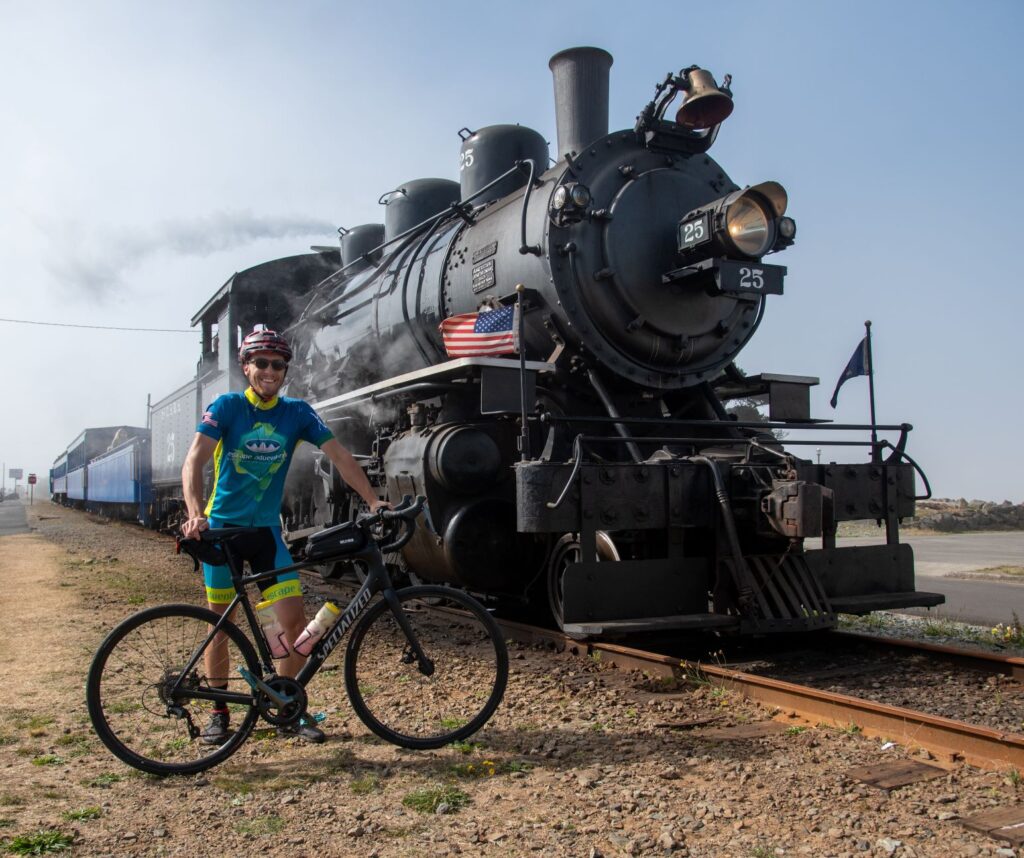 Day 5:
Heading south, our stage from Newport to Cape Perpetua sweeps through a series of coastal towns: from Seal Rock to Waldport and Yachats. Stretched five sinewy miles along Oregon PCH-1, Seal Rock is defined by tide pools, estuaries, and ancient rock formations, or "seal rocks" on one side. While big, majestic forest dominates the opposite side. Riding through Waldport (pop 2033), 18-miles south of Newport, we'll traverse one of the region's best-known scenic bridges. Where 19th-century German settlers, sawmills, and canneries have come and gone we get a taste of a first-rate beachcomber destination whose greatest charm is its obscurity. Next, we pass through Yachats (pop. 690), a crabbing, clamming, and storm-watching spot. At the center of Central Oregon, the town's name can be traced to the Chinook Indian word Yahuts: meaning dark water at the foot of the mountain. We stop here, at "the little village with a big smile"; relishing the space between lush rainforests of the Coast Range and the Pacific. The stage continues through the 630,000-acre Suislaw National Forest to Cape Perpetua. A large, forested headland, Cape Perpetua offers terrific leg stretching: 26-miles of hiking trail through old growth forest. The CCC built not only the trail system but also a handsome stone observation shelter. From this lookout atop the Cape, we glimpse Thor's Wall. A deep, basalt cavern—or, perhaps a collapsed sea cave—Thor's is but one enthralling feature set within the larger, utterly captivating shoreline.
Day 6:
Today, wrap day, we transition from rocky-frothy coastline to big dune country. Two rather unique stops on this final stage add the appropriate punctuation to our Oregon Coast tour. Egressing from Cape Perpetua, we stop at the 125-year old Heceta Lighthouse, 13-miles south of Yachats. Considered amongst the most beautiful lighthouses the world over, Heceta stands 205-ft above the ocean. Next up, we sweep into an alien world… or a B-movie set at the Darlingtonia State Natural Area. An 18-acre botanical preserve dedicated to just one species, Darlingtonia is home to the Cobra Lily, or Pitcher Plant: a 10-20 inch carnivore. At Jesse M Honeymoon State Park, we close out a brisk six-day tour with a wonderfully kickback picnic, set alongside an idyllic lake. Subsequent to 1:00 p.m. lunch, we shuttle back to Portland, arriving between 4-5 p.m. Adrenaline rush indeed.
---
US
Canada
Digital Version
Subscribe to Swanky Retreats Magazine's DIGITAL version. Read the latest issue online or download it to your computer.